Lagavulin's open day marked not only the beginning of Islay Festival 2018, but also the introduction of a new distillery manager. It was a poignant day for all, writes Becky Paskin.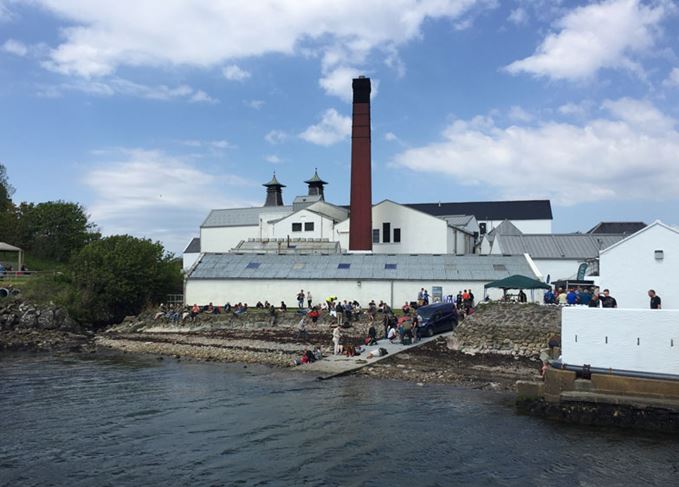 The fire that raged across the bay at Port Ellen on Friday night wasn't quite the epic light display Islay Festival organisers had in mind. In the midst of the launch celebrations a rogue firework landed in a patch of dry grass across from Port Ellen ferry terminal, setting the cliffs ablaze and the island's fire crew rushing to the scene. Thankfully it was quickly contained and nobody was hurt, but the calamity certainly helped launch the festival with a bang.
The Islay Festival of Music and Malt (also known as Fèis Ìle), is a week-long summer celebration (25 May – 02 June) of the island's culture, whisky and community. Thousands of tourists and whisky pilgrims pile onto the small Hebridean island to pick up exclusive festival bottlings and catch up with old friends, while the distilleries' open days provide an opportunity to get under the skin of some of the most popular peaty single malts in the world.
The first of the festival's distillery open days is an annual honour held by Lagavulin, although this year's opener was a bittersweet event for outgoing distillery manager Georgie Crawford, who is leaving to oversee the reconstruction of Port Ellen distillery, just a few miles down the road. 'We are here to talk of new beginnings…' she said in a moving address during her Manager's Masterclass, in which the keys to Lagavulin distillery were handed over ceremoniously to her successor, Colin Gordon. As whiskies including the Lagavulin 2018 Festival Edition were sipped alongside oysters, cheese, and chocolate canapés, Crawford explained how rebuilding Port Ellen would allow her to give something back to her island home. 'These rural distilleries were the hearts and souls of the communities they were built in,' she said. 'To say that I'm thrilled to bits to be a part of that is a massive understatement. I'm obviously deeply, deeply sad to be leaving here, but to be going [to Port Ellen] has made it much easier for me to do that.'

Hand-over: Georgie Crawford (right) passes the future of Lagavulin to new distillery manager Colin Gordon

Although the open day marked the end of Crawford's tenure as distillery manager – and the retirement of the visitor centre's Marjory Orr – there was no sense of melancholy, rather a cheery, reverent acknowledgement that Lagavulin is simply being passed into the safe hands of its next guardian.
As such, proceedings continued as usual. The annual queue for Lagavulin's festival edition bottles persisted in length – despite 6,000 bottles being available, while sold-out masterclasses and tutored tastings were dotted about the distillery in every room available. Up in the old Malt Mill maltings, Diageo malts ambassador Donald Colville demonstrated the versatility of Scotch whisky with a selection of drinks he describes as 'perfect pours' – including a divine white hot chocolate with Lagavulin eight-year-old. Back down in the filling store a lively demonstration of Lagavulin cocktails was held by brand ambassador Stephen Martin and team, while no open day would be the same without one of warehouseman Iain MacArthur's raucous dunnage tastings.
Outside in the distillery yard live Scottish music accompanied a relaxed festival atmosphere, with visitors enjoying cocktails (many a Smokey Cokey was spotted), whiskies, ice cream and fresh oysters on the sun-drenched green lawns stretching along Lagavulin's coastline.
We caught up with Colville for a quiet dram during the celebrations, and a taster of the new Lagavulin 2018 Islay Festival Edition.