Islay's youngest distillery and neighbouring Jura share the spotlight on the sixth day of this year's festival, headlined by Kilchoman's maturing quality and, at Jura, a bravura display from one of the industry's great entertainers. Richard Woodard reports.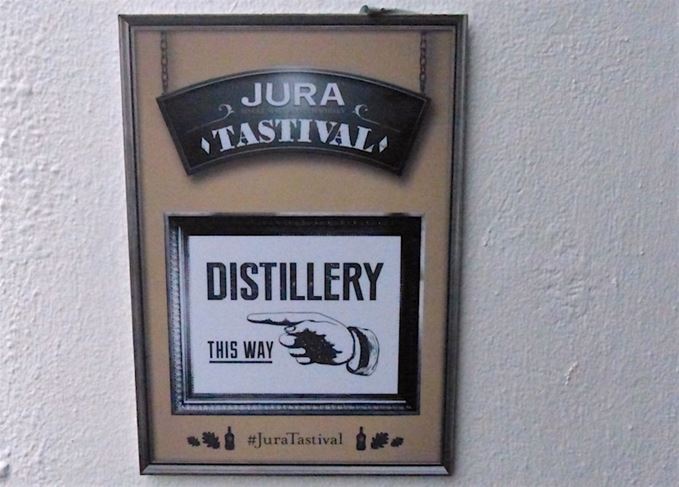 For the first few years of Fèis, Thursday was the day that festival-goers left Islay behind, taking the most fleeting of ferry rides to neighbouring Jura. Then along came Kilchoman and the limelight was shared, the Fèis pilgrims passing each other on the sometimes narrow route to and from Port Askaig.
Jura's decision to split its open days between Wednesday and Thursday paid off this year; Wednesday's visitors basked in warm sunshine, although those of us who waited another 24 hours were rewarded with cooler temperatures, rain, and midges… doing what midges do best.
Those who sheltered indoors didn't care too much, rewarded as they were with a host of tastings and warehouse tours, plenty of this year's triple Sherry-finished Jura Fèis bottling – and a Richard Paterson masterclass which went pretty much as you would expect a Richard Paterson masterclass to go.
For the uninitiated, on this occasion the Paterson effect meant an audience showered with barley grains, being doused with whisky (if you were foolish enough to sit too close to the front), the odd glass being smashed against a wall and – if you're me – being re-christened as 'Ken'.
Oh, and a trio of venerable Sherry cask-matured Juras that showed the heights to which the right cask and long aging can take this spirit, as well as serving to celebrate the great man's near-50 years in the Scotch whisky industry.
The passage of time was also marked by the valedictory presence of Willie Cochrane, outgoing distillery manager, and Graham Logan, his replacement. An amiable and engaging double act, with a tanned and beaming Cochrane looking like a person set to make the most of retirement – and immensely proud of his signature adorning the label of this year's Fèis bottling.

Signature spirit: Fèis-goers were keen to get Kilchoman's Anthony Wills to sign their bottles

Back a few hours to the morning, and Kilchoman. The queue snaking around the distillery shop, out of the door and up to where drams were sunk to plenty of musical accompaniment was testament to the way that Anthony Wills' venture has seen a maturing, both in terms of its whisky and the affection in which it is held by Islay's acolytes. And, having tasted this year's excellent and well-balanced Fèis bottling – Oloroso butt, distilled in December 2007 – that's hardly surprising.
Kilchoman remains a relatively youthful enterprise, where changes are still frequent, from the recent acquisition of the land adjoining the distillery to plans for a new malting floor and kiln, which will hopefully be ready next spring.
The land acquisition means more barley can be grown, which Wills hopes will boost the percentage of production taken by the flagship 100% Islay whisky back up closer to 30%. It may also mean that the curious wall that hemmed in the eagerly queuing Fèis bottling buyers will finally come down.
The Fèis programme, like the Kilchoman operation, continues to be fine-tuned and honed: still house tours that allow people to nose spirit at various stages of the run; farm tours that show the barley fields and point out the landmarks that feature on Kilchoman labels: Loch Gorm, Coull Point.
A masterclass led by Wills himself revealed the maturing character of the Kilchoman spirit, and its reaction to a variety of cask types: the stunning, creamy-citrus nose of a five-year-old Sauternes cask (Château d'Yquem, by the way); the gorgeous balance of a near-decade-old Oloroso butt.
All bookended by glasses raised in memory of John MacLellan, who joined Kilchoman as distillery manager in 2010 from Bunnahabhain, and died of prostate cancer in March.
'He was prepared to give up his safe job at Bunnahabhain and come here and give us a try,' an emotional Wills told those assembled. 'John played a massive part in getting us where we are here at Kilchoman. Every one of us is grateful for what he's done in getting Kilchoman on the map.'