Seasonal whiskies? Well, why not? As buds burst, lambs gambol and the days lengthen, Dave Broom is full of the joys of spring – and, in the first of this week's pieces devoted to the season, he has the perfect drams to match the time of year.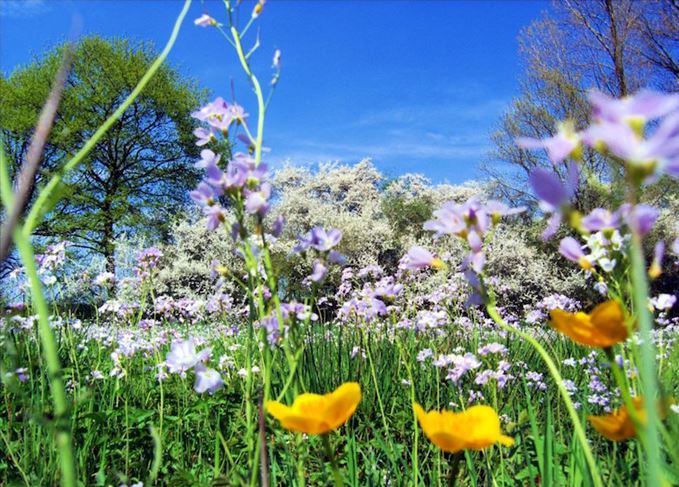 While at times it seems like another set of rules imposed on the interested foodie – the culinary equivalent of never wearing white shoes after Labor Day – the idea of eating seasonally makes perfect sense.
Biting into that first spear of English asparagus of the year, for example, the arrival of shoals of mackerel or herring. The knowledge that the season is short, that its pleasures are transient, focuses the mind on what makes it special. Each bite is a celebration. Rather than being fixed, with everything available at all times, the seasonal approach shows how the world is continually in flow, that nothing is permanent.
Drinking seasonally is hardly new in the bar world and usually revolves around fresh produce. I like the idea that you should only drink Bellinis when white peaches are in season.
Whisky, at first glance, sits outside this way of seeing the world. Here is a drink, after all, which is made in the same way 330-odd days a year. Consistency is the key.
In a changing world, whisky is set up as being a constant. You can imagine a time-lapse film of a distillery as the year is sped up around it: the buildings sitting there, solid, unchanging as the shoots break through, the landscape greens, becomes heavy with flower and fruit, flares into autumn and goes bare.
Whisky can, however, act in a seasonal way, and thinking about it in this way takes you deeper into an understanding of how the spirit is made, and when and how to drink it.
I first started thinking about it in this way when teaching tasting techniques and noticing that students, often new to whisky, found it hard to articulate what the aromas were rising from a glass. We all do this. It's a matter of confidence (or the lack of it) and a feeling of not having the right language to express what is happening under our noses.
This sticking-point often manifested itself with the second glass – a light and fragrant malt. For some reason, one day I asked the class what season it recommended them of. All eyes swivelled round and looked at me as if I was stupid.
'Spring, of course,' said one.
'Why?'
'Because…' and she reeled off a list of aromas which a few seconds ago were inexpressible. The others followed, adding their own – and all nailing the aromas perfectly. Somehow, asking yourself what season is this whisky gets around the dam in your brain behind which all the scent memories are imprisoned. It is an emotional, and creative, response, but it is also accurate.
What, then, are spring whiskies? They are ones with freshness and delicacy, where you can smell the first cut of grass of the year; ones where the fruit blossom is on the trees, or the fruits are green and slightly unripe (I know technically that happens in summer, but in this case whisky doesn't always parallel nature exactly).
They are drams unencumbered by heavy oak influence, low in vanilla (that's summer), free of Sherry (that's autumn or winter). They are often cool, as if there's a hint of a chill breeze still being carried on the wind. They are not insubstantial, but have character and complexity.
They fit with this time of the year but, like those white shoes, this is not to say you can only drink them until summer officially arrives. If you think of a day as being divided into quarters, spring whiskies are your aperitif, taken with water, as a highball, chilled in a Champagne flute.
Autumn or winter whiskies, by extension, are taken later in the day. The spring whisky is the Riesling, Sauvignon Blanc, or Blanc de Blancs Champagne of its world. Enjoy it in the same way.

A SPRING COLLECTION
For me, Glenfiddich 12-year-old and The Glenlivet 12-year-old, with their shared lightness of character and apple notes, are perfect spring drams, though the one which personifies the season is Linkwood 12-year-old Flora & Fauna – all fruit blossom and green grass, but with a softly textural quality. The same would apply to Rosebank, or Glenkinchie 12-year-old, the old Bladnoch 8 years old, and the magnificent, oily, grassy intensity of Teaninich at 10 years old.
Glen Grant's younger expressions, free of Sherry casks, like the Major's Reserve, are perfect spring whiskies. The same applies to Aultmore, whose 12-year-old fits the bill perfectly and shares a similar, clean acidity with Tomatin's excellent Legacy.
Glencadam's underrated, delicate 10-year-old has this quality, as does Tomintoul's sublime 14-year-old – if ever there was a whisky that smells of daffodils, this is it. anCnoc at 12 years old, and Balblair's more floral expressions (try the new 2005) also have this flowery freshness.
Pulteney's briny, clean Navigator demonstrates spring isn't restricted to gardens and can manifest itself in different ways. Any light, low wood-influenced spirit can have spring-like qualities – even smoky ones. Kilchoman shows it, as does Caol Ila 12-year-old, the new Lagavulin 8-year-old, or Elements of Islay Peat.
All bring to mind the first walk along the shore as the sun begins to warm your back.
Later this week: Martine Nouet shares her views on classic springtime dishes. while Ryan Chetiyawardana turns his thoughts to seasonal whisky-based cocktails.