From Hollywood blockbuster films to some of the most-watched TV series of the 21st century, Scotch whisky could warrant its own IMDb page for all its appearances on the big screen. Felipe Schrieberg explores some of the most iconic Scotch whisky moments in cinema – as well as a number of 'brands' created specially for the silver screen.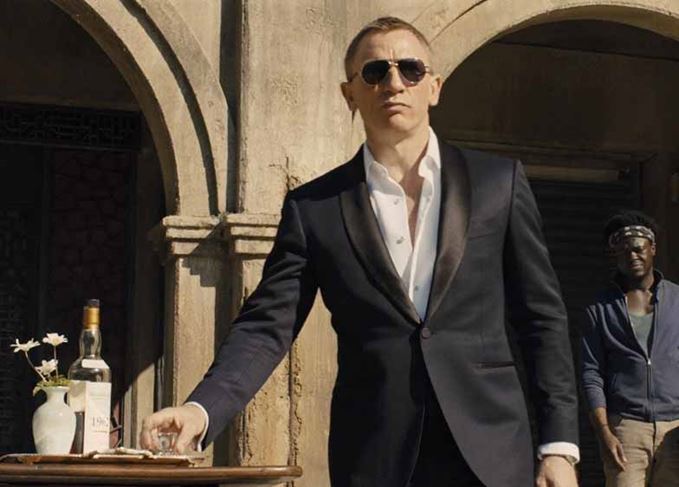 'Fifty-year-old Macallan, a particular favourite of yours, I understand,' says Javier Bardem's baddie, as he offers the whisky to Daniel Craig's James Bond in 2012's Skyfall, moments before killing Bond's girl.
Macallan is one dram among many showing up on the big screen. Glenfiddich 30 pops up in Star Trek Beyond as Captain Kirk and Dr McCoy share a drink. The 2015 remake of The Man from U.N.C.L.E. serves up Johnnie Walker Black Label.
In Kingsman: The Secret Service, Mark Hamill gets offered a 1962 Dalmore, although ultimately Samuel L Jackson – surrounded by dead bodies – knocks it back. Will Ferrell as Ron Burgundy in Anchorman orders 'three fingers' of The Glenlivet before ripping off a jazz flute solo (and of course, there is his famous Scotchy, Scotchy, Scotch ditty).
The story continues on television: the obsession with Lagavulin in Parks and Recreation; the various brands that show up in Marvel Agents of S.H.I.E.L.D; The Glenlivet in the finale of the third season of Silicon Valley.
In short, whisky is being poured all over film and TV. How do we know? Because Curtis MacEachern has been logging each individual dram appearance since 2011, when he founded the blog Scotch Cinema.
'TV shows and movies seem to be more blatant in their promoting of brands recently,' he says. 'Over time, I noticed that there is less of an effort to hide labels with an actor's hand, or to spin the bottle around so that it is not prominently displayed. One thing that hasn't changed is that the majority of scenes seem to begin with a close-up of a glass with Scotch being poured into it before the camera zooms out to a wider shot revealing the background, setting, and actors.'

Film favourite: Glenlivet is the single malt of choice in films and TV, as demonstrated in Silicon Valley (photo: Scotch Cinema)

Beyond branding-friendly shots of Macallan and Johnnie Walker, a healthy amount of fake whisky also makes the rounds. The made-up distillery of Clyburn features in Rock of Ages, and is also used as a means of assassination in The Dark Knight.
Other fictional brands include MacCutcheon and Balmoor. In fact, Balmoor seems to feature in shows that get cancelled prematurely. So far, that list includes The Grinder (a legal comedy), The Defenders (a legal comedy in Vegas) and Lipstick Jungle (Sex and the City rip-off, although penned by that show's writer).
However, the prize for the most ubiquitous on-screen fake whisky goes to... Glencallan. The Mindy Project, Sons of Anarchy, Burn Notice, Nip/Tuck, Breakout Kings, Grey's Anatomy and Community are just a few of the shows in which this tipple plays a guest role. Too bad; with all that product placement, just imagine how it would sell.
However, there's a reason why fake brands are used, as MacEachern explains: 'The term for the use of a fake product in the film industry is "Greek". For example, a company will Greek a box of cereal so that they don't feature a real brand in the scene, thus avoiding royalty disputes or the impression that they are promoting a particular product.'
These fake brands are often created by the television show's or movie's art department, and their design is usually based on a real whisky. For a cartoon-like example, trawl through season 19 of South Park, where Sergeant Harrison Yates is spotted drinking a 'Makalann 12' that looks suspiciously like Macallan 12.

Artist's impression: On-screen fake whisky Glencallan appears in multiple TV shows, including Community (photo: Scotch Cinema)

However, two studios are responsible for the rest of them. HPR Graphics is behind Balmoor and Clyburn (among many other fakes), while Independent Studio Services, a Los Angeles company specialising in props, created filmically-popular Glencallan.
So, which recent television shows offer the most Scotch moments? The Sopranos, with its Italian mob characters regularly drinking Glenfiddich and Glenlivet, takes the prize. Mad Men, with its whisky-guzzling, Madison Avenue booze hounds comes second. Other runners-up in this category include Supernatural, a 12-year-running show about two brothers battling paranormal baddies, followed by Dexter, the hit show about a serial killer highly discriminating in his choice of victim.
As for real-life whisky screen appearances, The Glenlivet takes top prize as single malt of choice, with Johnnie Walker Black Label as the most displayed blend. As whisky enjoys a growing popularity on screen – and as more celebrities become associated with it (Nick Offerman, David Beckham, Matthew McConaughey and Mila Kunis) – make it a challenge to spot more of your favourites, real and otherwise.
When you do, feel free to let MacEachern at Scotch Cinema know.