As acts like Bob Dylan, the Rolling Stones and Metallica are now attaching their names to bottlings, Matt Evans explores how the genre and the spirit became intertwined – and how whisky and rock music bring people together.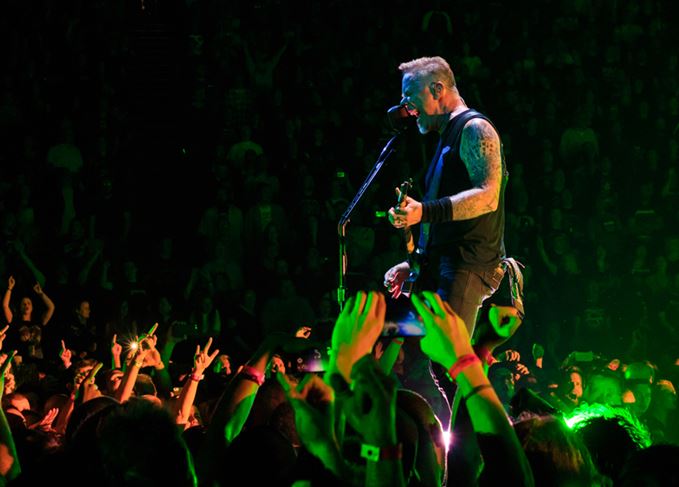 (Click here to listen to this article's accompanying Spotify playlist)
'Sing it!'
'Whack for my daddy-o, whiskey in the jar-o…'
Guitar slung low on his hips, Metallica's James Hetfield stands in front of Slane Castle. In front of him, a crowd of 75,000 sings, on his command, the words to Thin Lizzy's Whiskey In The Jar. The river Boyne winds behind the castle and in front of the stage in a loop, compressing the throng of metal fans into the hourglass shape of the landscape. It's on the banks of the Boyne that Alex Conyngham, the Earl of Mount Charles, has created his own distillery in the grounds of the castle, his family home.
'The Slane Whiskey project was dad's idea,' says Conyngham, the night before the gig. 'One of his first businesses was taking the castle, which had been a private home, opening the gates and putting Slane on the map through gigs.
'The distillery was a logical progression, as whiskey and rock make great bedfellows – we even stuck the whiskey in a black glass bottle with flashes of red, because it's a little bit more rock 'n' roll.'
But rock's association with whisky dates back long before Henry Conyngham, Alex's father, hooked up his first amplifier in Slane's expansive grounds in 1981. The term rock 'n' roll was reportedly first coined in 1954 for disc jockey Alan Freed's Rock 'n' Roll Jubilee.

Whiskey Rock-a-Roller: Distillery owner Alex Conyngham grew up on Slane's many gigs

However, a year earlier, whisky featured in what was to become the one of the genre's early hits: Amos Milburn's classic One Scotch, One Bourbon, One Beer. The song tells the story of a man drowning his sorrows after his girlfriend left him, and was later covered by rock luminaries such as John Lee Hooker and George Thorogood.
Meanwhile, as rock 'n' roll was just beginning to take shape, another group of tearaway musicians had taken to whisky like ducks to water. Frank Sinatra, Sammy Davis Jr, Dean Martin and the rest of 'The Clan' were known for their infamous whisky-fuelled antics. Martin may have loved Scotch, but Sinatra was fond of Jack Daniel's, a whiskey that would become irrevocably linked with the music industry.
'Jack Daniel's resonates differently for different people, but music is a big one,' says Chris Fletcher, Jack Daniel's assistant master distiller. 'Frank loved our product and he was kind of the first rock star, right? We never paid him, he just loved Jack Daniel's. That kind of authentic bond resonated with people, because it's real.'
Sinatra became a trailblazer. Fast-forward to the 1970s and Jack would become rock's drink of choice. In an interview printed in Keith Richards: The Unauthorised Biography, Mick Jagger and Richards recall how Jack saved the Rolling Stones' 1972 album Exile on Main Street from Richards' humidity-rich basement recording studio:
Jagger: 'As soon as I opened my mouth to sing, my voice was gone. It was so humid all the guitars were out of tune by the time we got to the end of each number.'
Richards:'That's when I got into Jack Daniel's, because you're trying to get the back-up vocals finished on a track and the voice starts to go. This [whiskey] will give you another half an hour. It's those fumes that do it, man.'

Vocal aid: Like Sinatra, Keith Richards' love of Jack Daniel's was well known

Richards began drinking Jack regularly (reportedly in vast quantities), and rock's love affair with it endured. Motorhead lead singer 'Lemmy' Kilmeister became so associated with it over the years that an online petition to rename a JD-and-coke as 'a Lemmy' after his death got about 50,000 signatures. Meanwhile, in the video for Van Halen's 1984 hit Panama, bass player Michael Anthony hung from the ceiling playing a guitar shaped like a Jack Daniel's bottle.
'The first thing that anyone says to me when we're going out on tour is: "Will the Jack Daniel's bass be out here?"' says Anthony in an interview with Bass Player magazine. 'I guess it became so associated with me that I can't retire it now. It was meant to be a novelty, just because I drank a lot of JD back in the day.
'Did I ask Jack Daniel's for their permission? Yeah. They gave me their blessings, because I'm also a Tennessee Squire, an elite group of people who own a little piece of land at the distillery.'
Anthony's most famous piece of rock paraphernalia was born out of his enduring love of whisky, rather than an attempt to add to the band's hellraiser image. Alex Conyngham believes that this is the way it has to be.
'If you look at what Jack Daniel's has done, it has been because people have loved the brand,' he says. 'Musicians have loved the brand. I don't think a relationship between whisky and music can be forced; the whisky needs to first and foremost rest on its own credentials. A bit like a good tune, the relationship needs to emerge naturally.'

All About That Bass: Michael Anthony's custom bass now hangs in the Rock 'n' Roll Hall Of Fame

An organic relationship with a product is a difficult thing for musicians to cultivate. In a significant departure from the band's devil-may-care past, the Stones have lent their name to a luxury 50th anniversary blend from Suntory. Housed in a decanter shaped like their lips-and-tongue logo, one bottle was auctioned for US$28,000 in June 2019.
'Only 150 bottles of the Suntory Rolling Stones 50th Anniversary whisky were ever released,' said Martin Green, Bonhams whisky specialist in Edinburgh, prior to the sale. 'On the rare occasions they appear at auction there is always a great deal of excitement and interest.'
However, when picturing high-net-worth individuals trading unopened crystal decanters for exorbitant sums, it's hard to imagine this as a 'natural relationship' between whisky and rock.
Inevitably, merchandise is a big source of revenue in an era when Spotify and Ticketmaster are cutting swathes from music's traditional avenues of profit: Iron Maiden t-shirts are commonplace and the Rolling Stones iconography adorns everything from wallets to wine bottles.
Whisky is a product entwined in rock history, so it comes as no surprise – and for many, it feels like a natural fit – to see that Slipknot, the Scorpions, Bob Dylan, Motorhead and more have produced own-branded independent bottlings.
Metallica also has its own whiskey, known as Blackened. Currently undergoing small-batch soft launches in the US, the blended whiskey project was developed by the band with the late Dave Pickerell before his death in October 2018.
Now under the stewardship of master distiller Rob Dietrich, Blackened's game plan from the beginning was based on an innovative hook – to infuse the whiskey with Metallica's music as literally as possible from the get-go.

Black Album: Master distiller Rob Dietrich uses 'black noise' to induce cask interaction

This is done through a process dubbed 'black noise'. The maturing casks of Blackened are being vibrated with low-frequency soundwaves in order to encourage interaction between the whiskey and wood. Regardless of the science behind it, it's a move of marketing brilliance: Metallica blasting its own music into the whiskey as it matures.
These new maturation principles are just the start, with Metallica harbouring ambitions for its own distillery. As the US craft whiskey trend booms, it could be a lucrative enterprise for the band. But, for the consumer, as with music, whisky's real value is its ability to bring people together.
'The first gig ever held at Slane Castle was Thin Lizzy in 1981,' says Conyngham, sipping from his glass of Slane Whiskey. 'Bearing in mind '81 was a difficult time for Ireland, politically and economically, dad believed everyone needed to come together through music and forget about the Troubles for a day.'
Henry Conyngham did just that. Before Slane was a rock 'n' roll venue, the elder Conyngham had turned the castle's lower levels into a nightclub. He abandoned the tradition of playing Ireland's then-divisive national anthem at the end of the night in favour of what he considered the country's unofficial national song: Whiskey In The Jar by Thin Lizzy.
Forty years later, 75,000 Metallica fans are singing along to the same song in that very same venue, many of them drinking whiskey blended, if not distilled just yet, in the grounds of the castle itself. Rock's relationship with the spirit seems especially poignant at moments like these.
As the song finishes, the crowd looks up to see a rainbow appear over the Irish countryside, but there's no pot of gold at the end today. It's far easier to imagine a cask of it instead.