Slane Castle, one of the world's most famous live music venues, is due to start distilling its own whiskey this month. Alex Conyngham, co-founder of the Slane distillery in County Meath, tells Becky Paskin why it was so important that his family home moved from rock 'n' roll into whiskey.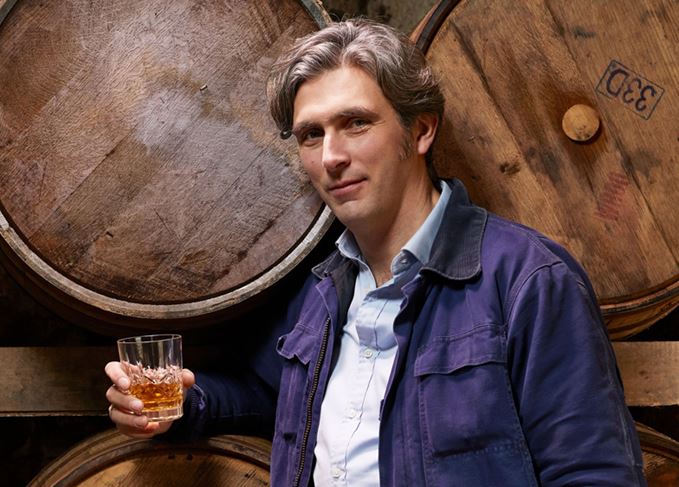 'We were saved by rock 'n' roll; that's what kept the Conynghams here. We knew that if live music was ever to decline we'd be in serious trouble, but we've always shown a determined streak. It was dad and grandpa who decided to build a whiskey distillery.
'I enjoyed drinking whisky relatively young; grandpa introduced me to it. I remember when other people were drinking cheap beer and shots, I would, with a couple of mates, be into our whiskies already. But it wasn't until I got the job as a brand ambassador working for Jameson that I fell for it.
'I started in Ireland and then was posted out to Australia. It was a lot of fun; I was a young guy out in Sydney working on a whiskey brand and it was the Millennium and Olympics, but I recognised back then the potential for where Irish whiskey could go.
'I visited many different Scotch whisky distilleries for inspiration when we were planning Slane. I loved my visit to Balvenie – I have lots of romantic notions of doing floor maltings because we grow our own barley. I would still like to do that at some stage in the future, so I just loved their whole approach to making whisky in Balvenie; it's a stunning site.
'I always approached the whisky project with a view to making the best possible whiskey we could, but I know we also had to leverage the fact the castle is already a tourist attraction, so we were going to have to be a visitor-friendly distillery.

Visitor-friendly: Slane Castle's distillery offers an immersive experience to tourists

'Those distilleries that deliver sensory experiences for visitors, like being able to climb into the kiln at Bowmore, are great. So we wanted to create an experience at Slane that was sensory – that means being able to touch, smell, feel and taste not just the final liquid, but get involved in the process as you're going through the distillery.
'There is generally a good level of innovation within the Irish whiskey category, and Slane will certainly uphold that initiative. That said, everything with Slane is about respecting tradition and layering innovation, so when it comes to making whisky itself we have a very traditional approach.
'We will definitely be full-flavoured and flavour-forward, so our whiskies are always going to be quite strong and robust. We're not going to be making light, thin whiskies; they are all going to be big.
'We want people to leave us understanding our link to the land. Whisky is essentially value-added farming, and we want to celebrate that link. I grew up on a farm and I've always been fascinated by how things grow and how they're produced. It's just working with nature, and I always see making whisky as essentially a natural process; you're not working against it, you're working with it.
'Water is incredibly important at a distillery and we are very lucky to have the River Boyne which is our primary water source, but you need a back-up for whatever reason, a pollution risk or if the river dries up, however unlikely. So we have a borehole as well, but finding that borehole was a challenge.
'We got in a drilling company and they brought in their machines, but it was costing me €6,000 every time they dug a hole. After the third hole I asked them to explain the science behind why they were digging each one, but it was essentially based on educated guesses.
'I decided not to spend any more money on guessing and I did what I should have done in the first place, which turned out to be the best €50 I spent on the project.

Family home: Slane Castle has been the Conyngham home since the 1700s

'I got a water diviner to come and help us identify the water. He took us to a completely different part of the site, walked into a field, the sticks crossed and he said: "right here". The drilling crew were at this stage sniggering away, but sure enough they drilled and we hit a perfect supply of water which is now the water supply for the distillery.
'Being curious, I asked him what else he did. He corrected some of the energy lines at the distillery – and said we're going to make great whisky as a result – but also we got talking about fairy forts and we identified some close to the borehole. Fairies are very important in Irish folklore; there's a huge respect for them. You must never build on a fairy fort.
'He pointed one out and we haven't planned to go near it, but I gave him another €50 and he very politely asked the fairies if they wouldn't mind moving. They agreed, and we suggested they move to a lovely enclosure of lime trees, which they did. I think it was the right thing to do. Being Irish I have a bit of superstition in me. I do believe in fairies.
'Taking on a place like Slane is a big responsibility, and it can be a burden – trying to maintain a historic property and keep it going is no easy task. Dad has worked incredibly hard at it, and now we have a business that will hopefully sustain the family, but more importantly protect the Slane estate for future generations, not just in my family but for the public at large. That's probably the most rewarding thing, and certainly a motivation for wanting to do it in the first place.
'Some of my favourite memories of growing up at Slane are associated with the concerts. I remember being very disappointed about being sent up to bed early at the Rolling Stones gig in 1982, but the excitement of camping on the floor in our parents' bedroom listening to the music down below was so exciting as a youngster.
'Whiskey is the next chapter for Slane, but that doesn't mean we're going to finish the first chapter of rock 'n' roll. The gigs will definitely continue – whiskey and rock 'n' roll are great bedfellows.
'That's where we came from, and that informs the attitude of the brand, but whiskey is the next chapter and is only just beginning. Hopefully Slane will grow into a global brand; that's our ambition and I don't see any reason why we can't achieve it.'