He lit up screens with his comedic performances in Whisky Galore! and Doctor in the House. But James Robertson Justice was just as passionate about whisky as he was acting. Iain Russell tells his story.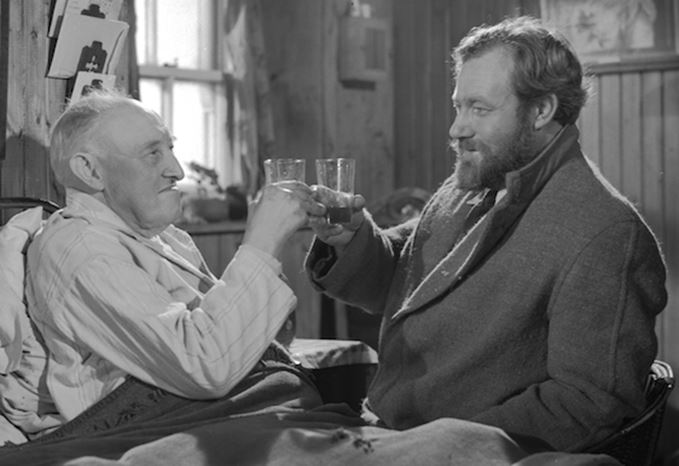 James Robertson Justice (1907-75) was not born 'under a distillery in Skye', as he once claimed. In fact this most famous Scottish actor was actually born in London and christened James Norval Harald Justice. But he decided that he wanted to be a Scotsman like his father and, as with most things, he simply did what he wanted. That included the adoption of a more Scottish-sounding name, and an enthusiasm for wearing the kilt (in Robertson tartan, of course).
Justice's early life was full of adventure. He studied in Germany where he was able to develop his formidable linguistic skills – he was believed to speak four or five languages, including Gaelic, and could swear fluently in many more. He was briefly a journalist in London, and tried his hand at various jobs while living in Canada during the Depression.
Returning home to England, Justice played ice hockey professionally and competed as a racing driver. In the mid-1930s he served as a League of Nations peacekeeper in the Saar and, subsequently, a fighter (on the Republican side) during the Spanish Civil War. He joined the Royal Naval Volunteer Reserve during the Second World War and, after being invalided out, he became an actor at the age of 37.
In truth, Justice did not reveal any remarkable talents in this new profession – he usually simply acted as himself. But he was a giant of a man, with a great bushy beard, a booming voice and a gruff but mischievous personality, and audiences loved him.
Justice as Lord Scrumptious in Chitty Chitty Bang Bang (1968):
His breakthrough movie performance came in 1949, when he played Dr Maclaren in the Ealing classic Whisky Galore!. He subsequently made around 90 films, appearing in box office hits such as Land of the Pharaohs (1955), The Guns of Navarone (1961), and Chitty Chitty Bang Bang (1968). His most famous role was that of the eminent and gloriously belligerent surgeon Sir Launcelot Spratt, in the hugely successful Doctor in the House (1954) and its sequels.
Justice always denied he was a film star – he acted, he said, simply to pay the bills for his many other enthusiasms. His greatest love was for the countryside and he was especially keen on wildfowling (he was a founder of the Wildfowl Trust), fishing and falconry. It was the latter which brought him into contact with Prince Philip, and the two became lifelong friends. The Prince invited him to join his exclusive Thursday Club, and sent his teenage son Charles to stay with Justice one summer, to learn about falconry and country pursuits.
Twice elected Rector of the University of Edinburgh, Justice took his responsibilities to the students very seriously. His other attempt to enter public service – when he stood as a Labour candidate for the North Angus and Mearns seat at the 1950 General Election – was not successful.
After separating from his first wife at the beginning of the 1950s, Justice became the subject of gossip about romances and dalliances with a number of young women including the designer and author Molly Parkin. He enjoyed taking his glamorous companions for a spin in his latest car – he favoured fast sports cars, but also owned a Rolls Royce.
Parkin told The Telegraph: 'He had a most extraordinary appetite for sex and was prepared to try anything.' His wooing techniques could certainly be unconventional, as when he treated a girlfriend to a performance on the bagpipes, as he marched around the bedroom wearing nothing but his sporran.

Lasting impression: Justice's bushy beard and booming voice were instantly recognisable

During the 1950s, Justice bought a cottage at Spinningdale in Sutherland where, also according to the Telegraph, he 'drank neat Rose's Lime Juice and breakfasted on whisky and a raw egg'. He loved to stay there between films, entertaining guests who ranged from locals to royalty, and usually travelled north by road.
The route to and from Sunningdale took him past the Glenmorangie distillery in Easter Ross, and Justice befriended the distillery manager Gordon Smart. Smart's grandsons remember him turning up at the manager's roadside cottage on many occasions, often with a glamourous female companion in the passenger seat of his latest sports car. He would speed up and down the road to show off the car's performance, before going inside to enjoy a dram or two.
Another resident of Easter Ross was the author Eric Linklater, and Justice often invited him to gatherings at Spinningdale, or visited him at his home in Pitcalnie. Linklater's biographer Michael Parnell writes: 'He and Justice spent many an evening drinking, laughing and talking endlessly.' He quotes Linklater's daughter Sally as saying: 'Either Eric or James would introduce a topic and then they'd pursue it hotly, up comic hill and down erudite dale, until the whole party was so exhausted with laughter and surprise that nothing would revive them – except perhaps another glass of Glenmorangie whisky.'
Justice appeared in several films with the French actress Brigitte Bardot, whose command of English (when she first came to Britain in the 1950s to star in Doctor at Sea) was said to have been limited to 'Good evening' and 'I'll have whisky, please'. It may have been on his recommendation that she and her husband Gunther Sachs sampled Glenmorangie in 1966, during their stay at the Open Arms in Dirleton, while she and Justice were filming Two Weeks in September. The celebrity couple subsequently ordered 36 cases of the single malt, 12 each to be delivered to their homes in Paris, Geneva and St Tropez.
Justice died virtually penniless in 1976, after a punishing divorce settlement and a period of ill health. But he left behind fond memories of one of the greatest personalities to light up post-war Britain, and of a series of performances as Little John, Sir Lancelot Spratt, Lord Scrumptious and others, which continue to delight fans of British cinema.
In Whisky Galore!, as Dr Maclaren, Justice advocates the use of whisky as a tonic and delivers the famous line: 'It's a well-known fact that some men were born two drinks below par.' It is an accusation that no one could level at Justice himself.