Whisky shows offer a fantastic opportunity to sample hundreds of drams from around the world all under one roof, but a game plan and appropriate preparation are vital to getting the most from your experience. Here's Joe Rogers with his top tips for whisky show survival.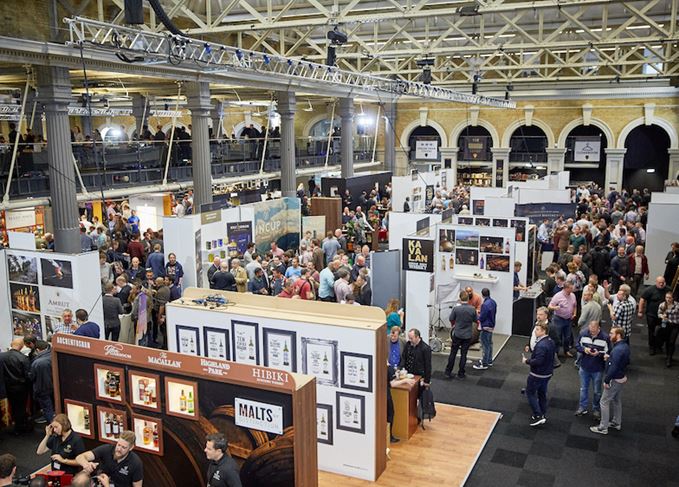 This is a busy time of year for the drinks business, with whisky shows taking place in Paris, Louisville, London and many more cities besides. At these boozy conventions people from all over the world who make, sell, write about and drink whisky converge to rub shoulders and share a few drams. 'But how do I get the best out of the whisky fair?' you cry. 'What are the dos and don'ts?' someone in the back just asked. By way of an answer, here are some hot tips to make sure you come away having learned a thing or two, and help you avoid becoming a whisky show casualty, whichever whisky show you happen to be attending. TL;DR? Stay safe, be cool, and don't try to drink absolutely everything in the room.
Self care
This doesn't mean getting in a round of bikram or having a go on your mindfulness app between masterclasses; we're just talking about keeping a handle your body's basic requirements when whisky showing. This might sound a little obvious, but if you eat plenty and regularly drink non-alcoholic liquids – ideally water – you'll be less likely to wind up being poured into a taxi by show staff come drinking-up time. Also to that end, let's talk about spittoons…
Use the spittoons
How much whisky do you think you could drink in a day, if you had to? Do you want to find out in a big room full of people? It's easy to get thirsty when you're confronted with infinite spirits – but show days are long. If you spit, at least some of the time, you'll increase the amount you can taste overall and be more likely to stay vertical for the long haul. Anyway, you don't want to over-sample and embarrass yourself by spending ages telling Ichiro Akuto just how much you love – 'like, actually love' – Chichibu, or gushingly asking Dalmore's Richard Paterson if it's really true that he can smell round corners.

Spoiled for choice: Indulging like a kid in a candy store will only spell trouble, so be selective

Don't try to taste everything
Even with the performance enhancing effects of spittooning on your side you're also going to need to accept an inescapable limitation: time. Game plan or no, you're not going to have the chance to taste everything on offer and if you go in hoping to 100% the show, you're probably headed for disappointment. Everyone's going to have their hit lists, their must-try dream drams and so on – and if that's the case, prepare a list in advance, but it's also important to wander, mingle, and stop to smell the… malt.
Keep an open mind
Last minute spot opens up at a tasting you might have overlooked? Dive in. Someone's going way off-book and is mixing cocktails with new make or something? Get involved. Check out brands you've never heard of, forthcoming expressions, young distilleries – it's all going on. Everyone wants to see the headliners, those arena rockers of the spirits world, but it's always worth making time for smaller acts. You know those smug stories people have about seeing the Sex Pistols in a scout hut with four people, or drinking Yamazaki Sherry Cask before it was cool – who wouldn't like to rack up a few of those, eh?
It's not all about the whisky
Okay, so it is mostly 'bout the whisky; but as shows all over the world get bigger and more elaborate they're also getting more diverse. With any luck, yours will have a lot more on offer than just whisky. Most events feature chocolate, charcuterie, barbecue, cheese and all manner of other comestibles to pair with the main attraction, or just plain soak up all that delicious spirit. Some organisers are even diversifying into other spirit categories to encourage visitors to deepen their appreciation of spirits and discover new flavours – both the London Whisky Show and Whisky Live Paris have introduced rum as a guest category, while London's Whisky Weekender introduced a Gin Lounge this year. You could stick to whisky, but what's the harm in getting the most bang for your boozy buck by stopping for a Dark 'n' Stormy or pleasantly surprising-yet-goaty agricole on the side, right?

Be inquisitive: Whisky shows present an opportunity to learn from the best in the business, so ask questions

Make Friends
Whisky folk are without a doubt the finest there are. At your whisky show, producers from all over the world will be there to share their wares and their experience. Between the guests and exhibitors, all the booze knowledge in the world will be present and the opportunity to pick brains and shake hands is worth the price of admission alone. You could be the saltiest old malt-hound on earth and still learn a thing or two by making some friends on the floor come the big day(s).
Be cool
You'll experience a lot of generosity when you get there. You might also hear tell of extras, special tastings, freebies, and even after parties. You might be desperate to buy six of the special show bottlings, even though they're strictly one-per-punter. There might be a rumour going around that Diageo will make you a Port Ellen Rob Roy at their stand if you give the right code word, for instance. Stuff like this is a bit like a lock-in down the pub; you have to wait for it to be offered and it might not be on the cards anyway, so be nice and play it cool. Not to worry, there's still plenty of fun to be had at any big whisky party – you'll struggle to miss out.
So there you have it – take care, make friends, and don't shoot the whisky. Pretty universal advice, really. Above all, take your time to enjoy yourself, don't rush your drams or your conversations; a whisky show is a marathon, not a sprint. Happy whisky-ing, everyone – hopefully we'll see each other on the floor.
Don't forget to keep up-to-date with the whisky festivals and events happening all across the world in our events section.