A new wave of Indian restaurants in the UK is moving beyond chicken tikka masala and lager to embrace a more innovative approach to food – with whisky an increasingly popular pairing. Emma Eversham reports.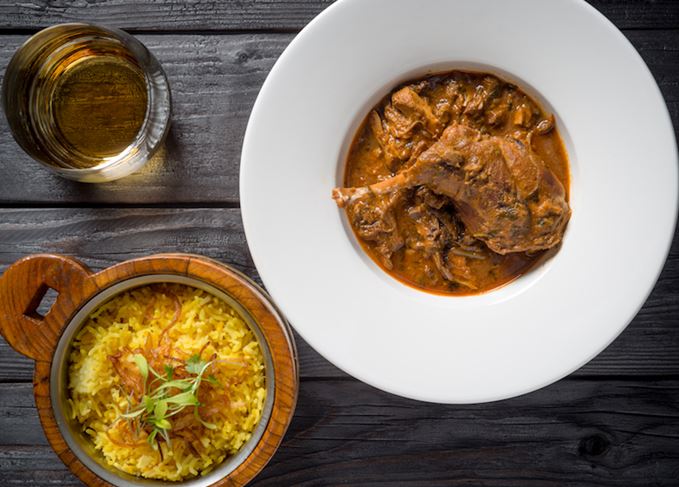 Ask someone what alcoholic drink they choose to partner their curry and the response is likely to be lager. And who can blame them? Indian food's reliance on spice and heat typically makes it a tough cuisine to partner with anything that has a higher level of alcohol, acidity, tannin or flavour. A clean, crisp beer is usually the safe option.
And yet, believe it or not, spirits are more frequently drunk with food than lager in India, which is one of the reasons why so many Indian chefs and restaurateurs are intent on encouraging us Brits to change our drinking habits when we frequent their restaurants.
'This almost religious obsession that Indian cuisine only works with lager has baffled us for very long, ever since we came to Britain,' says chef and restaurateur Cyrus Todiwala, who opened his first UK restaurant, Café Spice Namaste, on the edge of London's East End 22 years ago.
He adds: 'Contrary to belief, Indians are very big on whisky, rum, gin and vodka. For years, as a restaurant and a chef, we have fought this notion or "received wisdom", and it is precisely because of this obsession that we have introduced so many paired evenings with wines and spirits.'
At Café Spice Namaste wine sales are up 300% due to promotional work, and Todiwala hopes to see whisky take a similar route. Over the last few years the chef, a regular face on the Saturday Kitchen television programme, has worked directly with distilleries, as well as with the Scotch Malt Whisky Society, to host whisky pairing evenings.

Spiced salmon: Café Spice Namaste pairs Wester Ross Salmon Tikka with Balvenie Sherry Cask 15-year-old Single Barrel (Photo: Nitin Kapoor)

Such has been their success that more are being planned: next January will see Burns Night events at Café Spice Namaste, and at Mr Todiwala's Kitchen, the restaurant at Hilton London Heathrow Airport. Meanwhile, Todiwala will head to the Isle of Mull to hold an event with Balvenie in March.
'They are very popular and a challenge, both for me as a chef and for the attendees – ultimately, they provide their verdict on whether a great single malt or blended whisky can work hand-in-hand with spices and various combinations of fine Indian cuisine,' he explains.
'The whole process also teaches us a great deal about the whiskies and how they work – and how some simply may not. My greatest challenges have been with very heavily peated, smoky whiskies. I need to think hard to match these.'
Todiwala is one of a number of Indian chefs and restaurateurs who are keen to highlight Scotch whisky's suitability to spice. In October, the popular Michelin-starred Mayfair restaurant Gymkhana held an event in partnership with Johnnie Walker, where whisky cocktails were paired with dishes such as cafreal grouse with kall dosa, and wild muntjac biryani, on a four-course Hunters Feasting Menu.
Commercial Street's Gul and Sepoy, launched in September and the third Indian restaurant opened in London by Harneet and Devina Baweja in as many years, is also offering selected whisky pairings to accompany its new lunchtime feasting menu.
It features regional specialities of India's South West coast, like three bird awadhi korma or whole tandoori sea bream with pickled black radish and burnt achari cauliflower potato.
Another restaurant taking Scotch seriously is The Cinnamon Club, the Westminster-based fine dining restaurant overseen by executive chef Vivek Singh.

Cinnamon Club: The Westminster restaurant is discovering new whisky and food pairings

The restaurant lists 39 whiskies, 19 of them single malts, and has hosted numerous tasting events. However, its forward-thinking bar manager Nick Smith is keen to see more of the whiskies imbibed alongside dinner, as well as in the form of aperitifs or digestifs.
'We try to offer whiskies wherever possible,' he says. 'Since my time here we have had talks on single malts by brand ambassadors and in-house training. However, currently we find that a lot of people still prefer their whisky before or after dinner.'
Smith finds that the smoky notes found in many Highland whiskies typically work well with Indian spiced dishes, particularly those incorporating cinnamon and cloves, while heavily peated Islay whiskies partner well with meat, fish and seafood cooked in the tandoor.
'We have a smoked Herdwick lamb fillet and galouti kebab millefeuille on our menu which I think goes really well with Ardbeg Uigeadail,' he says. 'The smokiness of the whisky complements the lamb, especially because the fillet is cooked in the tandoor, enhancing that smokiness. The sweetness of the whisky complements the lamb and the notes of the lamb bring out the fruits in the whisky.'
One of the restaurant's starter dishes, sandalwood-flavoured Norfolk free-range chicken with chicken tikka rillettes, is paired with Talisker 10. 'The smokiness of the sandalwood and from the tandoor goes really well with the Talisker, because you've got that little bit of smokiness in the whisky, as well as some salty and seaweed notes,' says Smith. 'They also go well with the garlic and ginger in the marinade.'
While whisky can complement flavours within a dish, the high alcohol content is also a useful tool for cutting through the richness of the food, Smith argues.

Island life: Rissois of Isle of Mull scallop with Balvenie Double Wood 12yo (Photo: Nitin Kapoor for Café Spice Namaste)

He also recommends adding a drop of water or ice to open out the whisky for those concerned about acidity. 'They just cut through one another and mellow each other out,' he enthuses.
Todiwala agrees that whisky and spices can complement one another, rather than fighting for space. 'Spices do well as they allow the whisky to be overpowered in the mouth, and then ease back as the spice disappears and the whisky comes through,' he says.
Balance and constant testing are the keys to the perfect match, suggests Todiwala. The wrong choice can cause too much acidity, he warns, while the assumption that a whisky will be the same year after year could also throw off the perfect match.
'Too much harshness will create a digestive upset, so one has to be quite aware of that,' he says. 'Whiskies all develop their own characteristics once casked and, whilst the same whisky from a different year may have been aged similarly, we shouldn't take it for granted that it will taste the same, so one has to retest and see what pairs.'
As Todiwala hints, Indian food and whisky pairing is in an evolutionary state. Restaurants are continuing to experiment and educate in the hope that diners will see the light.
'I think whisky can come to the fore more,' says Smith. 'There's more of a younger generation drinking whisky now, so it's about educating them on how to drink it alongside food.'
'The British palate is constantly evolving,' adds Todiwala. 'Whilst the younger generation is cocktail-motivated and inspired, there is a shift, and we hope younger British drinkers will get more sophisticated and try out the bigger, bolder spirits and then see how they pair with food.'