Matching food with whisky often focuses on meat or fish, or a rich, cream-laden dessert – but what if you're vegan? With more and more people choosing a vegan or vegetarian diet, or cutting down on their meat intake, Emma Eversham surveys the UK restaurant scene to find an array of tempting pairings.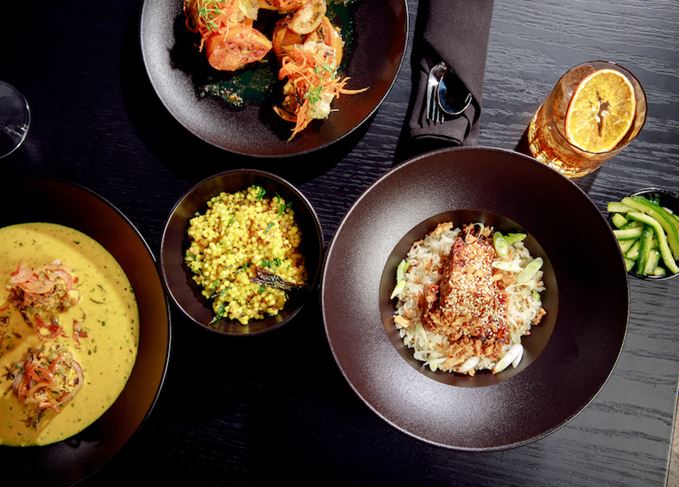 Whether it's for ethical, environmental or health reasons, today more of us are embracing a vegetarian or vegan diet than ever before.
According to the Vegan Society, there were nearly four times as many vegans in the UK in 2016 as in 2006, and more than half of UK adults responding to a survey by global research company Mintel last year said they had already cut their meat consumption, or were interested in doing so.
However, when it comes to matching whisky with food, experts will often choose robust or gamey meats like beef or venison, or smoked fish or a rich, creamy dessert to stand up to the spirit's complexities.
Yet Scotch whisky, for the most part, is vegan-friendly and, as our selection of vegan dishes and suggested whisky pairings from restaurants around the UK demonstrates, plant power can pack a serious punch in the pairing stakes.
While it takes some time and skill to find suitable matches, as Vanilla Black chef-owner Andrew Dargue says, combining whisky's complex notes with vegetable dishes creates some intriguing combinations.
Vanilla Black
17-18 Took's Court, London, EC4A 1LB; vanillablack.co.uk

Indian accent: Ardbeg's peaty flavours are chosen to match the dhal's creamy sweetness

The match: Sweet Potato and Puy Lentil Dhal with Curry Oil and Crispy Lentils, paired with Ardbeg 10 Year Old.
Vanilla Black chef-owner Andrew Dargue makes this dish, the vegetarian restaurant's take on the traditional Indian dhal, with a base of sweet potato purée and coconut cream, to which he adds roasted sweet potato cubes and simmered and fried Puy lentils, before dressing it with curry oil and baby coriander leaves.
The smoky, peaty flavours from the Ardbeg 10 Year Old provide a balance with the creamy, sweet curry, he believes.
'The Ardbeg also gives hints of black pepper and cinnamon, which mirror the spices in the curry oil, helping to bring the dish and drink together without each one losing their identities,' Dargue says.
Terre à Terre
71 East Street, Brighton, BN1 1HQ; terreaterre.co.uk

Umami-rich: These polenta gnocchi contain smoked tomato, miso and truffled porcini

The match: Porcini Plumps, paired with Benromach Organic Speyside Single Malt Whisky.
Currently being served as a main course at meat-free restaurant Terre à Terre, Porcini Plumps combine polenta gnocchi with smoked tomato, sweet miso and a truffled porcini stuffing.
The umami-rich and smoky flavours in the dish 'blend very well' with the 'oaky, light smoky flavours from the whisky', believes owner and director Philip Taylor.
'Lovely organic whisky' Benromach is 'fresh and vibrant, with a strong toasted oak influence', he adds.
Arthur Hooper's
8 Stoney Street, London Bridge, SE1 9AA; arthurhoopers.co.uk

Perfect pairings: Arthur Hooper's believes a whisky cocktail works best with this dish

The match: Paccheri with Tomato Sauce, Seasonal Green Vegetables, Sun-Dried Tomato and Walnut, paired with Sour Cherry Old Fashioned made with Auchentoshan 12 Year Old.
Arthur Hooper's chef Lale Oztek has just written the Borough Market restaurant's first vegan menu, which features nine dishes designed to be shared as small or large plates.
Oztek believes this pasta dish and its accompanying classic whisky cocktail – a blend of Auchtenoshan 12 Year Old with a touch of sour cherry and amaretto – perfectly complement one another, with the sour cherry from the Old Fashioned enhancing the sharpness of the tomato sauce, while the nutty flavours of the Auchentoshan and the amaretto match the walnuts in the dish.
'I think it's a beautiful pair,' adds restaurant manager Sergio Aboy. 'Both have clean and complementary flavours.'
Hendersons Vegan
25c Thistle Street, Edinburgh, EH2 1DX; hendersonsofedinburgh.co.uk

Benromach again: The organic malt is a good match for Hendersons' vegetarian tapas

The match: Tapas menu – Chargrilled Broccoli, Cured Carrot Bruschetta, Roasted Portobello Mushrooms, Stuffed Courgette and Raw Taco – paired with Benromach Organic Speyside Single Malt Whisky and Highland Harvest Organic Single Malt.
Hendersons recommends not one but five dishes to accompany two whiskies on its drinks list.
The team at the vegan restaurant picked Highland Harvest Organic Single Malt as a match to its freshly made, often raw ingredient plates, such as the Raw Taco – a vegan take on Chilli con Carne – because of its refreshing and young flavour.
'It smells like a fruit salad in syrup, tastes creamy and is quite viscous,' says the restaurant's David Nemeth.
The smokier notes in Benromach pair better with more robust flavours, like those seen in the Stuffed Courgette dish, which is filled with smoked garlic, risotto and crispy capers, or the Roasted Portobello Mushrooms, served with confit tomato, rocket pesto and toasted seeds.
'The roasted portobello mushrooms are possibly one of the best plates with whisky,' adds Nemeth. 'The organic mushrooms give an earthy flavour to the plate, and the toasted seeds, tomato and rocket pesto lend a freshness which finishes it off.'
The Perception at W London
10 Wardour Street, London W1D 6QF; theperceptionbar.com

Scottish Karma: The cocktail was created to match the sweetness of caramel-braised tofu

The match: Caramel-braised Tofu, Confit Garlic Rice and Smacked Chilli Cucumbers, paired with Scottish Karma, made with Dewar's 12 Year Old.
Caramel-braised tofu, inspired by Szechuan cooking, is a favourite dish of chef Ravinder Bhogal, who has created a new vegan menu for W London to be served in the hotel's bar and lounge – The Perception at W London – until the end of June.
The tofu is compressed to extract moisture and make it firmer, before being fried and given its spicy caramel coating. Accompanying it is Confit Garlic Rice, topped with crispy fried shallots and sesame seeds, and served with pickled chilli cucumbers.
The paired cocktail, made from a mix of Dewar's 12 Year Old, Cacao Blanc, caramel, raspberries, lemon and egg white, matches the dish's sweetness, with the whisky rising above as a match for the warmth of the spices, says Benjamin Cowtan, director of food and beverage at W London Leicester Square.
Tredwells
4A Upper St Martin's Lane, London, WC2H 9NY; tredwells.com

Dessert course: Oban is the match for this 'rather indulgent' peanut butter pudding

The match: Warm peanut butter pudding, peanut caramel and bitter chocolate sorbet, paired with an Old Fashioned made with Oban 14 Year Old.
This sweet yet smoky Old Fashioned, comprising Oban 14, sugar and Angostura bitters, cleverly balances the sweetness in this 'warm, nutty and rather indulgent' vegan dessert, created by Tredwells chef-patron Chantelle Nicholson.
'It is quite a rich and sweet dish, and the lightly smoky savouriness of the whisky complements this wonderfully well,' she says.
'Adding sweet things to peanut butter I think really enhances it,' adds Tredwells head bartender Lee Bishop. 'As the dark chocolate sorbet does in this dish, so too can a slightly sweeter cocktail. Whisky works perfectly.'