As a marathon runner and owner of a two Michelin-starred restaurant, Michel Roux Jr has little time for imbibing, but that hasn't prevented his burgeoning admiration of Scotch whisky. He tells Becky Paskin why his newfound appreciation of Scotch runs deeper than flavour, and reveals plans to launch his own brand.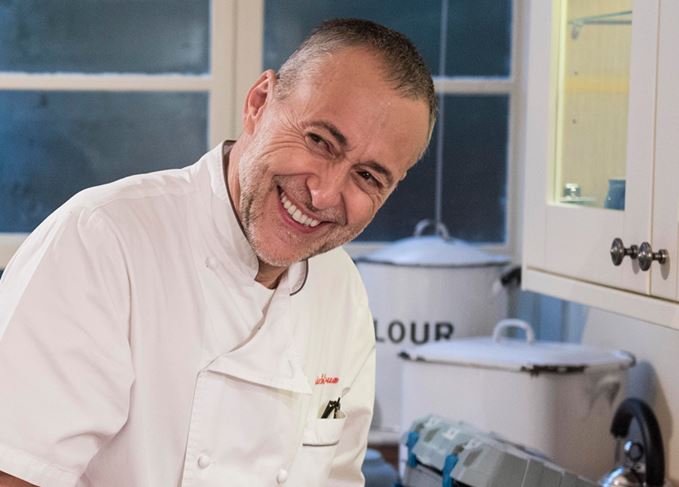 Michel Roux Jr, a stickler for tardiness, is late for our interview. Not that I mind – Le Gavroche is buzzing as its staff ready for lunch service. Tables are laid, glasses are polished and the clang of pans emanates from the kitchen. It's a musical number set to the perpetual background hum of vacuuming that's remarkably thrilling – the opportunity to dine in a two Michelin-starred restaurant as distinguished as Le Gavroche is rare; rarer still to experience the seemingly personalised soundtrack of lunch prep from the restaurant's private dining room.
I'm gifted 10 minutes of the restaurant's mid-morning chorus before Roux Jr pops into the room, sincerely apologises and sits down. We're here to discuss his relatively new involvement with a certain whisky brand, but I'm caught off-guard by his frank confession that he's actually not much of a drinker.
Long hours spent in the kitchen followed by TV work, book writing and regular marathon training – not to mention preparation of two new family-run restaurants in Scotland, more on which later – leaves little opportunity to indulge. So much so that the chef, who began life behind the stove at just 16 years old, struggles to recall his first sip of whisky.
'My first experience was probably as a young teenager, probably partying and it was probably with a mixer,' he says, a mischievous grin on his face. 'It was probably a very cheap whisky and gave me a very nasty headache.'
It's a rite of passage that many of us can identify with, but growing up in a family of accomplished chefs, and subsequently taking over the family business, meant grasping the diverse flavours of both food and drink was a necessity for Roux Jr.
Although influenced hugely by his chef father, Albert Roux, who has a deep love of Scotland and operates five Chez Roux restaurants across the country, it wasn't until late last year that Roux Jr had his first real Scotch whisky epiphany, during a visit to Balvenie in Dufftown.
'It's pretty difficult to beat the experience I had at Balvenie, that's for sure,' he says. 'They opened up Warehouse 8, where they've got all the bonded old barrels, and the smell in there was just like… wow! We had a little tasting session and I could have stayed there all day. I had a little sip of 1967 straight out of the barrel – which is a very important date for Gavroche because that's when it opened – and it was exquisite. That was my first time in a warehouse.'

Michel Roux Jr often plays around with incoporating whisky into his dishes at Le Gavroche.

Despite his small appetite for alcohol, Roux Jr has made efforts to become acquainted with different wine regions and styles – he is of French descent after all – as well as all manner of spirits, including Cognac, brandy, Armagnac and calvados. Whisky may be the most recent discovery for the chef, but his newfound appreciation of Scotland's national spirit in particular runs deeper than flavour.
As a supporter of apprenticeships and passing skills on through the generations, particularly through the Roux Scholarship founded by his father and uncle in 1984, Roux Jr identifies with the craftsmanship involved in producing [most] Scotch whisky. 'I do believe cooking is a craft,' he explains. 'I'm very passionate about my craft and others that involve manual skill, and it all ties into my belief in apprenticeships and mentoring. It all joins together beautifully.'
It's this advocacy that led to a partnership with the Balvenie for The Craftsmen's Dinner, a new mini YouTube series exploring the unique skills yet collective attitude of various crafts such as knife forging, pottery and even coopering – which Roux Jr makes various, mostly unsuccessful attempts to master.
'The cooperage was tough – my word, that was not easy balancing all the staves,' he recalls of his effort to repair a cask. 'It was really difficult but I really enjoyed it – those big heavy hammers and banging away. It was mind-blowing how many barrels there were. Each barrel has to be dismantled completely, checked, and then put back together again and the staves changed if they're leaking to give it a second life.
'From what I saw at Balvenie there's still a lot of manual work that goes on; manual work and respect for tradition.'
Roux Jr explains that this passion and respect is inherent to craft and transcends professions, and is ultimately what 'sets independent restaurants like Le Gavroche apart from high street chains'.
'There's a very strong relationship between craftspeople,' he notes, adding that every craftsperson featured in the YouTube series bonded immediately in the final episode, The Craftsman's Dinner, over their combined passion for craft. 'They had such a mutual respect for each other and within five minutes of meeting it was as though they were best of buddies. That's unreal, and proves the point that craftspeople are one of a kind, a different breed, and link together through their passion of what they do, whatever they do.'

The Michelin-starred chef gets to grips with the craft of knife forging with Will Ferraby, one of the last knife makers in Britain.

Within the spirits industry at least, 'craft' is a word that's becoming obsolete as every producer – large and small – piggybacks onto a trend that appears to resonate with consumers. For a man who describes himself as a craftsman, what does the term mean to Roux Jr?
'There may well be an abuse of the term in some cases, but I believe you can tell the difference between craft and a mass-produced product,' he claims. 'It's all about manual work and achieving perfection, and not necessarily for financial gain.'
In February Roux Jr opened the first of two new Scottish restaurants with his father and daughter, Emily, under the 'Albert and Michel Roux Jnr' banner at Inverlochy Castle near Fort William. The second is set to launch at Crossbasket Castle in High Blantyre in May, and both will have a distinctly Scottish flair with ingredients sourced 'hyper-local'. That includes the whisky menu, too. Neither are designed to be replicas of Le Gavroche, although the Roux's signature strive for perfection will underpin both operations.
Back in London and as Roux Jr's developing relationship with whisky blossoms, the chef now even has grand ideas to develop his own Le Gavroche 'house' bottling. 'It is something I'm looking at, and it would be an investment for the future if I were to buy a couple of barrels,' he says. 'It's one of my more fanciful ideas.'
Michel Roux Jr on whisky and food

• Some whiskies are more of an after-dinner drink, but over the years we've found that they are not as prevalent as they used to be, especially in the city here. The days of lingering at the table for a business lunch are gone, because if you do spend a bit too much time at the table then when you go back to work you're not quite as capable.

• There's no steadfast rule on how to cook using whisky, but if you take a great French classic such as steak au poivre [steak with peppercorn sauce], classically speaking you would use a brandy to make the sauce. However you could quite easily use a good, powerful whisky instead – not a smoked whisky, though. It works perfectly, absolutely great, and in fact could be just as good if not better than brandy.

• Peaty whisky is great for marinating fish, for example a salmon or a cod, and then you can look at adding honey and glazing it, giving you a teriyaki with a slight smokiness to it which is wonderful.

• We have an old 1970s wine list at Le Gavroche but it only features Champagne, wine and Port. The spirits would have been on the bar menu. But it is still interesting to see how the prices have changed. We used to sell a 1955 Chateau La Tour for £50. Now that would be £5,000. A 1935 Taylor Port was £80 a bottle, but you couldn't buy that now for a grand. It's crazy.