Balvenie's Gemma Paterson has spent the past year gathering stories of the people working at the Speyside distillery. She tells Becky Paskin how a passion for storytelling (and Russian) took her from part-time tour guide to global brand ambassador.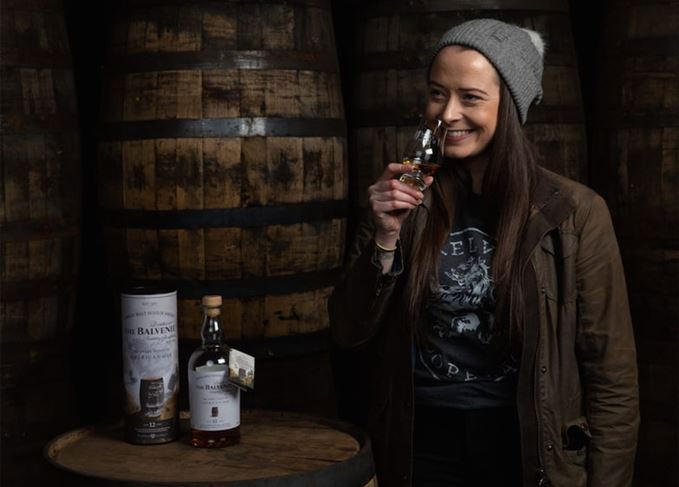 'When I was 23 I was living this life in a little estate house in Speyside and I was enjoying going out and cooking and getting into quite a little domestic life, and then I found whisky. And all of that went to pot.
'Something that I'd say about myself is I'm ambitious, but I don't set myself specific goals. I'm pretty much open to directions, any path that opens up before me. I think the reason I've ended up in the job I'm in today is I've let myself be open to opportunities and I'm a great believer in following my gut and my instincts.
'I applied to study English Literature and Classics at uni and I took Russian as my third subject, purely out of interest. When I was a kid my dad was founder and director of a charity that had gone to Belarus to help kids suffering from the Chernobyl disaster, so growing up our house was always filled with Russian speaking people and I was really fascinated by that.
'My sister is Belarusian. My dad brought her over from Belarus when she was just 18 months old. She was diagnosed with acute lymphoblastic leukaemia, and given 30% chance of beating it. She's now been in remission since she was five years old. She's happy; she's healthy.
'But I was really incredibly inspired by my dad and the things he'd done. So when I was in uni and took Russian as my third subject, I didn't really see it as a career for me, but the more I progressed through it that year I loved the subject. So I focused on it, and graduated with my degree in Russian.

Speyside life: Balvenie distillery is situated next door to Glenfiddich distillery in Dufftown

'Then my husband got a job as a ghillie [fishing guide] on one of the best beats on the Spey where it costs £1,000 a day to fish. It's incredibly prestigious. I'd never lived in Speyside before – I'd just gradated and it was the perfect time for us to move to a new area. I was figuring out what I wanted to do so I started at the distillery at the advice of the chairman of the Malt Whisky Trail, James Johnston. He found out I spoke Russian and he recommended me for a position that opened up at Glenfiddich for a part-time guide. At that point I didn't really know much about whisky.
'As soon as I started working at the distillery and meeting people from around the world, and started to learn a bit of history and process, I found this tip of the iceberg. The more I learned the deeper I got into it, then the more passionate I became about it.
'I can remember the first day I took my first Russian tour. I'd studied the language for five years but I was not in a position to talk about whisky in Russian, so that took a lot of preparation. I had chit-chat, but I could hardly talk about distillation or fermentation in Russian.
'I would come in on my days off and mash, and did my General Certificate in Distillation. I did all of that in my spare time. I did a night shift in the floor maltings, just spending as much time as I could with the guys and I think I earned their respect from doing that.
'I never wanted to be a brand ambassador, but our manager in the States asked me if I'd thought about applying to be one in the US. I was ready for a change, having been at the distillery for three years at this point.
'I moved over to the US in May 2016 as east coast ambassador for Balvenie, and then became global ambassador in 2018. I had to completely change the way I talk about whisky. That was a big learning curve for me, going from hosting visitors around the distillery and having everything right there, to then engaging people in whisky just purely through my presentation. I found myself becoming less process oriented and more stories-oriented.

Mischief maker: Dennis 'The Menace' McBain was Balvenie's coppersmith for over 50 years

'It's the stories that people remember. A great story always involves some sort of twist, like when things go wrong. Great stories stick in people's memories.
'The first thing Dennis McBain [Balvenie coppersmith] told me, he told me never to tell anyone, though he'll tell you now if you ask. Dennis started as an apprentice coppersmith in 1958 when he was about 15, working for the very first coppersmith at Balvenie called Willie McLaughlin. Willie was apparently a big man, about 6'5", who would every lunch break strip off and swim in the duck pond with the cooling waters. Just for some exercise.
'They were working on the spirit receivers at Balvenie, in the early 1960s so they were big wooden spirit receivers, and the bolts were welded on. Tools back then were really expensive, so you really looked after and cared for them. Dennis was working on trying to loosen this bolt on the spirit receiver with Willie's brand new shiny spanner when he loses his grip and the spanner falls into the spirit receiver, which is about a metre and a half deep with 70% new make.
'Willie storms out raging, and Dennis is quaking in his boots, thinking he's going to lose his job. The next minute he looks up and Willie is walking back into the room in nothing but his boxers. He strolls over to the vat, holds his nose, steps in and ducks down into the new make and retrieves the spanner. Comes back out, throws the spanner at Dennis and says: "don't ever let that happen again", and there was no mention of it ever. Dennis' nickname is Dennis the Menace, so this wasn't his first strike. He's always been a mischievous guy.
'As an industry we have this platform to share stories, like there's Dave Broom's documentary The Amber Light, and also The Water of Life – there seems to be an movement toward capturing these stories and history and community side of the industry. I feel like I'm having fewer conversations about caramel, cask strength and chill filtration and more about what's the story behind it.

Whisky trilogy: The Balvenie Stories range features three malts, each inspired by a different aspect of flavour creation

'Right now we're at this point where we have the younger generation coming in and it's really important that we try to capture some of the things the older generation have done and document them. That's part of what this range is about, this is a small part of a bigger piece that we're working on.
'With the Balvenie Stories range we wanted to really highlight that people are at the heart of the whisky, and have them be a part of it and tell their stories. So rather than talk about the maltings, really share the stories of the maltmen. Rather than just talking about the cooperage, focus in on the coopers.
'I spent the best part of the last year spending time with the guys, interviewing them. We have a big responsibility to try and document some of these stories because otherwise they'll retire, they'll leave and they'll be lost.
'The Balvenie Podcast has been a big labour of love of mine this year. We retraced the steps of each of the whiskies, hung out with the different craftsmen that made that whisky, and chatted about what motivates them. There's just the three episodes, one for each whisky, but you can find them on any streaming service.'