Balvenie is to release a new range of single malt whiskies inspired by tales of 'character, endeavour and craft' from the Speyside distillery.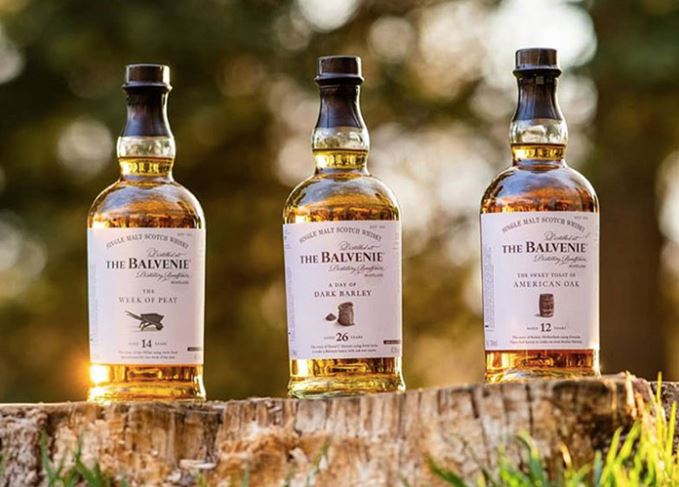 The Balvenie Stories range will launch this month with three whiskies: The Sweet Toast of American Oak, The Week of Peat and A Day of Dark Barley, with each whisky presented in a carton detailing the story behind its creation.
The Sweet Toast of American Oak is an expression created by apprentice malt master Kelsey McKechnie with guidance from Balvenie malt master David Stewart.
The whisky is matured primarily in ex-Bourbon barrels for 12 years before being finished for three months in bespoke virgin American oak casks sourced from Kelvin Cooperage in Kentucky.
The cooperage gave the casks a long, slow toast for 20 minutes, before sending them on to the distillery in Speyside for an additional toast to 'bring out as much flavour as possible'.
Bottled at 43% abv, the whisky is described as having 'even stronger, sweeter coconut and warm honey' notes than Balvenie's classic character.
A Week of Peat is a reincarnation of Balvenie Peat Week, a 14-year-old, heavily-peated malt which was launched globally in October 2017.
While the recipe remains the same, the 48.3% abv expression, which has notes of 'gentle sweet peat smoke, citrus flavours, oaky vanilla and blossom honey', has been renamed to fit into the new Balvenie Stories collection.
In 2001, then distillery manager Ian Millar installed a peat burner on the side of the kiln, which Balvenie has used for one week each year to produce peated malt.
'In a way the week of peat was nothing new,' he said in the detailed story on Week of Peat's packaging.
'In fact, arguably, it's the only week of the year we make whisky the way it used to be made – using smoke from a heavily-peated furnace, like in the very old days when every farm burned peat from the land (and made whisky in a pot over the fire, it's worth remembering).'
The Day of Dark Barley is a sister bottling to Balvenie 14 Year Old Roasted Malt, a whisky released in 2006 that contains a percentage of dark roasted chocolate malt.
The new 26-year-old whisky is bottled at 47.8% abv, and is said to have flavours of 'toffee sweetness, some citrusy notes of tangy orange peel, followed by oak vanilla and a touch of cinnamon and ginger spices at the end'.
Its name, and packaging, recounts the day the order of dark roasted barley arrived at the distillery from Simpsons maltings in 1992, catching staff unawares.
Robbie Gormley, Balvenie's maltman, recalled: 'We weren't ready for it yet, so finding a place to store it was tricky. In the end the only place was the barley loft, which caused quite a commotion when it came time to carry every single sack back down again.'

Scotch stories: The new range showcases a different aspect of Balvenie's character

David Stewart, Balvenie malt master, said: 'Stories are the lifeblood of the Balvenie distillery. They make up the fabric of who we are and what we do.
'The Balvenie Stories collection tells these tales in liquid form, giving whisky drinkers across the globe a special glimpse into the unique and very human nature of how we produce our whisky.
'Each expression in the collection reflects this by telling its own story via first-hand accounts and recollections of the many people involved.'
All three expressions are available globally from May, for £45 for The Sweet Toast of American Oak, £65 for A Week of Peat, and £600 for The Day of Dark Barley.
Further whiskies are expected to be released as part of the Balvenie Stories range in the coming years.
An accompanying book titled Pursuit – The Balvenie Stories Collection, will be released in the autumn featuring a series of fiction and non-fiction short stories from a collection of writers including Lawrence Osbourne and Max Porter.