It's an unassuming, small black box roughly the size of an iPad, but it could be a game-changer in the multi-million-pound fight against counterfeit whisky. Thijs Klaverstijn reports on the latest efforts to combat the lucrative – and potentially deadly – whisky fakes.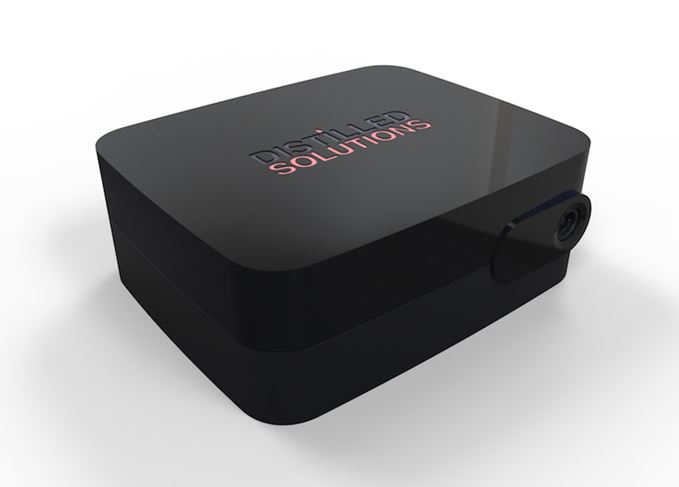 At the 25th anniversary tasting of my whisky club, the highlight was supposed to be a 25-year-old Springbank, bottled in 1998 as part of the exclusive and rare Millennium Collection. Soon after opening the bottle and pouring the whisky into everyone's glasses, it became clear that we had been duped.
It smelled nothing like any other whisky I've ever tasted. One-dimensional, with a strange burnt edge and lots of coffee notes. This was not the real thing – it was a sophisticated counterfeit product.
While this has been my one and only encounter with fake whisky to date, counterfeiting is a wide-reaching problem. Earlier this year a fake whisky bottling operation was discovered in a London home, described as an operation 'never seen on such a scale before'. The news came just months after a haul of counterfeit whisky worth nearly £1m was uncovered, including an extremely rare bottle of Laphroaig 1903.
But these expensive fakes are far from the worst of it, as they pose no apparent threat to public health. Last year, horrifying reports of fakes in Russia shocked the whisky world. Up to 30 people died in the Siberian city of Krasnoyarsk, after consuming poisonous methanol sold under the guise of a branded whisky.
Counterfeit whisky is not an issue happily discussed by the whisky industry, with few companies willing to talk to Scotchwhisky.com in any depth on the subject, even though they take the issue extremely seriously.
For example, at any one time the Scotch Whisky Association (SWA) 'will be pursuing around 70 legal actions globally to prevent the sale of products being "passed off" as Scotch whisky when they are not', an SWA spokesperson said.
Industry giants are constantly trying to find new ways of preventing and identifying fakes. A spokesperson for Diageo, the leading producer of Scotch whisky, said: 'We have worked with the rest of the industry to develop mobile authentication technology which can be deployed locally and is used widely across the industry to provide fast and effective identification of individuals brands.'

Too good to be true: It looks convincing, but this bottle of 1903 Laphroaig is a fake

One surprising and independent contribution to the fight against whisky counterfeiting comes from the Heidelberg University in Germany. Last month a group of researchers published a paper on their new synthetic tongue, which consists of different fluorescent dyes (and doesn't look like a tongue at all).
The brightness of each dye subtly changes when mixed with whisky, in turn revealing a highly specific flavour profile. Not only Scotch whiskies were tested, but also Irish and American whiskies – 33 in total. The German researchers could eventually distinguish between age, blend or single malt, and country of origin.
While impressive, this technique still has its shortcomings. Most notably, it is not portable, making testing in the field a long and laborious process, with spirit samples having to be sent back to a laboratory.
Enter Distilled Solutions. This Glasgow-based company has flown under the radar until it won £90,000 in investment funding from entrepreneurial competition Scottish EDGE in late June. Together with one of Scotland's biggest distillers, the company has been working on groundbreaking technology for the past two years. It is mobile but, most impressively, it can tell the brand and the age of the whisky through the glass bottle.
'There's obviously a complete variation in types of counterfeit,' says Robert Gray, co-founder of Distilled Solutions. 'You've very crude counterfeits that include methanol and kill people.
'Then there are smart counterfeiters who'll simply take a 10-year-old [whisky] and put it in a 21-year-old bottle, which is very hard to detect. That's where our resolution should hopefully be very powerful.'
Distilled Solutions is a spin-off of M Squared Lasers, a company that also does work for the military, helping in detecting chemical warfare agents. Building on the knowledge of their parent company, Gray and his colleagues use a patented technique called modulated Raman spectroscopy. It allows them to identify whisky non-invasively, from the outside of the bottle.

Potentially deadly: Some fakes, such as these Russian examples, are a health hazard

Authorities or brand owners out in the field can use a small hand-held device, the size of a thick iPad Mini, to conduct scans. In the next year or so this device will be miniaturised further, to the size of the average smartphone. In the future, scans might be conducted with an actual smartphone. Gray: 'We're not a million miles away from that. Probably a couple of years.'
The scan will be compared to a dataset built up by a fingerprinting device sitting somewhere in the production process, most likely on the bottling line. Before the whisky goes into the bottle, the device will take a scan of the liquid every two or three seconds, creating a fingerprint of every batch a distiller produces. It allows Distilled Solutions to distinguish whiskies on a very detailed level.
'When we compared batches with each other, we could actually see slight differences,' explains Gray. 'To identify a batch, rather than a whole brand? When you get to that level of accuracy it gets very powerful.
'We're at a stage where we can identify very accurately any age, blend, individual malt – which is actually the simplest one – and even the cask type. We're working to be able to detect the [alcoholic] strength through the glass, because that's another indication of whether something is counterfeited or not.'
The technology from Distilled Solutions also works for different types of rum, brandy, wine and Tequila – basically anything that has matured in oak. The long-term plan? Perfume and olive oil. Two products that also suffer from counterfeiting.
Will we one day live in a world without counterfeit whisky? Of course not. Assuming the technology from Distilled Solutions works to perfection, it'll still have to be adopted by all distillers. Even then, it'll mostly work for modern, new bottlings. There might never be an accurate fingerprint for Laphroaig 1903.
But just imagine if this technique had existed 15 years ago. Almost all the Special Releases from Diageo, and rare releases from other producers too, would have been fingerprinted. Auctioneers would be able to authenticate a whisky with just a simple scan.
That's a world with significantly less counterfeit whisky. That's a world I want to live in.