As whisky auction prices rise and the market expands, selling fake bottles has become a multi-million-pound industry – at least if some recent estimates are to be believed. But just how serious is the problem? Richard Woodard investigates.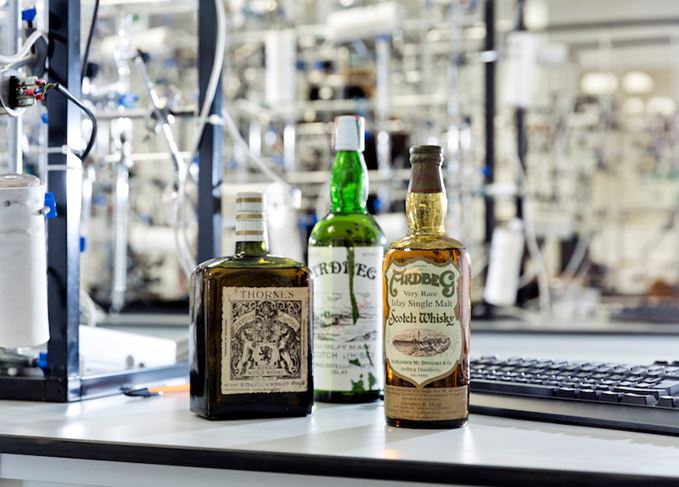 It was, to say the least, an eye-catching claim: some £41 million-worth of the rare whisky in the world – equivalent to the entire UK whisky auction market in 2018 – is fake.
The estimate from whisky analyst and broker Rare Whisky 101 (RW101) was based on lab tests carried out on 55 bottles of Scotch whisky by the Scottish Universities Environmental Research Centre (SUERC), of which 21 proved to be modern fakes, including all of those supposedly from 1900 or earlier.
RW101's findings were met with consternation and disbelief by many of those involved in whisky's secondary market, with questions raised over the methodology used and the supposedly 'random' selection of whiskies tested.
Six months on, RW101 director and co-founder Andy Simpson is unrepentant. 'I actually think we're undercalling this,' he says. 'We keep a record of all the fake stuff that we see, and we probably see more than every auctioneer in the world.'
RW101's discoveries include, in the past three years alone, some 294 counterfeit bottles with a combined value of £6.6m; two fake full sets of Macallan Fine & Rare over the last 12 months; at least five sets of 'suspect' pre-1900 bottles; and anecdotal evidence of pallet-loads of Macallan 30 Year Old blue label appearing in China.
Simpson is especially concerned about the new Macallan 30 fakes. 'They are different, very much starting to improve on the quality of the labels of the traditional blue label fakes,' he says. 'There is this idea that all fakes date from the 1990s-2000s and from Italy. That's nonsense – we think there's an ongoing programme of forgeries.'
While most auction houses would acknowledge that counterfeit bottles continue to be an issue, they are less convinced by RW101's claims over the scale of the problem. 'Like many people in the industry that we speak to, [we were] very surprised by the Rare Whisky 101 numbers, percentages and scale,' says Dr Chris White, auctioneer at Edinburgh-based Royal Mile Whisky Auctions. 'That's not reflective of what we see in our auctions at all.'

Ongoing programme: Andy Simpson reckons the whisky fakers are still at work

He adds: 'There are instances where dubious bottles crop up – like Macallan or old Ardbeg from the very early 20th or 19th centuries. But, in terms of percentage of fakes that we see, it's nowhere near on the scale that RW101 are talking about.'
Similarly, Iain McClune, director at Whisky Auctioneer, feels the fakes problem is not 'getting any worse', adding: 'Since we began in 2013, we have sold nearly 200,000 lots and the number of counterfeit bottles amongst this is extremely low, with no real indication that it is getting any more widespread at the moment.'
Common sense would suggest that, with prices rising and the expanding secondary whisky market acquiring a global scale, it would be surprising if more fakes weren't appearing. Simpson cites the example of Macallan 30 Year Old blue label – worth £250 or so a decade ago, and now changing hands for £5,500. 'It's unsurprising that we're going to see more of these things being faked,' he says. 'I think it would be foolish to assume that it's not happening.'
But does that mean that the problem is getting worse? And is the changing nature of the secondary market, with the emergence of online auction houses, making everyone more aware of fakes when they do appear?
'The market has grown so, yes, the number of fakes might have grown,' says Isabel Graham-Yooll, auction director at Whisky.Auction. 'But has the proportion grown? There's more visibility of fakes and I think that's a really good thing, and it's down to these online auctions. Previously people were almost trading in secret.'

'No worse': Iain McClune sees no evidence that fakes are becoming more prevalent

Dr White agrees. 'It's being reported more, and more people know about it,' he says. 'The absolute problem remains the same, it's just in people's eyesight because of the online auction boom.'
The attitude, expertise and rigour of auction houses are all key factors to consider if collectors want to avoid buying a dud. 'Buy from trusted sellers,' advises Graham-Yooll. 'If it's a fake, they will deal with it. Before you buy at any auction, ask them: if I find out this is a fake, what will happen?'
Whisky.Auction and Whisky Auctioneer both have formal policies governing fake whiskies, employing a range of techniques, from physical bottle checks to external research, scientific testing and consulting with rare whisky experts, specialist collectors and the distillers themselves.
'A large number of fakes tend to have been identified previously, so they are well-known to us and we are able to block those entering the market,' says McClune. 'If it is a bottle that we still have questions about, then we are in regular communication with experts, distillery archives and others around the whisky world – and secondary market in particular – if we need other opinions.
'We're also open to undertaking further measures, such as scientific testing or reaching out for testing samples/examples from distillery archives, should this be required.'
McClune cites a bottle of 'Private Stock Old Glenlivet Scotch' dating from the 1880s and featured in an auction in December 2018. Whisky Auctioneer worked with Simpson and whisky consultant and writer Angus MacRaild to authenticate the bottle, as well as carbon-dating the liquid through SUERC.
But, if someone trying to sell a fake is turned away from one auction house, there's nothing to stop them from trying again at another – and the democratisation of the online auction scene means that not everyone is necessarily as principled – or as skilled – at spotting a fake.

Due diligence: Whisky Auctioneer went to some lengths to authenticate this 1880s Glenlivet

'There are auction houses out there that perhaps aren't as stringent when it comes to analysing every bottle that comes in,' says Dr White. 'Whether that's because they're very small and need to go for every bit of commission, or it gets lost in a sea of bottles…
'Because we're part of a larger company, we don't need to do either of those things, and we need to be very stringent about everything we see coming in. Others, though, might have the attitude of "put it in and sell it on, and then it becomes someone else's problem".'
If the role of auction houses in stopping fakes from entering the secondary market is obvious, the role of the distillers themselves is rather more opaque – not least because they are reluctant to discuss an issue that carries quite a reputational risk for their brands. They also tend, perhaps understandably, to be more concerned with the issue of high-volume, mainstream fakes posing a potential health hazard, rather than wealthy collectors being duped by the odd dodgy bottle.
Diageo says it takes a 'zero tolerance' approach to counterfeit, encouraging people to consult SUERC when necessary and adding: 'We have access to technology which can test for counterfeit and we will use that to defend our consumers and brands wherever necessary.'
The existence of a well-stocked archive is another benefit, the company says: 'Since the creation of The Diageo Archive in 1990, we are in a position to collect and catalogue specific bottlings directly from our production lines and are therefore building a very strong bank of authentic products for future generations to look back at.'
Meanwhile, Macallan head of brand development Geoff Kirk says the distillery 'does engage with specialist retailers and auction operators, when required, to ensure the consumers' best interests are at the forefront'.

Historic importance: Resources like The Diageo Archive are helpful for authentication

More broadly, some in the industry feel that the Scotch Whisky Association (SWA), like the big distillers that fund it, has historically been more concerned with mass-market fakes, rather than those in the secondary market.
SWA director of strategy & communications Graeme Littlejohn points out that the organisation is engaged in about 60 legal actions on fakes at any given moment, in addition to the action taken by SWA member companies.
He adds: 'The popularity of Scotch has fuelled a growing secondary market, with old and rare whiskies sold at auction. Those who purchase rare whiskies should take reasonable steps to check the provenance of the product.'
Whatever action is taken by auction houses, distillers or other organisations to tackle the issue of fake whisky, the old adage of caveat emptor – buyer beware – remains as true and as relevant as ever. And linked to this is the need for improved knowledge and communication on the subject.
'There does still need to be education to the wider public,' says Dr White. 'The vast majority of people are still totally unaware of this secondary market, even if they know whisky, and go and buy whisky.'
McClune agrees. 'Fundamentally, communication between those involved in the industry – from sellers, to auctioneers, collectors and experts, through to distilleries and brands – is really important to combating counterfeits.'
How much fake whisky is circulating in the secondary market right now? Nobody knows for sure. Is it an ongoing problem? Yes, it is – but shining a light on that problem in a measured and realistic fashion is one of the best ways of addressing it.
'We don't want people not to buy whisky at auction, but we just want people to be vigilant,' says Simpson. 'If you have to miss out on a few genuine bottles to avoid the fakes, then do it. Walk away. It's just not worth it.'