After decades of providing fillings for blends, Speyside distillery GlenAllachie is stepping into the spotlight, with new owners, a batch of single cask bottlings – and a new core range of single malts to follow this June. Thijs Klaverstijn reports.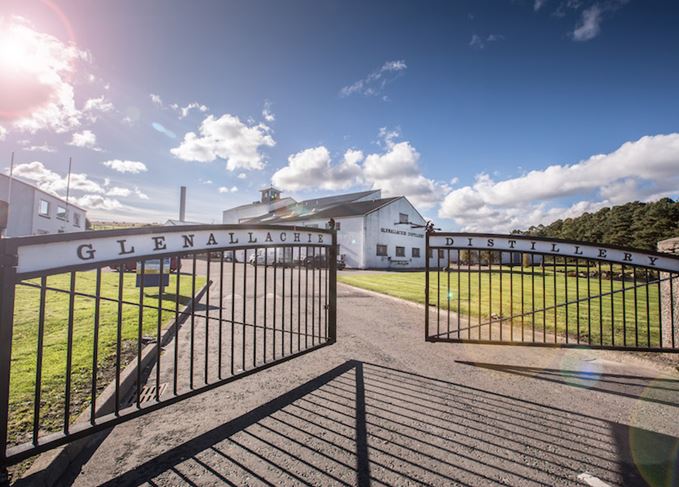 For 50 years, GlenAllachie was one of the many almost-anonymous Speyside distilleries, minding its own business and quietly chugging along. Operating away from the limelight, most of its whisky ended up in one of the many Chivas Brothers blends, including Passport and 100 Pipers.
This came to an end when a consortium headed by Billy Walker acquired GlenAllachie in July 2017. Since then, the former BenRiach MD and his team have been religiously assessing the vast stock inventory, carefully working towards launching GlenAllachie as a serious single malt whisky.
The launch of six single cask single malts, ranging in age from 1978 to 1991 and announced last week, is the first sign of life from GlenAllachie since the takeover. Marking the 50th anniversary of the distillery, these bottlings are only just the beginning.
The distillery's first core range is expected in June, and will consist of a 12-, an 18- and a 25-year-old, as well as a 10-year-old bottled at cask strength. Plans for further batches of single cask releases are also in the works.
'There's quite a lot involved when reviewing the stock,' explains Walker. 'What do we have? Are there any gaps? What is the long-term plan? It also helped us find out what we need to do in terms of wood management.
'I've been more than impressed with some of the whisky in our stocks. Some of the wood we have is very good, but some of it is maybe less good. We're addressing those issues.
'We'll put a lot of it into Pedro Ximénez and oloroso [ex-Sherry] casks. We'll also use some virgin oak. There's a lot of things we can do with wood to enhance and to take the flavour in a different direction. That process is happening just now.'

Treasure hunt: Walker and his colleagues have spent much time reviewing the stock

However, he adds: 'The getting of casks is becoming more and more difficult, and more expensive. But the wood is so important. We've taken quite a lot of time to get to where we're at, and it will take more time to get to where we want to be.'
After taking over, Walker's first order of business at GlenAllachie was to give the distillery a fresh lick of paint, to improve appearance and to boost staff morale. It's classic Walker, as he did exactly the same when he acquired BenRiach, and later GlenDronach and Glenglassaugh.
The positive experiences at BenRiach and GlenDronach, and to a lesser extent at Glenglassaugh, created an aura of success around Billy Walker. While there are similarities between his previous endeavours and GlenAllachie, it's not as simple as using the same template over and over again.
'The BenRiach acquisition was at a point when the malt whisky industry was in a bit of a pioneering stage,' says Walker. 'This is probably an easier journey than it was then.
'The truth is that importers are coming to us, while with BenRiach we were going to importers to encourage and persuade. That's a fantastic benefit.'

Fresh start: Most of the staff working at GlenAllachie now are new to the distillery

However, reviving GlenAllachie won't be as 'easy' as it was to re-establish GlenDronach, Walker believes. 'GlenDronach had je ne sais quoi. It had character and a reputation. It was a simmering giant. I personally think that GlenDronach will be in the top five or six single malts within five years.
'But only if [new owner] Brown-Forman handles it properly, if they pursue the appropriate wood policy and are prepared to invest money in the wood policy, and invest time to allow the wood to deliver.'
Most of the staff at GlenAllachie are new to the distillery, including operating director Richard Beattie, who joined fresh from launching Torabhaig distillery on Skye. A few of the old Chivas personnel, who have now moved on to The Glenlivet distillery, stayed on during the transition period to help the new employees get things up and running.
On the production side, the fermentation length was increased, from a relatively quick 48 hours under the previous owners, to a lengthy 100 hours under the new regime.
'It produces an interesting broth,' says Walker. 'I'd describe the GlenAllachie spirit as pretty big, which is why it can take some interesting wood. It's not typical Speyside, but rather quite muscular and pretty meaty.
'We're planning ahead now with some of the younger spirit, to see where we have to be in three, four or five years. We start moving some of the younger spirit into the kind of wood that we want the spirit to go forward in.'

No rush: Billy Walker insists that he will only bring whisky to market when it's ready

Walker also plans to produce peated GlenAllachie spirit, which will account for about 20% of total production. 'There's so much you can do with peated spirit. It can take big wood – it can take seriously big wood, if it's any good. But it'll take four or five years before we'll release any of it.'
Production has not only been tweaked, but also slowed down. For the last few years, GlenAllachie had been operating at full capacity, producing around four million litres of pure alcohol a year. Now it sits comfortably at 800,000 litres as the staff get to know the distillery.
But the deal with Chivas didn't just cover the distillery and its stocks. Part of the package included the MacNair's and White Heather blended whisky brands. These will play a vital role in Walker's plans, as he wants to find a way to make blended whisky engaging and trendy again.
MacNair's will be relaunched as a richly peated blended malt, with 21-year-old and 12-year-old releases, as well as a non-age statement blend. The MacNair's range will also include a rum and a 12-year-old blended whisky 'with a twist', in Walker's words.
He adds: 'We'll relaunch White Heather as a 21-year-old, which we'll take into the top end of the market. We're not interested in high volume, but in quality.'
While the core GlenAllachie range is set for release in June, Walker is far from being a man in a hurry with this, his latest venture in Scotch whisky.
'I'm very comfortable with where we are with the four core releases. And, as with all our releases, we'll take them to the market when the quality says we can take them to the market.'