Just weeks after severing all ties with BenRiach, entrepreneur Billy Walker has returned to Scotch whisky with the acquisition of the Glenallachie distillery from Chivas Brothers. But why? And what exactly has he bought? Dave Broom and Richard Woodard report.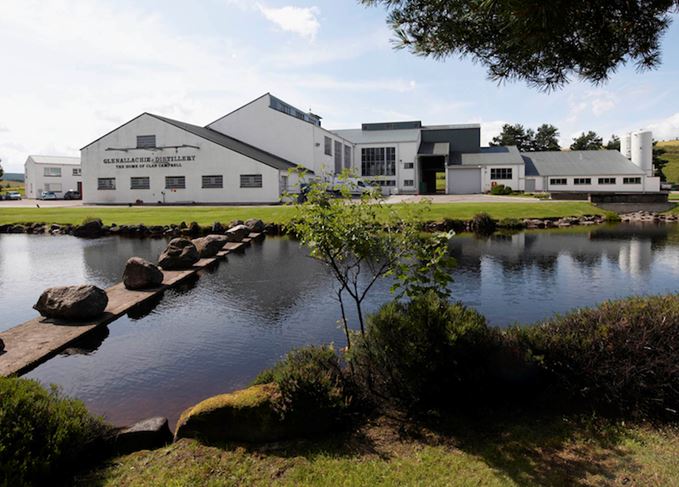 In a round-robin email sent out on 12 June this year, Billy Walker announced that he had 'finally disengaged' from BenRiach, the company he built up and sold to Brown-Forman for £285m in 2016.
Although the message ended with the line: 'Here's to the next journey,' it's fair to say that Walker's acquisition of the Glenallachie distillery from Chivas Brothers only a month later came as something of a surprise.
'I was keen to get back into whisky with a view to long-term development,' says Walker, 'but, as you know, the availability of mature distilleries is very, very thin – so when one came up, it was too good an opportunity to miss.'
So, what exactly has The Glenallachie Consortium – Walker, long-time business partner Trisha Savage and ex-Inver House MD Graham Stevenson – bought?
Glenallachie was built in 1967, a symptom of the 1960s Scotch whisky boom in the US, and with a spirit character that reflects the trends that drove that boom: light and delicately fruity.
Constructed by William Delmé-Evans (Tullibardine, Jura, Macduff), it has spent most of its 50 years out of the limelight, and ceased making spirit from 1987 to 1989, when it was bought by Campbell Distillers (part of Pernod Ricard) from Invergordon.
Since then, Glenallachie has been in constant production, supplying a number of blends owned by Pernod's Scotch whisky arm, Chivas Brothers, including Passport and 100 Pipers.

Billy Walker: The serial Scotch entrepreneur has no intention of retiring yet

Official single malt bottlings have been rare – a 12-year-old in the 1980s and, more recently, some Sherried small-batch expressions sold at the distillery – although a £30 (discounted to £20) NAS bottling has appeared this year in the UK.
But Glenallachie's lack of notoriety is, it seems, part of its attraction. 'Having a distillery which is a blank piece of paper and with mature stock is always an added bonus,' says Walker.
The model established with BenRiach will form the template for Glenallachie, in terms of brand development and focus on core markets. The two distilleries are also similar in the sense that both were single malts highly regarded by blenders, but with virtually no public profile.
'From a blender's point of view, I love Glenallachie,' says Walker. 'And not just for single malt. We were hugely chuffed to get the blends and see a great opportunity for them going forward.'
The blends are MacNair's and White Heather – again, hardly household names. MacNair's history goes back to the mid-19th century, and it was being offered as a base for a Highball Escoces in Mexico during the 1950s – but efforts to revive the brand for the French market in 2011/12 were short-lived.
Meanwhile, there has been little sign of White Heather since the 1980s, although the brand was still being sold in Australia in small quantities during the past few years.
'There has been no activity on these brands for some time, and therefore we made the decision to include them in the sale to the purchaser, who recognises both significant heritage and potential in these brands through their boutique routes to market,' said a Chivas Brothers spokesperson.
In a sense, we've been here before. Walker acquired both BenRiach and GlenDronach from Chivas Brothers (in 2003 and 2008 respectively). So could this mean that more of the Chivas estate might be up for grabs? 'I'd be very surprised if that was the case,' says Walker.

Repeat performance: Both BenRiach and Glenallachie are highly-regarded by blenders

In a similar vein, the Chivas spokesperson says: 'Our global brands now operate from 14 distilleries in Scotland, all of which we consider to be core assets… The decision to sell Glenallachie was based on one of our regular reviews of our operational footprint and spirit profile requirements to meet our [blended Scotch] portfolio.
'With our remaining assets, including the opening of Dalmunach distillery and the expansion of The Glenlivet, we have the required capabilities to meet our future requirements for spirit.'
There's a broader context here too, in terms of the corporate strategy of parent company Pernod Ricard. Before Glenallachie, Pernod sold off Caribe Cooler RTDs (2015), Paddy Irish whiskey (2016), Fris vodka (2016) and Domecq Mexican brandy (2017).
Meanwhile, recent acquisitions have included Avion Tequila, Monkey 47 gin, Smooth Ambler American whiskey and Del Maguey mezcal, as the company tweaks its brand portfolio to tap into fast-growing drinks categories. 'Staying relevant to our consumers requires dynamic portfolio management,' says a Pernod Ricard spokesperson.
And Pernod is keen to re-emphasise its commitment to Scotch, which accounts for four of its 13 top-priority brands (Ballantine's, Chivas Regal, Royal Salute and The Glenlivet).
Now the spotlight is back on Billy Walker and his Glenallachie Consortium. The first release from the new venture is pencilled in for March 2018, Walker says. 'First I need to see what the stocks are precisely, and that'll be fun, that's the exciting part of the job. What I do know is that this is very good liquid, and that the inventory is excellent for single malt and for blends.'
So no temptation to step back and enjoy a quiet retirement after reputedly earning a small fortune from the BenRiach sale? 'That would be death! This is getting my feet under the table again and starting another journey.
'Life is always about arriving and then buying a ticket for the next train. You just don't know if it's a slow one, or an express.'