Grant's, the world's third most popular brand of Scotch whisky, is undergoing its biggest revamp in nearly 20 years. Numerous expressions will leave the extended range, while a new peated blend and a rum cask finish are among the newcomers. Richard Woodard finds out more.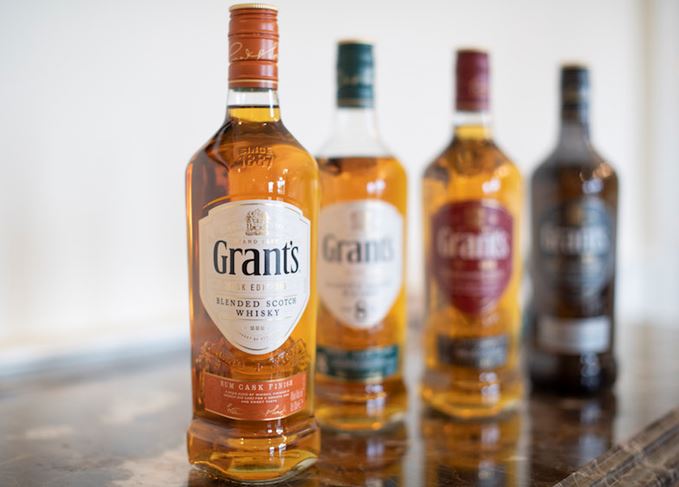 Blended Scotch whiskies are all about coherence and consistency – having a readily identifiable character that's repeated, bottle after bottle, glass after glass. Amid the endless stream of limited-edition single malts with esoteric finishes, blends are old friends, offering reassurance and familiarity.
In this context, changing the liquid – as Grant's is doing right now – is a potentially risky move. All the more so when the brand in question is the third most-consumed Scotch whisky on the planet, and has been ticking over quite nicely lately, selling roughly 4.5m nine-litre cases a year in countries as diverse as the UK, Canada, Poland and Australia.
At first glance, the changes to the blend's core range appear dramatic: no more Grant's Signature, Sherry Cask Finish or Ale Cask Finish; newcomers Grant's Rum Cask Finish, 8 Year Old Sherry Cask Finish and Triple Wood Smoky; the gradual disappearance of local curiosities such as Nordic Oak Finish and Master Blender's Edition.
A closer look, however, reveals as much evolution as revolution. Flagship blend Grant's Family Reserve is changed in name only, becoming Grant's Triple Cask, and the essential Grant's character, focused on sweet Girvan grain, classic Speyside malt and just a whisper of peat, continues as before.
'What we've got going forward is a consistent Grant's family across markets,' explains Jonathan Cornthwaite, head of whisky at Grant's owner William Grant & Sons. 'There's an awful lot of Grant's out there and what [master blender Brian Kinsman] has created is a much more consistent family of Grant's across the world.'
Kinsman himself says of the 'new' Grant's Triple Wood: 'It's not a new blend, or a different way of doing things. It's just a different way of talking about it.'

Plus ça change…: Brian Kinsman says the new range remains true to the Grant's style

That different way of talking about it is mainly focused on the types of cask used, the Triple Wood trio in question being refill American oak, first-fill Bourbon and virgin American oak. But taste Girvan grain matured in refill American oak and the influence of the spirit also becomes apparent: fragrant and sweet, with lots of estery notes of pineapple and pear drop.
This whistle-clean, pin-sharp grain character is the result of Girvan's vacuum distillation method, developed in the early 1990s in partnership with Finnish firm Alko. The vacuum technology used in the continuous stills of Girvan's No. 4 and No. 5 Apps (short for apparatus) allows for multiple pressures to be employed, meaning that temperatures can be kept down during distillation, eliminating burnt cereal or sulphur notes.
While malt and some grain spirit often require 'subtractive ageing' – time spent in cask to remove sulphur or burnt flavours – that's not the case with Girvan. 'From the time it goes into the cask, we're adding flavour from the cask,' says Kinsman.
'The descriptor we look for with Girvan is "sweet". It's very light, very easy-to-mature whisky, but you don't want it to be neutral – you want that character. Other companies buy significant quantities of Girvan for that reason too.'
Back to the casks. 'Our casks are used probably twice, possibly three, four or five times,' Kinsman explains. 'The way we manage cask quality is slightly different to other distillers. We don't track the number of fills.'

Clean spirit: Girvan's vacuum distillation promotes a sweet, fruity style of grain

Instead, colour is closely monitored as the whisky ages. 'It tells us how that cask is maturing,' says Kinsman. 'If it's above a certain threshold, it gets filled again; if not, it goes to the cooperage for rejuvenation. Some casks could be filled four, five or six times.'
The inclusion of virgin American oak is also key, he adds. 'We started using it about 20 years ago. It's just phenomenal and, as a flavour component for blending, it's hugely important.' In the glass, the colour of the whisky is almost Sherry-like, the tannic impact of the fresh oak very apparent on the palate.
Grant's Triple Wood has about 25 different whiskies in the blend, combining all the various permutations of cask and spirit type. 'I tend to prefer using first-fill Bourbon with malt because it stands up to that better,' says Kinsman. 'Then second- or third-fill for grain, but it's not set in stone. With virgin, we don't fill a huge amount because it's such a dominant flavour.
'What's going to be the best thing in your armoury is variety of flavour. Then you can bring everything together to get what you want. I'm looking for sweetness for a Grant's blend. This just helps us to find that sweetness.'
Triple Wood also has a small proportion of peated whisky in the blend – as does the new 8 Year Old Sherry Cask Finish. 'It does have a little hint of peat, but in the Grant's style where you shouldn't really be able to taste the peat, but you'd miss it if it wasn't there,' Kinsman explains.

Building blocks: There are about 25 different whiskies in the core Grant's blend

For Triple Wood Smoky, that peated element is dialled up, but not too much, giving a smoked meat note rather than something overtly phenolic. 'The core is Triple Wood,' says Kinsman, 'but at the end you're adding a little bit of peated malt.
'It's only up a few percent – less than 5% – and some of it comes from Ailsa Bay [Girvan's malt distillery], but not exclusively from there. It's enough to swing it from "you can't notice it" to "you can notice it".'
Rum Cask Finish is different again: no Triple Wood base, aged in American oak, then finished for four months in Caribbean rum casks. 'There's no peat in this,' says Kinsman. 'The oak's a little bit trimmed back because we're not using many of the virgin oak casks. It's toned down, with more sweetness to the fore.'
Why four months? 'Six months wouldn't give us any more, but two wouldn't have been enough. The influence plateaus out after a while. When it's ready, it's ready – so some of it might go for three or five months.'
Why rum? 'Because it works. We're experimenting all the time… We've tried lots of different things over the years. Partly it's about the life cycle of the brand, finding something that works and is scalable.'
This experiment started off using casks from William Grant's rum stable, including OVD, Wood's and Sailor Jerry. 'But now we're building a supply of rum casks to our specifications,' says Kinsman.
'Caribbean rum casks are phenomenally unreliable – when they come in or out, how many times they've been filled.' Under the new system, the rum spends about six months in the casks, before they are emptied and filled with whisky.

Fresh start: The new Grant's range will roll out during the rest of the year

The last addition, Grant's 8 Year Old Sherry Cask Finish, is mainly aged in American oak (although there might be some refill Sherry butts in there too), before spending four to six months in European oak casks previously used for oloroso Sherry.
Versus the old Sherry Cask Finish, says Kinsman, it's 'bigger, bolder and more robust, because it's had that extra maturation'. He adds: 'We've had an eight-year-old blend in Asia for quite a while, and we've been experimenting with how to develop it and add a little extra complexity.'
Where Triple Wood Smoky magnifies Grant's peated element, and Rum Cask Finish is designed to accentuate the blend's front-of-mouth sweetness, 8 Year Old Sherry Cask Finish could be seen as a coming-together of two previous whiskies: that eight-year-old blend sold in Asia and the NAS Sherry Cask Finish that was part of the old range.
New blends, in other words, but all three with a nod to essential elements of the Grant's character. 'It is more of an evolution,' says Kinsman, 'because there's a centre to it, which is Family Reserve or Triple Wood as we call it now.
'That blend is the central pillar – that's our core set of flavours, that's our signature. Therefore everything else has to come from there.'
Does he think the new whiskies will win over the single malt snobs who look down their noses at blends? 'Fundamentally, 90%-plus of the sales of Scotch whisky are still blends anyway,' he points out.
'Those people are probably almost a lost cause, but we can try to remind even those aficionados that Grant's is made in exactly the same way as single malt in terms of the craft, the passion and the way that it's put together. I think it's more about dialling up the whisky's craft credentials, and the quality of the blend.'