Wild Turkey master distiller Eddie Russell chose Glen Grant for his first visit to a Scotch whisky distillery – and he had a fellow whisky legend, Dennis Malcolm, as his guide. Richard Woodard tagged along.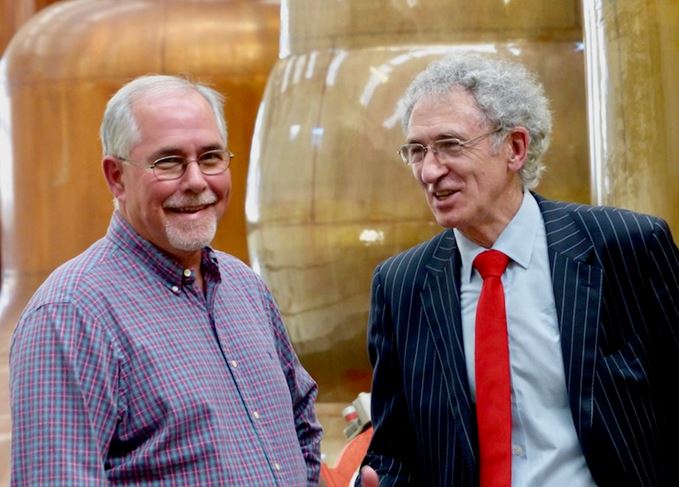 In the world of whisky, there are many more things that unite people than divide them. Anyone doubting this fact need only spend five minutes in the company of Glen Grant's Dennis Malcolm and Wild Turkey's Eddie Russell.
Both make whisky – or whiskey – and they also share an employer: Italy's Gruppo Campari. But they have a good deal more in common than that – from their views on the importance of spirit consistency to how best to design a distillery visitor centre.
Once you've overcome your surprise that this is the first time that the Wild Turkey master distiller (son of the legendary Jimmy Russell, who still shares that title) has visited a Scotch whisky distillery, there's really only one question to ask.
How on earth did this possessor of a soft southern drawl understand a word of Malcolm's sometimes impenetrable Doric? 'Actually, it was ok,' Russell says later with a smile. 'There were one or two moments when I found myself just nodding along – but not very often.'
Good news – some of us had wondered if the transatlantic language barrier might have necessitated not one but two interpreters – and it enables Russell to gain full benefit from an early Dennis Malcolm distillery tour monologue.
To summarise: authorities need to install new flood defences at distillery; distillery gets a nice new footbridge for visitors in return and, by allowing use of land as a building yard, secures free snow-clearing facilities to boot. A Dennis Malcolm deal, if ever there was one.
By this time, we're in the visitor centre, which at Malcolm's urging emphasises whisky above novelty gifts (the drams, refreshingly, are self-service) and is almost zen-like in its bare layout. Now, 15 minutes into our visit, Eddie Russell speaks.
'Dennis just reminds me so much of my father,' he says. 'When we built our new visitor centre, dad said: "One thing I don't want is Disneyworld." Our place looks like a tobacco barn – very minimal, with a nice little tasting room. After all, it's about the juice.'
This sets the tone. It's easy to highlight the contrasts between making Bourbon and single malt Scotch – the raw materials, the distillation methods, the maturation conditions – but much of the rest of our tour centres on the many similarities and, notably, the impact of the modern world.

Sharing a laugh: Eddie Russell and Dennis Malcolm found they had plenty in common

Automation came to Wild Turkey as recently as 2010. 'Before that, we were walking around opening and closing valves,' recalls Russell. 'Now there are only two guys on shift. And I get this question all the time: do you make better whisky now? My father's answer would be no.
'For me, I think we're a lot more consistent – I won't say better or worse. Let's say we collect our spirit run for 20 minutes, but one guy's a talkative guy and, before you know it, hell, it's been 30 minutes… Then you've got a problem.'
Malcolm agrees. 'You used to have four different guys, all different heights, all cutting at slightly different points. As far as I'm concerned, we're about two things here: quality and consistency.' But he then adds: 'I still like the guys to walk around the place, smelling the air. Because that's how you spot that there's something wrong.'
But what about the argument that complete consistency denies the spirit the potential to scale the heights (as well as to plumb the depths)? 'I don't know,' responds Russell. 'For us, I think we've been able to do that with single barrels. But, like Dennis said, for me, my [Wild Turkey] 101, my 81 – I want them to stay the same.
'This' – he points to Malcolm – 'this could be Jimmy Russell right here. For the last 35 years, I've heard my dad say: "I want Wild Turkey 101 to taste like it did in 1950, 1960… Whereas me, I came in and I wanted to change everything. Now I understand why it's that way. Anyway, how can I change what he's done for 62 years?'
As we progress, there are more echoes, more variations. 'We don't do closed fermentation,' observes Russell. 'Jimmy wants to do everything natural – he doesn't want any controlled fermentation.' Then, on the impurities found in the nooks and crannies of wooden washbacks: 'We don't want that because it gives a different taste to what we want. We tried it and it gives us a whisky that's more peppery and hot.'
And, in Glen Grant's oldest maturation warehouse: 'In Kentucky, my first floor will be like this. On the seventh floor, it's so hot you can hardly breathe.'

All about the juice: Both men were complimentary about the other's whiskies

Opinions on maturation, by the way, are similar, if for different reasons. Spread your risk: don't put every barrel of the same age in the same warehouse, whether because of the risk of tornadoes in Kentucky, or the potentially roof-caving weight of winter snow in Speyside.
Once we're done with the distilleries, and the techniques, we're left with the men, and the liquid. 'I remember I first met Dennis in 2009,' recalls Russell. 'He said: "Come on, Eddie, let's have a drink. I need some of your barrels."
'I said: "I'd love to, Dennis, but I've got a contract with someone else [Jameson]." He said: "Well… They're your barrels, Eddie. You can do what you like with them."'
We taste the revamped Glen Grant range: 10-year-old, 12-year-old, the new 18-year-old. Russell on the last of these: 'It's my favourite. It has that sort of thickness, that buttery taste and lots of fruit. That to me is probably closer to a Bourbon. It's 18 years: in dog years for Bourbon, it would probably be six, seven, eight years. I love that – but I wouldn't kick any of these out of bed.'
We taste Wild Turkey: 81, 101, Rare Breed, Rye. Sadly, sciatic pain and the drugs that come with it have rendered Malcolm temporarily unable to taste, reliant on palate memory. He taps a glass. 'I always used to love this one here, the 101. It's got such good character and a lot of mouthfeel to it. I love that.'
It was Dennis Malcolm who began our visit to Glen Grant; Eddie Russell finishes it. 'I think the differences between us are in the grains we use, and… this and that,' he says. 'But I think there's zero difference between what Dennis stands for and what Jimmy stands for.
'The accents are a little different, but in the end it's all about quality, and doing it the right way.'