Scotch whisky auctioneers are mostly wise to the imitation techniques used by counterfeiters, but many are blind to the potential dangers of selling on whisky labels, genuine or not. Becky Paskin discovers that with no body claiming responsibility for educating or policing auction houses, it's all too easy for even authentic labels to make their way onto fake bottles.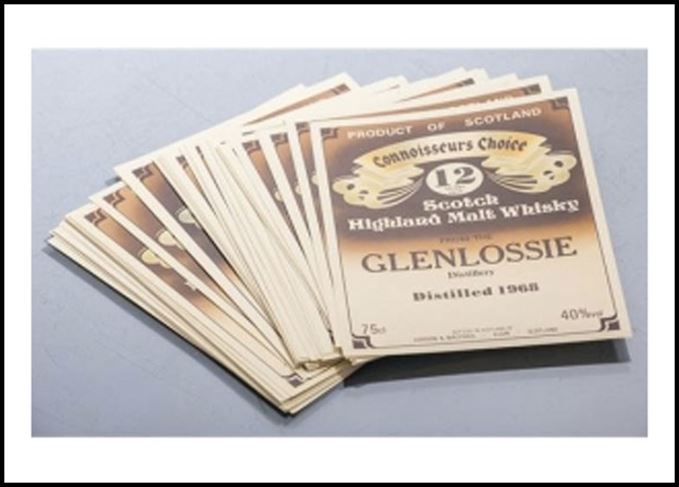 The Malt Maniacs & Friends Facebook group erupted in anger last week over three lots being auctioned by McTear's in Glasgow.
The items in the November Rare & Collectable Whisky Auction on 18 November included stacks of labels for rare whiskies, including Gordon & MacPhail Connoisseurs Choice bottlings from the 1970s and 1980s.
Such items rarely appear at specialist whisky auctions, and for good reason. In the wrong hands, loose whisky labels could easily be used to produce counterfeit bottles that contain caramel-coloured water, a cheap blend, or worse, poisonous methanol, rather than the rare 1968 Glenlossie you were expecting.
The Malt Maniacs flagged the issue up with McTear's, which promptly withdrew the offending lots from auction. Whether they were listed with the best of intentions or not, their sale could have had disastrous consequences further down the line.
But does that mean it's unequivocally unethical to offload whisky labels on the secondary market? And, if an auctioneer with a reputation for selling rare whiskies were blind to the issue, surely less experienced auction houses are as well?
Magda Ketterer, valuation department manager for McTear's, explained that the house was 'very careful' to spot fake bottles being submitted for auction, often consulting with distilleries 'to be sure that we are offering genuine bottles'. However, she admitted that 'to offer these labels which could be used in the faking of bottles… was not something we had considered when entering them for auction'.
McTear's will now only accept whisky labels that are no longer reusable; for instance, pasted into an album or backed securely in a frame, although this will still be assessed on a case-by-case basis. 'We would not again consider auctioning labels that could be used in the production of fake bottles,' Ketterer added.

Members of the Malt Maniacs Facebook group alerted McTear's to the potential hazard of their auction lots.

For some buyers and collectors, McTear's new approach is the only acceptable format for selling labels, although the likes of leading fine spirits auctioneers Christie's and Bonhams are leading the way with strict policies not to sell whisky labels under any circumstances.
Martin Green, whisky specialist at Bonhams Edinburgh, whose New York office recently relaunched its whisky auction following a 15-month hiatus, said: 'We won't sell labels because it's not really the source which is the problem, but the use to which unscrupulous buyers might want to put them.'
Established agents may be wise to the risk of counterfeiting, but a quick ring around a random selection of smaller, non-specialist UK-based houses revealed that most are willing to accept whisky labels, blind to the dangers associated with them.
There is currently no guidance offered by the Scotch whisky industry to auction houses about the dangers of accepting lots of whisky labels, while the official body governing Scotch whisky does not consider such education its responsibility.
'The problem of counterfeit collectors' whiskies is not new and while it is a concern that collectors may be sold fakes, this is a specialist and limited market,' said Rosemary Gallagher, head of communications for the Scotch Whisky Association (SWA).
'The SWA takes the issue of fake Scotch very seriously and is committed to protecting consumers from spirit being passed off as Scotch whisky in markets around the world.'
She added that 'actively policing the activities of auction houses, or individuals selling bottles or labels, goes beyond the remit of the SWA', and that the 'ultimate responsibility for the accuracy of any claims made lies with the auction houses, who should thoroughly investigate the provenance of any whiskies they sell'.
With no-one officially responsible for ensuring auction houses are aware of the repercussions of selling whisky labels, or even enforcing a policy, the issue will continue unabated.
It would seem the fight to monitor the secondary whisky label market has fallen in the lap of a Facebook group of malt enthusiasts instead.