Pulteney distillery manager Malcolm Waring may be a Geordie by birth, but the Highland town of Wick is very much his home. He talks to Richard Woodard about Old Pulteney's unique spirit character and this remote area's proud heritage.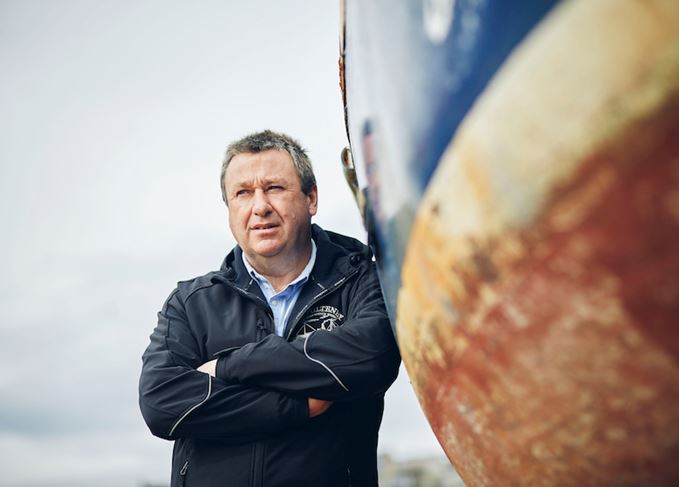 'I started off here on the shop floor: stillman, mashman, doing all aspects of it; looking after the warehouses, then I became brewer and then assistant manager. Then I went away and managed Knockdhu for six years.
'It's all about experience. You can learn a lot in your own place, but when you go away and learn how other places work, that's what it's all about.
'At that time of my life with my family, Knockdhu was a great place to bring up kids. A nice place to live, nice people round about and a lovely distillery. You were still quite central.
'I came back to Pulteney in 2006; it was good timing because, by then, the kids had finished their schooling.
'What's Pulteney like? It's rainy, it's windswept, it's different. It's been on its own for generations. It transfers across from the place and the town where it sits. The guys here are all local people, and the skills have been passed down from generation to generation. You become much stronger when you're on your own – you've got to learn to adapt and survive.
'We had Prohibition here in Wick from 1922 to 1947. In the US, I think it was only about 13 years? The Americans were just minnows in terms of Prohibition.
'Pulteney is not conventional, it's quirky. You wouldn't build a distillery like that, with stills like that, any more, but it's part of that character.

Quirky pots: Pulteney's unconventional stills are the key to its idiosyncratic spirit character

'The main thing for the new make spirit is obviously the still: it's not very tall – it's squat, it's bulbous, with no swan neck. It's producing a big, beefy, very powerful, salty, sulphury new make spirit. It's oily. That's what we're looking for – we're not looking for anything delicate here. Over the years you learn what casks will work with that.
'In the range, we've kept on with the 12, but the 21 has gone away now, and we've brought in a 25-year-old and the 1983 vintage. It's very limited, to be honest; we don't have the availability of stock. The 25-year-old spends 22 years in ex-Bourbon, and then a further three years in Spanish oak.
'I'm a Geordie by birth, my great-grandfather was Italian and my mother's Welsh. But we moved here in the early '70s, so Wick's my home. I don't know anywhere else because I was so young when we moved here.
'Coming to Wick was a life-changing experience. In those days we were more isolated – I know it's isolated now, but in those days it was even more removed. We didn't have the influx of people as we do now.
'In the past, most people would have been here for generations and generations. At one point in time, you knew just about everyone in the town.
'Fishing was still quite big then. It was white fish by then though, not herring. There was still quite a big fishing fleet here then.

Community spirit: Pulteney's whisky is an expression of Wick and the surrounding area

'In terms of demographics it's changed a lot, and that's a good thing. But we've lost some of the local characters. Everyone knew them, but now we haven't got that so much.
'We've got a really good Heritage Centre at Wick. You could spend days in there and never see it all. We had Thomas Telford, Robert Louis Stevenson – big names in their day. They spent a lot of time here doing various projects.
'Now there are the wind farms. There's a big amount of investment – up to £3bn in total. The first tranche is going ahead with something like 84 or 85 turbines. If the second tranche goes ahead, it'll be 250 – one of the biggest offshore wind farms in Europe.
'It will bring a lot of work to the town – something like 200 jobs – because a lot of the services will be located in Wick. Some of the old buildings are being renovated, but they're being very sympathetic to the design of Thomas Telford. It's being done right.
'There was nothing here for many, many years [after the decline of fishing]. Now we have the pontoons in the marina bringing in people from all over. It's breathing new life into the harbour, and in a new way.

Experience counts: Over time, Waring has learned which casks suit Pulteney's spirit

'At the height of the herring boom, they caught 32 million fish in two days. The generations are changing, but there's a lot of initiatives in the town that keep those memories going.
'We try to do everying using local trades. The barley isn't grown in Wick, but it's from the north of Scotland, and malted in Inverness and brought up. It's all local people in terms of the workers we bring in.
'The people of Wick very much identify with the distillery and they're very proud of it. We want to bring that back to the town – it's all about putting back into the community. The distillery is an integral part of Wick.
'I grew up right next to the distillery, so I used to walk past it every day on my way to school. We used to block the glade [the distillery's water source] with leaves and branches and so on – the way kids do.
'I bought up one of the old houses on the right-hand side as you leave Wick harbour – not far from the castle. It looks out to sea – I got the keys about three weeks ago. That's my retirement project – it's a long-term project. We're going to add an extension on the back and change things round a bit.
'It is a bit of a windy spot, though, right enough. I'm not expecting to grow any trees in the garden.'