Old Pulteney single malt is introducing two new whiskies to its range – a 25-year-old expression and a 1983 vintage malt – following the withdrawal of its 17-year-old and 21-year-old bottlings.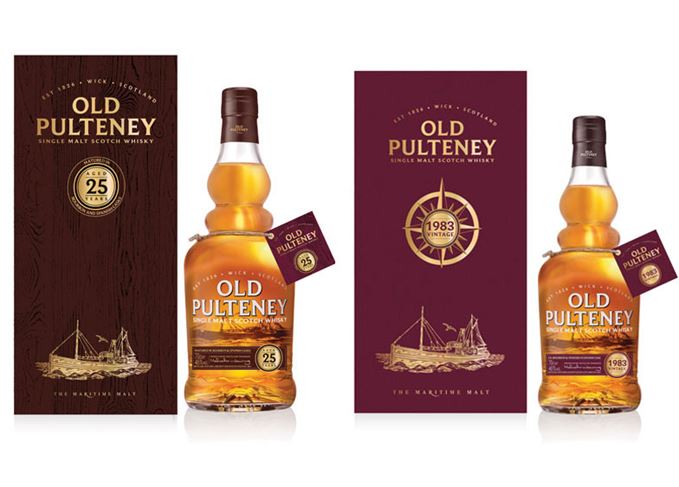 The Highland distillery, based at Wick in the far north of Scotland, matured the new 25-year-old expression in ex-Bourbon American oak barrels for 22 years, followed by three years in ex-oloroso Spanish oak butts.
Bottled at 46% abv, Old Pulteney 25 Year Old is described as having 'mature and fragrant flavour notes', with 'heavy spices and dark chocolate… rum-soaked raisins and lime honey, punctuated with clean notes of orange peel and baked apples'.
It will be available globally from early October 2017 at independent and specialist retailers, with a UK RRP of £300.
'We're extremely proud to launch this premium addition to our core range,' said Karen Walker, marketing director at International Beverage, owner of Old Pulteney parent company Inver House Distillers.
'As one of the finest single malt whiskies in the world, it embodies Wick's spirit of endurance and the Pulteney distillery's signature coastal style.'
Old Pulteney 1983 Vintage was matured in ex-Bourbon American oak barrels, before an extra spell in ex-oloroso Spanish oak butts, with 'a chocolatey aroma with undertones of stewed fruit and toffee'.
Neither chill-filtered nor coloured, it was bottled at 46% abv and will be available from specialist and independent retailers globally from October 2017, with a UK RRP of £500.
Walker described the new 1983 vintage expression as 'eagerly anticipated and well worth the wait'.
The dual launches come after Inver House announced in June this year that Old Pulteney's 17-year-old and 21-year-old expressions would be discontinued due to lack of stock.
While supplies of the 17-year-old are expected to last into 2018, the last bottles of 21-year-old have already entered the supply chain.
The news prompted speculation that the distillery would replace the expressions with NAS (no age statement) whiskies – a suggestion firmly denied by the company.