Born and bred in Speyside, it felt natural to Iain Allan to pursue a job in the whisky industry. As visitor centre manager of Glen Moray and its representative for The Malt Whisky Trail, he discusses whisky tourism and those iconic brown signs with Thijs Klaverstijn.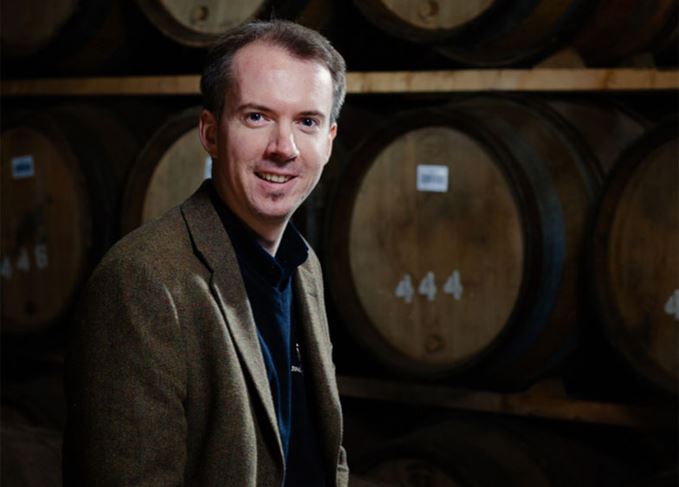 'Like a lot of students in Scotland, at first I didn't really know what path I was looking to take. The alcohol business interested me. Being born and brought up in Speyside, you have whisky on your doorstep. It was an easy step to come back home after university and try and get into the industry.
'I don't necessarily think whisky is part of the life of everyone living in Speyside, but it was for me. My dad was a big single malt whisky fan. It was always in the house and around me, to some extent. I had friends whose parents worked in the industry.
'Driving around there's always a distillery at the side of the road. I may not have been quite as aware of it when I was 17 or 18, and certainly hadn't built up the passion for whisky at that time, but it was always within peripheral vision.
'For me it all started when I became manager of the Macallan visitor centre in 2001, where I stayed for four years. Previous to that I had a part-time job in a wine and spirit store while at university in Aberdeen, which is where I developed my passion for spirits. After graduation I became the manager of that store, although I didn't hang around there too long after that.
'I studied law and management, which has nothing to do with whisky. But the management side came in handy when I returned to Speyside. I was very lucky that Macallan took a punt at me and took me on.
'It was a fantastic learning curve for me to be part of such a big company and to be involved with such a prestigious brand. It allowed me to develop and learn things to which I probably wouldn't have been afforded the opportunity anywhere else.

Glen Moray: The Speyside distillery now attracts over 21,000 visitors every year

'The opportunity at Glen Moray came up, and here I was given a bit more freedom. I became involved in other aspects of the business as well. I ended up here in 2005 and have been here ever since. What's not to love? I work with whisky every day. It's a great bash.
'I'm brand ambassador as well as manager of the visitor centre. To me it is sort of two sides of the same coin – you talk about the brand regardless, whether you're doing that at the distillery with things to point at, or through explaining the brand in another market. The way I see it, it's the same job but just in different locations.
'Last year Glen Moray had our busiest year ever with 21,000 visitors. When I first came on board that number sat at just 5,000 visitors. It's come on leaps and bounds since then.
'The café that we have at the visitor centre is really about location. Glen Moray is situated in a residential area – not many distilleries have houses on their doorstep. Also, when it was quieter in the wintertime, we always had the coffee shop to stay open.
'Now the coffee shop is supplementary. Seasonality is starting to erode. We're finding that we are as busy in March as we are in the summer months. Last year, May was our busiest month ever, while normally that would be August.
'I want people to leave Glen Moray thinking they enjoyed themselves and that they had a good time. I like to think we're a friendly distillery and quite laid back. We get the geeks, guys that want the details and numbers. But there are also an awful lot of tourists that want to visit a distillery to tick that box. We try and offer as many options to suit different people and different approaches to whisky as we possibly can.

Iconic signs: Nine whisky attractions, including Glen Moray distillery, form Speyside's Malt Whisky Trail

'When I came on board with Glen Moray they had pretty much just joined The Malt Whisky Trail. You get the signage of The Malt Whisky Trail when you become a member. For many years the signage was the attraction.
'It seems like something simple, but having those almost iconic brown signs meant that people knew where you were. It also leads you from one distillery to the next. For a lot of distilleries, ourselves included, that was kind of a hook, an important part of the membership.
'Over the past few years The Malt Whisky Trail has pulled its socks up. Our chairman James Johnston is our driving force. He's not involved in the whisky industry in any other way, but he is from the Moray area and wanted to see it developing. He's given us the push.
'For many years we called The Malt Whisky Trail the sleeping giant. Johnston has really awakened that giant. We do more marketing, we have branding, and the website is improved. We've also taken on a PR partnership to develop social media.
'The overall motivation behind The Malt Whisky Trail is to promote tourism in Moray. The benefit to the distilleries should then come forth. It is a gathering of like-minded people, who are to some extent competitors. Even so, we are working together to promote the area, knowing that people will come, and they'll maybe visit more than a few distilleries.
'It benefits other businesses around, which has a continuing knock-on effect that Moray becomes a better place to visit. The more people we can get to come over, the better quality restaurants and hotels that we'll have because of that.
'We fight for being the Mecca between Islay and us. We win on volume. We try and promote ourselves as being the place to come if you're interested in whisky.'