Speyside single malt Balvenie has unveiled Chapter Two of its DCS Compendium, a collection of five whiskies with a £20,000 price tag.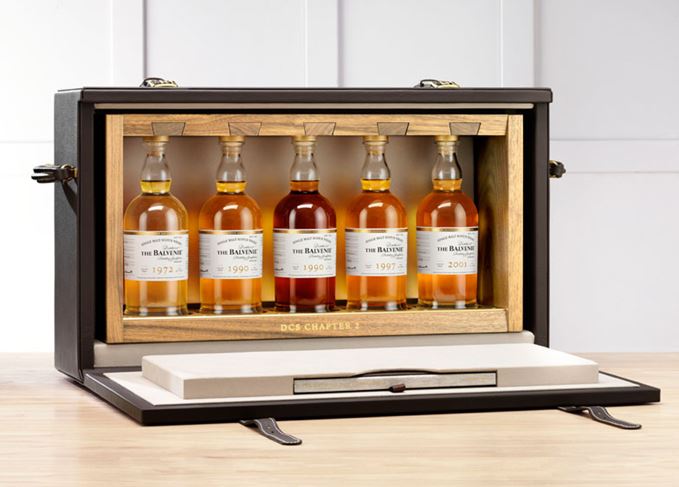 The collection of five whiskies created by Balvenie malt master David Stewart has been given the title 'The Influence of Oak', and aims to chart the diversity in the single malt's character following maturation in different casks.
Its release follows the launch of Chapter One of the DCS Compendium in October 2015 – five single malts that focused on the theme of 'Distillery Style'.
Balvenie will eventually release 25 bottlings across five 'Chapters' for the DCS Compendium, a series designed to commemorate Stewart's long career with the distillery and described as Balvenie's 'biggest launch to date'.
The whiskies in Chapter Two range in age from 15 to 43 years old, and have been matured in a range of cask types, including European oak oloroso Sherry butts, first fill American oak Bourbon barrels, European oak Port puncheons and European oak Pedro Ximénez Sherry butts.
Stewart, who has worked at Balvenie for 54 years and last year received an MBE, said: 'This chapter highlights the complexity of flavours each expression takes from wood.
'I love the results from the older oloroso Sherry butt, which has produced a whisky with a fantastic floral and fruity nose, followed by a wonderful honeyed sweetness. The whisky taken from the 2001 Pedro Ximénez Sherry butt is unusual: it shows Balvenie as a near liqueur with toffee sweetness and a touch of spicy ginger.'
Chapter Two is available to buy as a set, complete with display case, for £20,000, or as individual bottles. Fifty sets are available globally.
The five whiskies in Chapter Two are:
1972: 43 years old, Cask 13134, a European oak oloroso Sherry butt, filled 31 October 1972, 52.4% abv, £15,000
1990: 25 years old, Cask 2790, a European oak oloroso Sherry butt, filled 3 October 1990, 59.6% abv, £1,100
1990: 26 years old, Cask 7359, a first-fill American oak Bourbon barrel, filled 1 May 1990, 52.9% abv, £1,100
1997: 19 years old, Cask 7951, a European oak Port puncheon, filled 6 August 1997, 61.8% abv, £800
2001: 15 years old, Cask 9328, a European oak Pedro Ximénez Sherry butt, filled 25 April 2001, 62.3% abv, £700
Chapter Three, which will be released in 2017, will be themed on 'Secrets of the Stock Model', while the final two chapters will be named 'Expecting the Unexpected' and 'Malt Master's Indulgence'.