Balvenie has announced the fourth and penultimate chapter in its DCS Compendium, a collection of five 'unusual' whiskies that would 'otherwise never have seen the light of day'.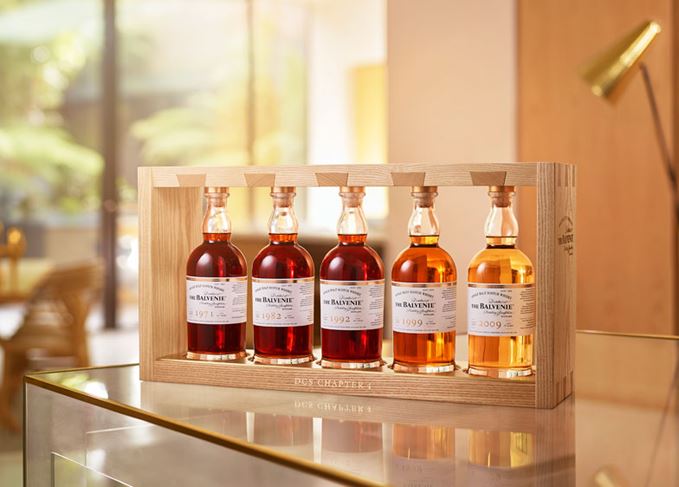 Titled Expecting the Unexpected, the five whiskies have been selected by Balvenie malt master David C. Stewart for exhibiting 'unexpected' qualities.
Ranging in age from nine to 47 years old, the five single cask whiskies are available to buy individually or as part of a collection for £29,000.
'Each of the five liquids in Chapter Four present highly unusual and unexpected characteristics that we wouldn't have thought possible from the type of oak they matured in and the maturation time they've been given,' said Stewart.
'Chapter Four gives us the opportunity to celebrate these twists and turns and allows us to release an extraordinary series of vintages, strides apart from our usual styles.'
The oldest expression in the chapter – a 1971 vintage matured in a refill European oak oloroso Sherry butt, is described as having a 'high level of richness and spice' that led Stewart to believe it had been matured in first-fill casks.
Bottled at 49.9% abv, the expression is priced at £21,000 each.
Stewart also selected a 1982 European oak oloroso Sherry hogshead, which took on 'completely unexpected' notes of dark chocolate, and has been bottled at 51.1% abv for £4,000.
A 1992 European oak oloroso Sherry puncheon was chosen for the chapter for its unusual notes of toasted almonds. Bottled at 49.8% abv, it is available for £1,200.
The penultimate whisky selected is an 18-year-old malt from a refill American oak hogshead, filled in 1999 and available for £800.
The 46.8% abv whisky was chosen by Stewart for its 'vibrant coconut notes' which come as a result of toasting the ends of the cask.
Lastly, a nine-year-old malt from a first-fill American oak barrel is described as being one of Stewart's 'biggest surprises'.
Filled in 2009 outside of Balvenie's annual peat week – the short period it runs peated distillations – the 61.1% abv expression contains notes of 'distant smoke' which Stewart believes has been picked up from the walls of the washbacks and pipework from earlier peated spirit runs.
The 2009 expression will be available for £500 a bottle.
Stewart added: 'Despite spending many years studying the science and art of whisky maturation, there are still occasions when I find myself pleasantly surprised with the unexpected direction a liquid has taken.
'The nature of whisky making is unpredictable and in the case of The Balvenie DCS Chapter Four, means a selection of remarkable and distinctly different liquids have been released that would otherwise never have seen the light of day.'
As with the previous chapters in the Balvenie DCS Compendium, Chapter Four will be accompanied by a book written by former Balvenie global ambassador Sam Simmons, and personally signed by Stewart.
The Chapter will be available from specialist retailers globally from November.
One set was up for auction via Christie's earlier this month alongside a bespoke Balvenie Morgan Roadster, although the lot failed to find a buyer.
The first chapter was launched in 2015, while the fifth and final chapter will be titled Malt Masters Indulgence, and will be released in 2019.