A 12-year-old Port Charlotte expression from Islay's Bruichladdich distillery is being auctioned for charity, with the distinction of being the first Scotch whisky to use millennia-old iceberg water from Greenland.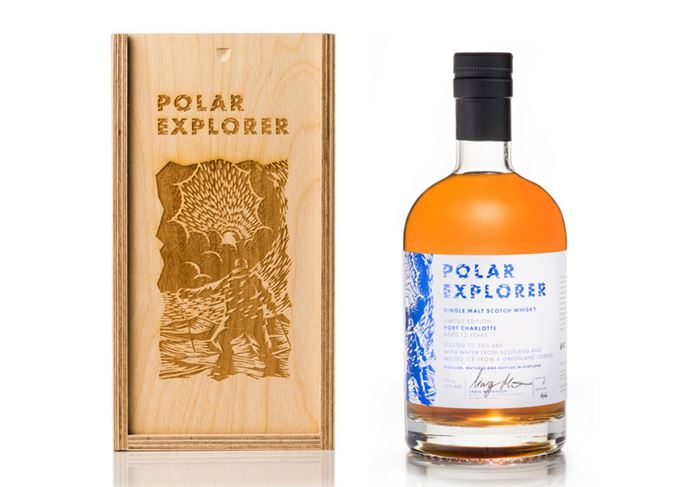 The expression is being released by The Polar Academy, a Scottish charity for disadvantaged youths founded by celebrated polar explorer Craig Mathieson.
The whisky's natural cask strength has been reduced to 50% abv with a combination of Scottish water and pure blue glacial iceberg water, melted from samples carved by Mathieson himself while sea kayaking on the Sermilik Fjord of Eastern Greenland.
With a limited release of just 200 bottles, an initial 10 Polar Explorer bottles will be available at Whisky Auctioneer with a starting price of £100, the proceeds of which will be donated to The Polar Academy. The five-day international auction begins on Friday 28 July.
The remaining 190 bottles will be available directly from The Polar Academy following the end of the auction, in return for a generous donation.
The charity has already received offers for the limited edition bottling upwards of £1,000.
The unique expression was devised when Edinburgh businessman Steve Thom gifted Mathieson with a single Sherry cask of heavily peated Port Charlotte single malt, produced at the Bruichladdich distillery on Islay in 2004.
The bottles come individually numbered and signed, within a wooden presentation box designed by Wolffe in Edinburgh.

Unique malt: Edinburgh businessman Steve Thom (left) donated his 12-year-old cask to the charity of Craig Mathieson (right).

Mathieson is the first Explorer in Residence of the Royal Scottish Geographical Society for 129 years, and founded The Polar Academy in order to empower and encourage disaffected youths across Scotland.
He is one of only 12 polar explorers to have skied to both the North and South Poles, and led Scotland's first dedicated expedition to the South Pole in 2004, The Scot100 Expedition.
He said: 'The Polar Explorer is truly unique, a bottle that reflects both its spiritual home in the Isle of Islay and bond with the wild Arctic landscape. Both are close to my heart.
'To support the work of The Polar Academy, I invite purveyors of this fine single malt Scotch whisky to bid at auction, or subsequently make a donation to the charity for a bottle of the whisky and share my taste for a fine malt and adventure.'