Loch Lomond Distillery has added two new expressions to its Island Collection – Inchmoan 12 Year Old and Inchmoan 1992 Vintage.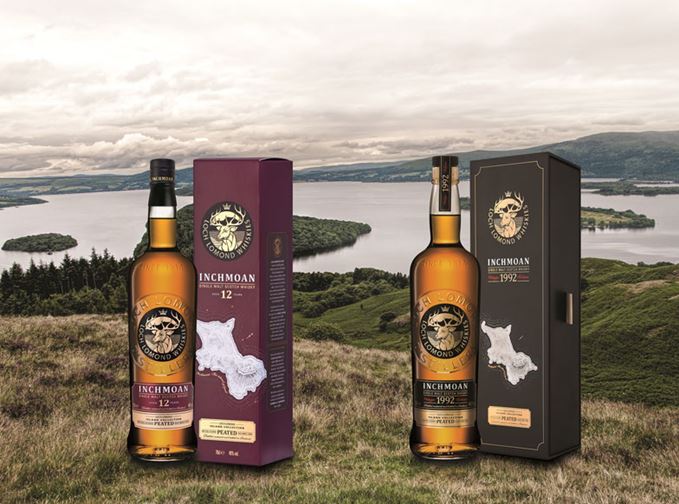 The two new single malts, which are produced at the Loch Lomond distillery in Alexandria, will sit alongside Inchmurrin – also made at the same distillery – in the Island Collection.
Inchmoan is a heavily peated style of whisky made on Loch Lomond's traditional swan neck pot stills, and on unconventional straight-neck stills.
Inchmoan 12 Year Old has been matured in re-charred American oak and refill American oak casks, and bottled at 46% abv without chill filtration.
Inchmoan Vintage 1992, meanwhile, has been matured for 25 years in refill American oak casks and bottled at 48.6% abv, also without chill filtration.
The whisky style takes its name from one of the islands in nearby Loch Lomond, which has historically been a source of peat for surrounding communities.
Part of a group of low-lying islands north of the larger Inchmurrin, Inchmoan literally translates from Scottish Gaelic as 'the island of the peat'.
Michael Henry, master blender at Loch Lomond distillery, said: 'Our intriguing new Inchmoan expressions have been created to celebrate the history and heritage of the island and are the first heavily peated releases in the Loch Lomond Whiskies range.
'I have selected three different spirits, each bringing a unique peat characteristic, whether that's spicy, medicinal peat or smoky peat, to the Inchmoan 12 Year Old. This combination creates a balanced, complex peat character highlighting some of the softer, spicier peat notes often masked by heavier peat flavours.'
Inchmoan 12 Year Old will be available for about £44 per bottle, while Inchmoan 1992 has a retail price of £199.
Both expressions are currently available in the UK from specialist whisky retailers, and will be rolled out to global markets over the next few months.