Glenfiddich has revealed the third edition in its Experimental Series, a single malt Scotch finished in Canadian icewine casks.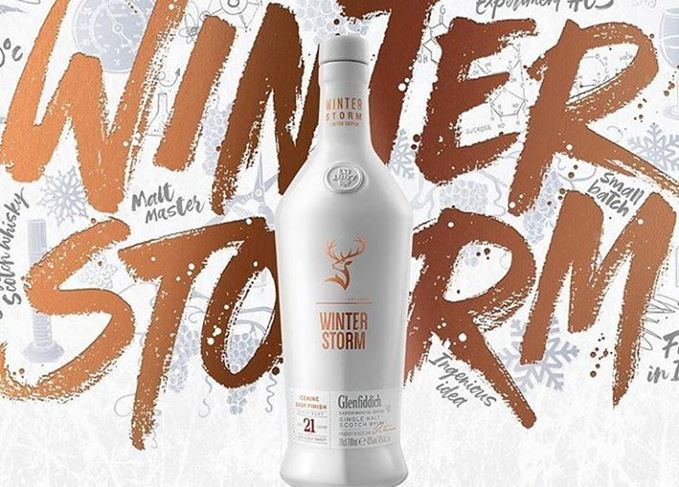 Glenfiddich Winter Storm is a 21-year-old single malt finished for six months in French oak casks previously containing icewine from Peller Estate in Niagara.
Icewine is a style of sweet wine that's been produced from grapes that have frozen while still on the vine.
When pressed, the frozen grapes deliver a more concentrated amount of sugar, resulting in a very sweet wine.
Having visited the Peller Estate winery in January 2016, Glenfiddich malt master Brian Kinsman experimented with maturing Scotch whisky in several different icewine casks.
He said: 'Only the rarer whiskies, those aged for 21 years, could cope with the extra icewine intensity.
'Having more tannins, extracted from years in oak, these malts brought out a uniquely fresh lychee note instead of being swamped by sweetness.'
Craig McDonald, vice-president of winemaking at Peller Estates, said: 'We go to extreme lengths to produce our intensely sweet icewine and are always looking for ways to push the boundaries of taste, so I was intrigued to see how it could be used to create a new unexpected whisky.
'The resulting liquid is a unique combination of the warming soul of whisky and the frozen cold of icewine.'
Glenfiddich Winter Storm, which is bottled at 43% abv, is described as having 'tropical fruit and underlying wine notes'.

Storm in a bottle: Glenfiddich Winter Storm has spent six months in icewine casks

The expression, which is presented in a white ceramic bottle, will be released globally in two batches from 1 October 2017, and March 2018.
It will be available for around £199 per bottle.
It is the third release from the Speyside distillery's Experimental Series, which launched in September 2016 with Glenfiddich IPA and Glenfiddich Project XX.
The series is designed to 'push the boundaries of Scotch whisky' through an exploration of various factors that affect flavour.