Speyside distillery Glenfiddich has released Grand Cru, a 23-year-old single malt finished in cuvée wine casks from France's Champagne region.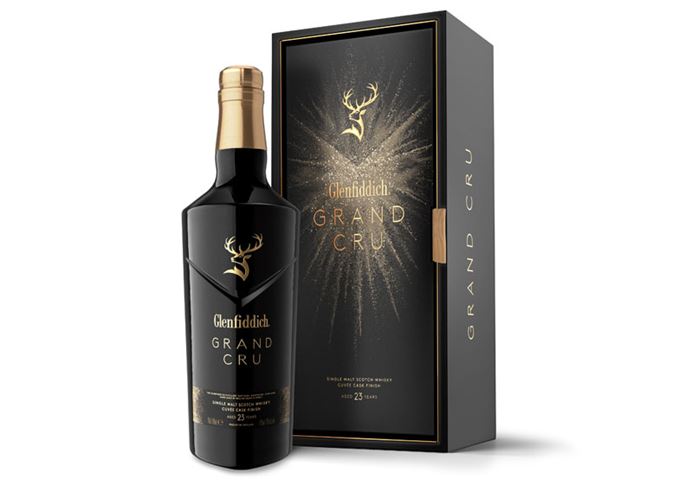 Glenfiddich Grand Cru has been matured in American oak and a small number of ex-Sherry casks, before being finished for four months in a mixture of first-fill and second-fill French oak casks, which 'have been used in fermenting the wine that will eventually become Champagne'.
The majority of Champagne producers use stainless steel tanks for the primary fermentation of their still wines, although a small handful of producers, including Krug, Bollinger, Lanson and Veuve Cliquot, ferment using oak casks which add a creamy, vanilla quality.
Grand Cru is the first expression in Glenfiddich's new Grand range, a series of whiskies with 'a connecting factor of age' that will continue with second and third releases in 2020.
The Grand range will function separately to Glenfiddich's Experimental Series, its range of 'innovation' whiskies that include Glenfiddich IPA Cask, XX, Winter Storm and Fire and Cane.
Grand Cru is the first Glenfiddich to be finished in French cuvée casks, and was created to 'play on the liquid synonymous with celebration but that brings the substance and smoothness of single malt to the moment'.
Alex Walker, UK brand ambassador for Glenfiddich, said: 'Brian [Kinsman, malt master at Glenfiddich] has always been fascinated with wine casks – he was looking for something that accentuated the floral side of Glenfiddich.
'With Grand Cru, we really wanted to explore a wider audience and invite them into our whisky family, combining the best of Scotland and the best of what France has to offer.'
Bottled at 40% abv, the whisky is said to contain notes of 'sweet brioche, pear sorbet, white grape and rich vanilla'.
Brian Kinsman added: 'We experimented with the maturation time and hand selected the right balance of 23-year-old Glenfiddich casks out of our unique collection of old age malts.
'The further influence from the oak of the French cuvée casks added an extra layer of complexity thanks to the liquid they once held.
'Marrying the best of both worlds, the final liquid presents an exceptional finesse and is a special tribute to each individual cuvée cask the malts were finished in.'
Priced at £220, Glenfiddich Grand Cru is available in the UK for two weeks as a Harrods-only exclusive, before launching in other specialist retailers and rolling out across Singapore, America, South Africa, Taiwan, global travel retail and the Glenfiddich website.