Glenfiddich has launched Fire & Cane, a peated single malt finished in rum casks, as the fourth release in its Experimental Series.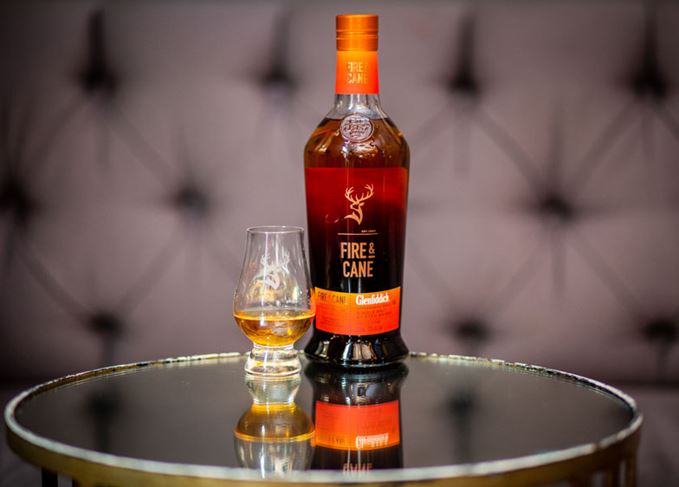 Described as 'the whisky experiment that will divide you', Glenfiddich Fire & Cane is a lightly peated, no-age-statement single malt that's been matured in ex-Bourbon casks before being finished in 'Latin-style' rum casks for several months.
Glenfiddich malt master Brian Kinsman chose an 'earthy, richer' rum than the Caribbean style used to finish the Glenfiddich 21 Year Old Gran Reserva, in order to balance the rum and peat notes.
Jennifer Wren, Glenfiddich US brand ambassador, said the rum used is a blend from various regions including the Caribbean and South America.
'The rum we use for our 21-year old was too light and delicate to hold up against the peat,' she said.
'Brian sought out a blended rum that was more musty and goaty, and had a big personality, because otherwise the rum notes were getting lost.'
The whisky, which is bottled at 43% abv, is described as having a 'toffee sweetness' with a 'campfire smokiness'.
While the expression is the first peated Glenfiddich finished in rum casks, Fire & Cane is not the first peated malt from the Speyside distillery.
In 2003 the distillery released Glenfiddich Caoran, a lightly peated 12-year-old single malt, as a UK exclusive.
Ten years later the brand introduced the peated Vintage Cask as part of its global travel retail range, while the Glenfiddich 125th Anniversary edition, released in 2012, also contained peated malt.
Wren added: 'This is another example of how we are leading the pack on innovation, which is always the goal of what we do.
'Glenfiddich sits in this very traditional space, but we're also not afraid to take risks. With every new Experimental edition we're just pushing that boundary a little bit farther.'
Glenfiddich Fire & Cane will be available to buy in the US from July, and in the UK from October for around US$50/ £43 a bottle.
It joins Glenfiddich Project XX and IPA Experiment as part of the brand's on-going Experimental Series.
Last year's Glenfiddich Winter Storm, a 21-year-old single malt finished in Canadian icewine casks, was a limited edition part of the range.
This article contains affiliate links, which means we may earn a small commission if a reader clicks through and makes a purchase. All our journalism is independent and is in no way influenced by any advertiser or commercial initiative.