Independent bottler Douglas Laing & Co is introducing a 25-year-old expression of Islay blended malt Big Peat, the first in a trilogy of limited edition 'old and rare' releases.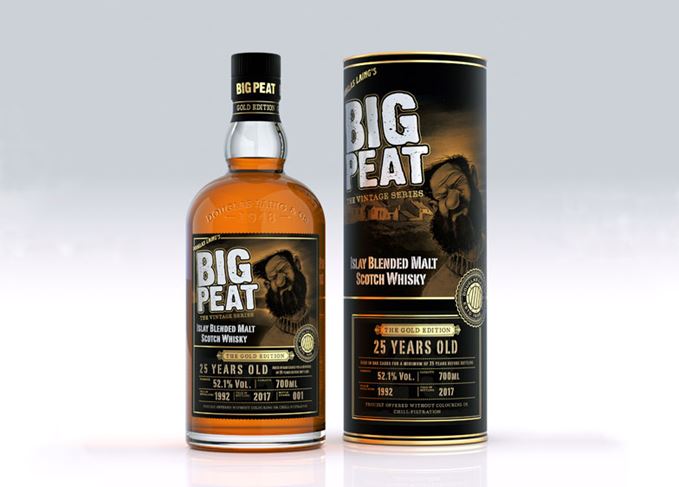 Big Peat 25 Year Old Gold Edition is the first release from the brand to carry an age statement.
Featuring whisky exclusively from Islay distilleries, the expression is described as a 'more gentle and mature' version of Big Peat, with a sweet palate and notes of black pepper, chimney smoke and charred meat.
Botted at a cask strength of 52.1% abv, and without added colour or chill filtration, Big Peat Gold Edition will be available from December 2017. Three thousand bottles will be released globally.
The expression is the first of three 'old and rare' Big Peat releases being launched annually over the next three years.
Cara Laing, director of whisky at Douglas Laing, said: 'With this specialist series in mind, we've been sampling certain casks over the years and feel now that Big Peat's aged vatting is ripe for release.
'Our very special marriage of Islay single malts is bursting with rich, deep, phenolic and typically Islay flavours, clearly showing Big Peat's signature sweet smokiness at its heart. It will be fascinating to see how the spirit develops as the trilogy progresses.'
Big Peat was launched in 2009 as a blend of malt whiskies from Islay, and forms part of Douglas Laing's Remarkable Regional Malts range.
Last month the independent bottler added The Gauldrons, its first Campbeltown blended malt, to the range, which also includes Timorous Beastie from the Highlands, Scallywag from Speyside, The Epicurean from the Lowlands and Rock Oyster from the Islands.