Budget supermarket Aldi has released a low-priced Glen Marnoch 29 Year Old single malt, and a single grain whisky named Solo Clubhouse as part of its Christmas premium spirits selection.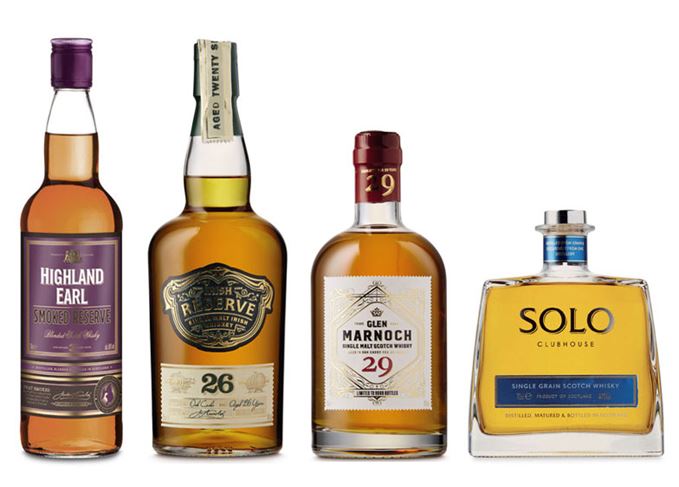 The range, which includes a variety of spirits from Scotch and Irish whiskies to rum, gin and vintage Armagnac and Cognac, is available at budget prices in UK stores from 14 November.
Glen Marnoch 29 Year Old is a limited release of 9,000 bottles priced at £39.99 for 70cl.
Sourced from an undisclosed distillery and bottled at 40% abv, the release is described as being 'light and floral' on the nose, with notes of 'gentle spices, sweet vanilla and light fruits' on the palate.
It is one of the oldest Glen Marnoch expressions from the Aldi-owned brand, which has previously been presented as a 12- and 18-year-old Highland single malt, and 18-, 24- and 28-year-old Speyside malts.
In addition, Aldi has introduced a Glen Marnoch gift pack at £7.99, which includes three 5cl bottles of its NAS Highland single malt finished in different casks: Sherry Cask Finish, Bourbon Cask Finish and Rum Cask Finish.

Limited edition: Only 9,000 bottles of Glen Marnoch 29-Year-Old are available

Also released as part of Aldi's Christmas spirits selection is Solo Clubhouse single grain Scotch whisky, a 'soft, mellow and refreshing' expression presented in a squat, square bottle. Bottled at 40% abv, the no-age-statement release carries a price tag of £19.99.
The selection also includes a limited edition 26-year-old Irish Reserve single malt at £39.99. Bottled at 40% abv, the expression is described as being 'smooth and rich, with an abundance of fruity sweetness'.
Finally, Aldi has introduced the new Highland Earl Smoked Reserve, a three-year-old blended Scotch whisky made with barley malted on Islay.
Bottled at 40% abv with notes of 'toffee, smoke and sea salt', it is available for £13.49.
Aldi's limited edition festive spirits selection has been introduced in addition to its core range of Scotch whiskies, which includes Highland Black, Highland Earl, and Speyside, Highland and Islay Glen Marnoch expressions.