The first single malt whisky from Annandale distillery for 99 years is on its way to being released.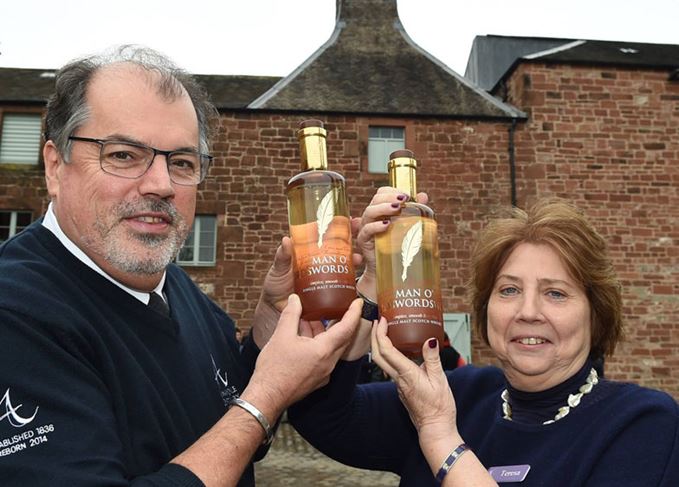 The Lowlands distillery, which last operated in December 1918, became operational once more in 2014.
In a ceremony held at the distillery yesterday (15 November), the first two bottles of legal Annandale single malt for 99 years was drawn from Cask No 1.
While one bottle will be kept by the distillery, the second will be sold along with the first cask for £1 million.
Prof David Thomson, managing director of Annandale distillery, said: 'It's our ambition to make decent whisky here, I hope we're doing that, and that in 100 years time we'll still be making decent whisky and that we'll be employing decent and honest people from Annan.
'It's definitely not the end of the story, it's not even the beginning of the end of the story, but in Winston Churchill's immortal words, it just might be the end of the beginning.'
Thomson and his wife Theresa Church acquired the former Annandale distillery in 2007 and set about rebuilding and fitting the site over a period of seven years.
The late Dr Jim Swan, whose family was in attendance, was instrumental in the set-up and Thomson paid tribute to him before the cask was drawn.
He said: 'Jim Swan was at our elbow right the way onwards from word go. Jim's knowledge of whisky was profound and his ability to translate his knowledge into a working distillery was even greater.
'When he came here he entertained us royally… he just brought the place to life. He was a great loss to us, and a great loss to the industry and to his family. Hopefully this is a lasting memorial to what Jim's done.'
Annandale will now focus on bottling its first general releases of single malt for two distinct brands: Man o' Words and Man o' Sword.
The two brands refer to two 'locals' who made it on the world stage: Robert Burns and Robert the Bruce.
Annandale Man o' Words is an unpeated expression while Man o' Sword is peated at 45ppm. Both will be matured in a mix of ex-Bourbon and ex-Sherry wood.
The first releases of both expressions will be from single casks filled from the distillery's initial production runs.
Around 240 numbered bottles will be produced from each cask. Casks 2014/033 and 2014/037 will be unpeated Man o 'Words, while casks 2014/066 and 2014/071 will be peated Man o'Sword.
Named 'Early Release of First Production', the first four casks will be released in early 2018, and will be on strict allocation to those registering interest via Annandale's website.
The original Annandale distillery was built in 1830 by former Elgin-based excise officer George Donald, who named the site after the valley in which it is situated.