The 'world's first' Scotch whisky to travel to the South Pole and back is to be bottled as part of a commemorative blend.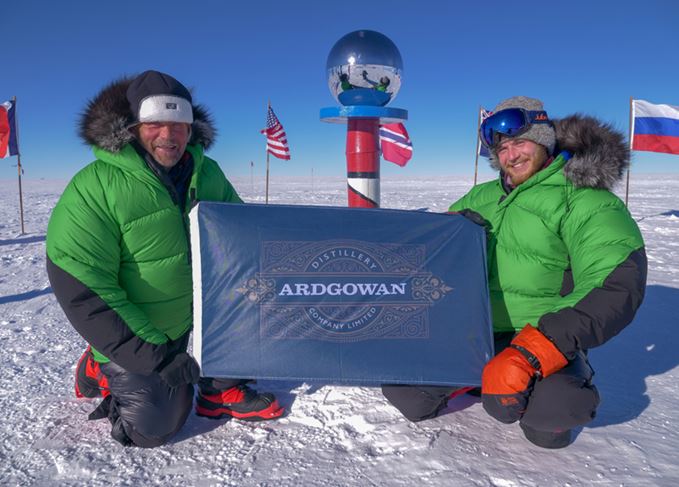 Explorer team Robert Swan OBE and son Barney Swan set off for the Antarctica in November, taking two small flasks of unidentified malt whisky provided by Ardgowan distillery.
The duo reached the South Pole on 15 January, and are now on their way back to Scotland where one of the flasks will be presented back to the distillery.
Ardgowan chairman Willie Phillips will then blend the contents with other malts to create a commemorative Ardgowan Expedition bottling.
The limited edition release is set to be available in the spring, while work is due to start on Ardgowan's new distillery later this year in time for a 2020 opening.
Meanwhile, the other sample of Ardgowan was enjoyed by the explorers on Hogmanay, to ring in the new year.
'At the end of each day we were exhausted,' said Barney Swan. 'On Hogmanay it was great to look forward to a dram – no doubt the most southerly New Year toast in the world. It really lifted our spirits.'
Swan and his father journeyed with the Scotch for 56 days and 600 nautical miles using only renewable energy to raise awareness of environmental issues.
Distillery CEO Martin McAdam has pledged a proportion of the sales of the Ardgowan Expedition bottling to support the explorers' ongoing environmental work.
Although the Scotch is considered the first to travel to the South Pole and back to Scotland, it's not the first time whisky has been to Antarctica.
Following his failed 1907 expedition to the South Pole, three crates of Mackinlay's Rare Old Highland Malt were later discovered beneath Ernest Shackleton's base camp at Cape Royds in 2011. However there is no evidence the whisky made it all the way to the South Pole.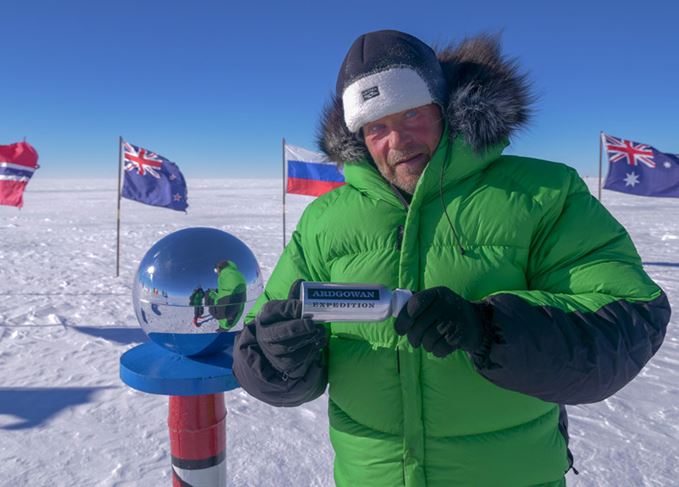 Chilled whisky: Robert Swan braved freezing temperatures to take the aluminium decanter of whisky to the South Pole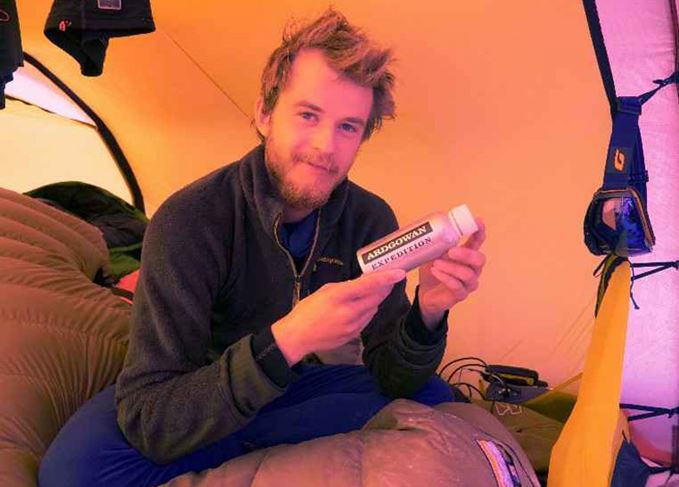 Happy New Year: Barney Swan enjoys a dram of Ardgowan Expedition on Hogmanay