Jane Walker, a limited edition version of blended Scotch Johnnie Walker, is set to launch in the US next month in support of female empowerment.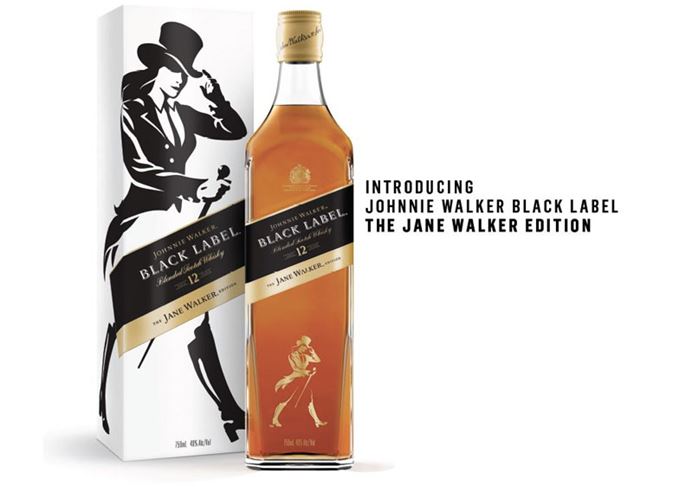 The blended Scotch whisky brand has replaced its iconic Striding Man logo with a female version – donning knee-high riding boots – for a limited edition run of its 12-year-old Black Label, named The Jane Walker Edition.
The expression, which was first spotted on the TTB website last month, will be launched to coincide with Women's History Month and International Women's Day on 8 March, with US$1 from every bottle produced donated to organisations that support female empowerment.
Those charities set to benefit include Monumental Women, which aims to erect a statue honouring Amercia's female suffragists in New York City's Central Park, and She Should Run, which inspires women to run for office.
Around 250,000 bottles of Jane Walker will be available in the US only.
The expression has been released as an extension of the Scotch whisky's Keep Walking campaign.
Diageo, which produces Johnnie Walker, said in a statement: 'As a brand that has stood for progress for nearly 200 years, Johnnie Walker is proud to take this next step forward by introducing Jane Walker as another symbol of the brand's commitment to progress.'
Stephanie Jacoby, vice president of Johnnie Walker, added that the expression was being launched as an invitation for women to try Scotch whisky.
'Scotch as a category is seen as particularly intimidating by women,' Jacoby told Bloomberg. 'It's a really exciting opportunity to invite women into the brand.'
She added: 'Important conversations about gender continue to be at the forefront of culture and we strongly believe there is no better time than now to introduce our Jane Walker icon and contribute to pioneering organizations that share our mission.
'We are proud to toast the many achievements of women and everyone on the journey towards progress in gender equality.'
The Jane Walker Edition will be available for around US$34 for a 750ml bottle, which contains the same liquid as Johnnie Walker Black Label 12 Year Old.