Luxury single malt Macallan has announced its oldest official bottling – a 72-year-old whisky priced at US$60,000 for each numbered Lalique decanter.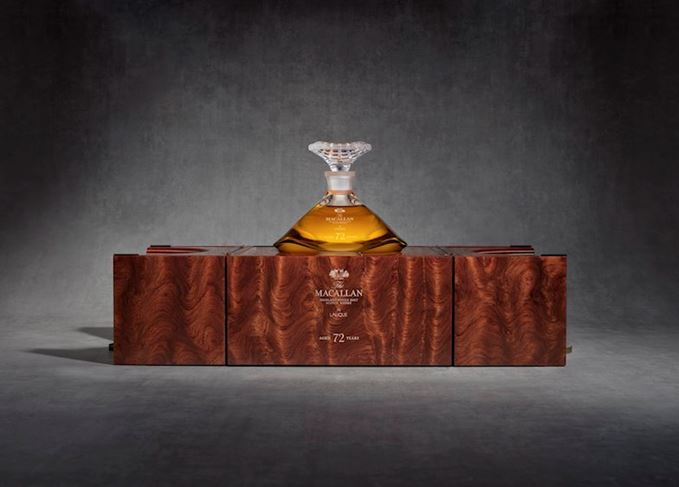 Described as 'a celebration of the collaboration of masters from across the fields of whisky, crystal, architecture, construction and craftsmanship', Macallan 72 Years Old in Lalique – The Genesis Decanter, bottled at 42% abv, is limited to only 600 individually numbered decanters worldwide.
Priced at US$60,000 per decanter, that gives the entire release a combined value of US$36m.
Available from August 2018, the whiskies will be sold at 'select locations' in the Americas, Asia Pacific, Europe, the Middle East and Africa, as well as in airport retail stores and at Macallan's new £140m distillery, which was officially opened last week.
Distilled in the 1940s, the whisky comes in a Lalique crystal decanter, held in a case designed by Burgess Studio and handcrafted by cabinet maker NEJ Stevenson.
'For its 72 years of maturation, the deceptively light colour hints that this is not an ordinary single malt,' said Nick Savage, Macallan master distiller.
'Reminiscent of a time gone by, it carries an exquisite balance of strong, sweet oak with the peaty spirit shaping its refined character.
'The whisky delivers surprise after surprise as aromas of fruit follow distinctive hints of peat, all the way through to the back of the mouth, where it is finished off with a lingering hint of rich fruit and oak.'
However the Macallan 72 is not the oldest Scotch whisky to be bottled. In 2015 Gordon & MacPhail released a 75-year-old Mortlach it called 'the world's most exclusive single malt Scotch whisky'.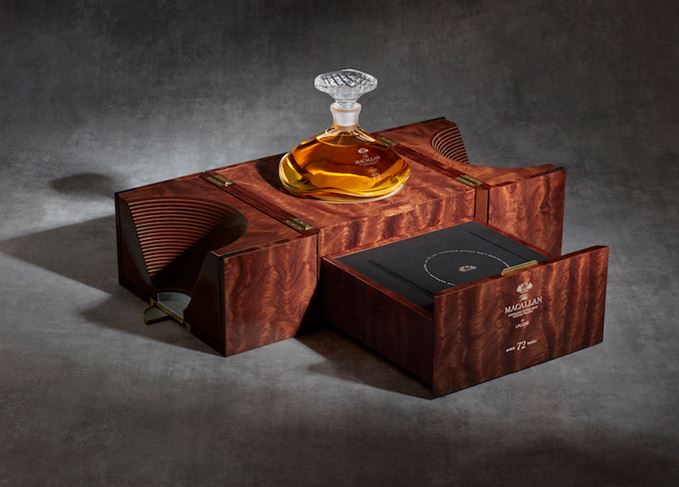 Complete package: Each decanter of Macallaon 72 Years Old comes in a handcrafted case