William Grant & Sons has launched a new range of single malts called Aerstone, in an effort to 'simplify the taste messaging' in Scotch whisky.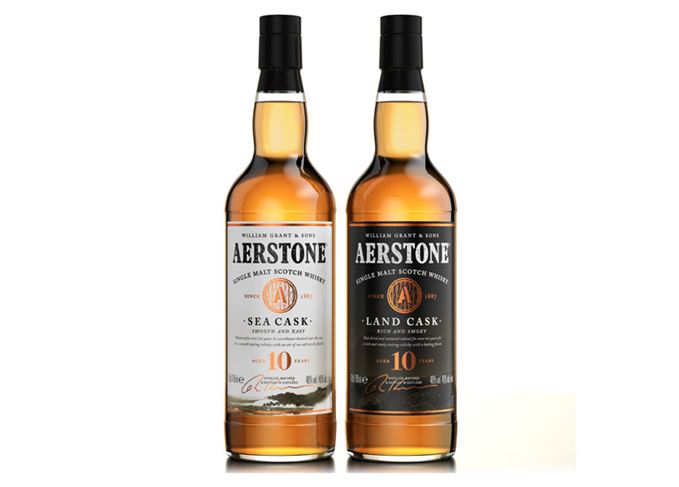 The Glenfiddich producer will launch the Aerstone range this month with two 10-year-old, 40% abv expressions named Sea Cask and Land Cask, both sourced from unspecified distilleries.
The introduction of Sea Cask and Land Cask aims to 'demystify the traditional – and often complex – language' associated with single malt Scotch.
Sea Cask, the 'smooth and easy choice,' is a 'Speyside-style' single malt matured near the Ayrshire coast, which according to William Grant & Sons imparts a 'subtle salty note' on the finish.
Land Cask meanwhile – the 'rich and smoky choice' – is a peated malt produced using Highland peat and matured at warehouses situated further inland.
Sean Wiemann, global innovation brand manager at William Grant, said the Aerstone range is being launched in response to consumer concerns that single malt Scotch is 'complex and intimidating'.
'With Aerstone we want to break down some of those barriers and help simplify single malts, inviting existing malt drinkers and new entrants to learn about all the different flavours and styles of single malt Scotch,' he said.
Brian Kinsman, master blender at William Grant & Sons, said: 'We have developed two very different and evocative flavour profiles under the one brand, both inspired by the Scottish environment and raw elements where we age our whisky.
'With a 10-year age statement, people can expect a well-rounded single malt whisky with depth of flavours that will intrigue not only new drinkers, but also more experienced single malt enthusiasts.'
Aerstone will launch exclusively in the UK in mid-September at Tesco for £30 per 70cl bottle.