Royal Lochnagar distillery welcomed a royal visit from Prince Charles today (16 October), who was presented with a cask of whisky laid down 30 years ago.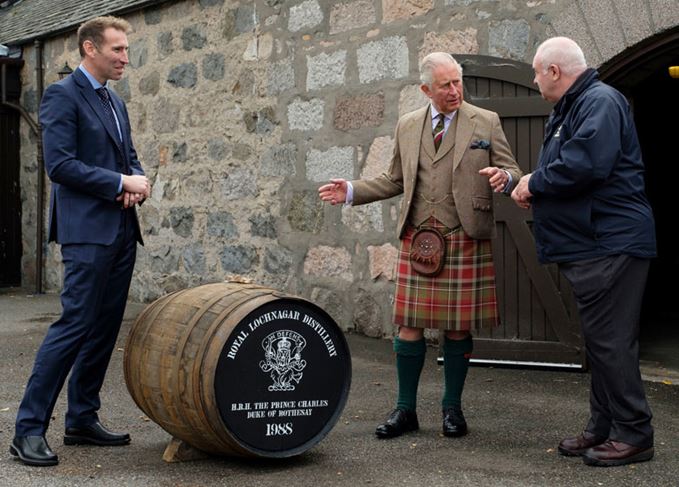 The cask was originally gifted to Prince Charles, the Duke of Rothesay, in 1988 to mark the 140th anniversary of the first royal visit to the Deeside distillery by Queen Victoria and Prince Albert in 1848.
Prince Charles has chosen to donate the cask to be bottled as a 30-year-old malt – the oldest from Royal Lochnagar distillery – in aid of his charity, the Prince's Foundation.
It will be bottled on His Royal Highness' 70th birthday on 14 November 2018, with details of a ballot to purchase a bottle via The Whisky Exchange revealed on the same day.
Money raised from the sale of the limited edition will go toward the foundation's new project, the Carriage bistro and tearoom at the Old Royal Station in Ballater.
Prince Charles toured the distillery before meeting employees – including one who worked at the distillery when the cask was filled in 1988, and unveiling a commemorative plaque to mark the occasion.
He was also invited to fill and sign a new cask that will be used at a later date to fund future charitable activity.

Future cask: HRH Prince Charles signs a cask end for the next charitable whisky to be laid down, aided by senior operator Andrew Thain

Ewan Andrew, director at Royal Lochnagar owner Diageo, who received His Royal Highness at the distillery, said: 'We are delighted to have welcomed His Royal Highness and to formally hand over this special cask, which will become the oldest single cask bottling of Royal Lochnagar Scotch whisky.
'We are particularly pleased that this will support the local community in Royal Deeside, which is so important to Royal Lochnagar and our people who live and work here.
'As we pass on one cask, we are pleased that The Duke of Rothesay filled a new cask that will continue the charitable legacy and support further good causes.'
The distillery opened as New Lochnagar (named after the nearby munro) in 1845. Following a visit from Queen Victoria – a fervent whisky fan – and Prince Albert in 1848, upon the invitation of then-owner John Begg, its name was changed to Royal Lochnagar.