Glen Moray has released a cider cask-finished single malt Scotch whisky in an industry first, as part of a new range said to 'push the boundaries of experimentation'.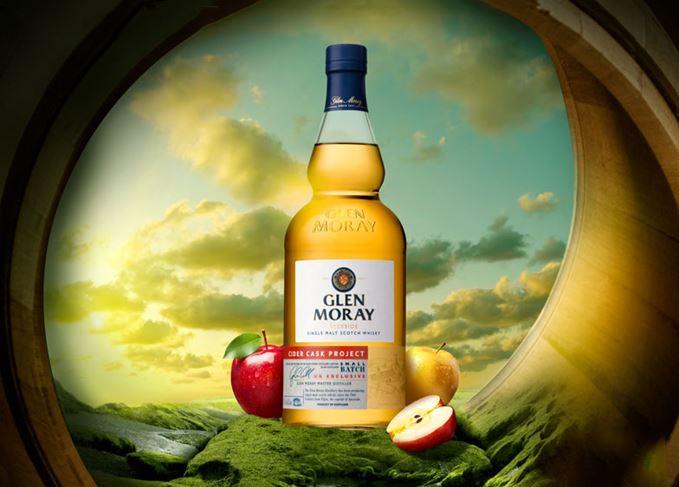 The Cider Cask Project is the first release in Glen Moray's new Elgin Curiosity range, a series of limited edition whiskies designed to showcase small batch experimental expressions with 'bold complex aromas and exciting flavours'.
Although other countries have used ex-cider casks to mature or 'finish' whisky, the process is a first for Scotch as cider casks are not technically permitted within Scotch Whisky Association (SWA) guidelines.
Scotch whisky guidelines call for spirit to be matured in 'traditional oak casks', where there is 'sufficient evidence of traditional use'. These casks include Bourbon and other whisky, grape brandy – including Armagnac and Cognac, rum, fortified wine (including Sherry, Madeira, Port and Malaga), still wine and beer/ale.
The SWA requires companies that deviate from the approved list of casks to 'establish that that type of cask had been traditionally used in the industry and to provide evidence to that effect'.
However Graham Coull, distillery manager for Glen Moray, said the new Cider Cask Project expression should be permissible under SWA guidelines.
'It's not strictly a cider cask,' he said. 'It's our own whisky cask we've used in partnership with Thistly Cross, which we've sent them and they've used the casks to create their whisky-finished cider, and we then take them back.
'It's in a similar vein to a whisky cask that's used for beer, it works on a similar basis to that.'
Glen Moray has not yet been asked to provide evidence to the SWA regarding the historical use of cider casks.
The Speyside distillery began working with Thistly Cross on a barrel exchange programme in 2013, which resulted in an inaugural cider cask-finish being made available as a bottle-your-own at Glen Moray's visitor centre.
Glen Moray Cider Cask Project is bottled at 46.3% abv and described as being a 'light and fresh whisky with caramelised apple notes from the cider casks which mix perfectly with the intense vanilla flavours found in all Glen Moray single malt whiskies'.
Priced at £52.95 for a 70cl bottle – of which only 2,000 have been produced – the expression is being sold exclusively through online retailer The Whisky Exchange until the end of October, when it will be available from specialist UK retailers.
This article contains affiliate links, which means we may earn a small commission if a reader clicks through and makes a purchase. All our journalism is independent and is in no way influenced by any advertiser or commercial initiative.