Speyside distillery Glen Moray celebrates its 120th anniversary this year and has grand plans for its future. Gavin D Smith spoke to distillery manager and master distiller Graham Coull to discuss age statements, playful innovation and his plans for future releases.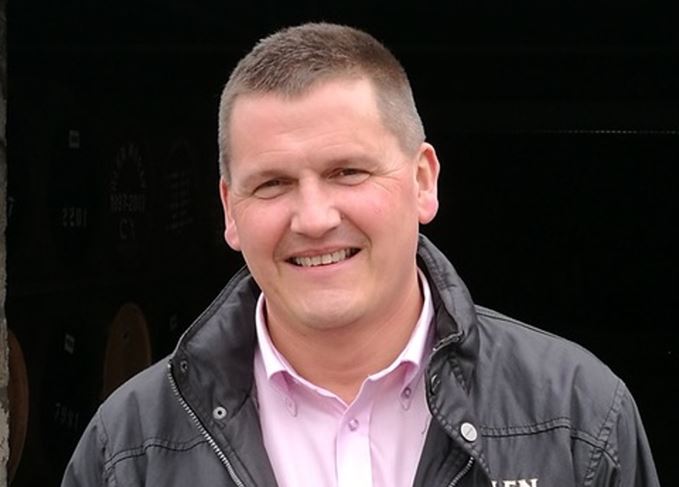 'I was born in Elgin, schooled in Forres and studied for a chemistry degree at Edinburgh University. My first job was with Webster's brewery in Halifax, Yorkshire, and then I got a job with William Grant in 1994. Initially, I worked on the bottling side, and then became process leader in Dufftown, which meant, in effect, that I was distillation manager for Glenfiddich, Balvenie and Kininvie. I came to Glen Moray in 2005.
'My mother and father were both teachers, and dad was a chemistry teacher who wrote a course on whisky production, so there was definitely an influence there. There were no jobs in the whisky industry when I qualified, so it was a choice of brewing or working on the nuclear fuel re-processing plant at Sellafield in Cumbria. I chose brewing.
'Being distillery manager at Glen Moray involves the day-to-day running, making sure you produce the right amount of spirit, and dealing with all the admin and red tape. The master distiller role is about working on ideas for new expressions, and these tend to be led by me. I go to the marketing team and suggest things. For example, we're thinking of producing a 21-year-old, but I need to be sure we have the stock before I can come up with ideas.
'We've just produced a range of 1994 vintages as distillery-exclusive expressions, and I knew it was a great year. I'm lucky in that I'm given lots of freedom. I source all the casks and I do different things that may come together. For example, I've filled peated spirit into fino Sherry casks and we'll see what happens.
'From the master distiller point of view, it's fun to get the chance to play around and put together expressions like our latest Mastery, which is being launched for the distillery's anniversary. It contains 20% Port cask-matured whisky from 1988, while 80% of the component whiskies date from 1994 or earlier.
'It has a backbone of Madeira wood, with some Sherry and Port influences in there too. It links the five managers that the distillery has had during its existence and the work I've done. It reflects the levels of experience and knowledge of those people.

Distillery milestone: Glen Moray celebrates its 120th anniversary this year

'I love numbers, so I really like making forecasts, working to see what I'll be short of in 2023. You've got to get the numbers right, just as you need to fill the right types of cask with great spirit. During the last five to 10 years we've really managed to get across that Glen Moray is a good malt whisky.
'It's always been highly-regarded for blending and if you have a good blending malt, you have character. We produce a Speyside malt with quite a lot of character. I'm delighted to see Glen Moray given respect, taken seriously, but also readily available and sensibly priced for the consumer. It exceeds people's expectations, and that's always nice.
'We introduced 12-, 15- and 18-year-old expressions this year as the Elgin Heritage Collection, having previously had a 12- and a 16-year-old. We increased the Sherry influence in the 15, compared to the previous 16-year-old.
'Ultimately, it boils down to the fact that in order to be able to do things like this, you have to have the liquid. We've made sure we kept enough back over the years, we didn't sell our soul. We've never had to take an age statement off a whisky. Just the opposite, in fact.
'The Classic NAS range of single malt, Classic Port, Classic Sherry, Classic Chardonnay and Classic Peated, is a great introduction to whisky. I like age statements, but I'm not precious about them. You can get a six-year-old in a first-fill cask which is better than a much older expression in a refill cask.
'We have nine warehouses, mainly palletised, and the owner [La Martiniquaise] has Port, Madeira and rum brands, which gives us a source of interesting casks. If you ask what's exciting me in those warehouses right now I'd say lots of different wine cask maturations, especially Cabernet Sauvignon, and rum.
'I want to see how the peated Glen Moray turns out as it gets older. I've got lots of stock ageing and I think it works really well with time. You can drink peated at six years of age, no problem. That's enough age with good casks and it's the sort of age our Classic range is bottled at.

Experimental approach: Coull has filled fino Sherry casks with peated spirit

'We've had two expansions at Glen Moray, and in four years we've gone from a capacity of 2m litres per year to 5.6m litres. The distillery works 24/7. Between 30% and 40% of what we produce goes for single malt, and we make 250,000 litres of peated spirit each year, some of which goes into our Classic Peated expression and some for the owner's Label 5 blend.
'We're in the process of creating a new production area, which contains three wash stills. We're changing over all six of the stills in the existing still house to become spirit stills. They're all the same shape, so it won't affect spirit character. We fitted eight new outdoor washbacks last year, having previously installed six external ones during the first round of expansion.
'I like the fact that Glen Moray is a distillery with heritage, dating back to 1897. We've got old parts and newer areas, and it feels good to have played my own part in expanding it. I've grown with the distillery over the 12 years I've been here, and the range of expressions has grown too, which has been great.
'The single malt category as a whole is doing well, but you always have to be innovating. The public are much more adventurous than they were even 10 years ago, and more willing to try new things – the same as with food. The world has become a smaller place, and whiskies from all over the world are now accessible.
'My personal favourite whiskies tend not to be overly Sherried. I like Caol Ila, for example, and my favourite Glen Moray is the new 15-year-old. I really like the balance of 50:50 oloroso Sherry casks and Bourbon barrels. As for the future, well, I fancy trying triple distillation at some point.'