GlenAllachie has resurrected the MacNair's Scotch whisky brand with the launch of three new peated blended malts.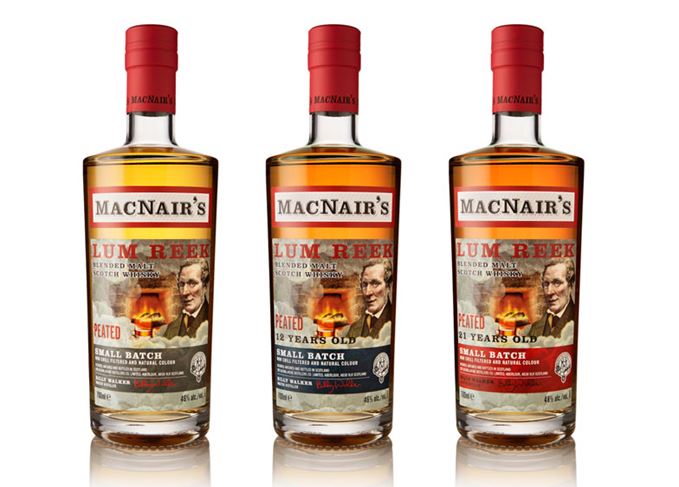 The new MacNair's Lum Reek range is comprised of three whiskies – a no-age-statement, a 12-year-old and a 21-year-old, each made from a blend of peated Islay and Speyside malts with 'older' GlenAllachie.
The name 'Lum Reek' comes from the Scottish toast 'lang may yer lum reek,' (long may your chimney smoke), with the range inspired by the brand's creator, Glaswegian blender and distiller Harvey MacNair, who founded his company in 1937.
The no-age-statement expression has been matured in a mixture of first-fill ex-Bourbon, oloroso Sherry, virgin oak and red wine casks, and is said to have notes of 'vanilla, barley sugar and sweet spices'. It is bottled at 46% abv and will be available for around £41.99.
The 12-year-old has been created from whiskies matured in first-fill Bourbon, ex-red wine and Pedro Ximinez Sherry casks, and has notes of 'heather… butterscotch and toffee'. Bottled at 46% abv also, it will be priced at around £49.99.
Finally, the 21-year-old, bottled this time at 48% abv, has spent time in ex-oloroso Sherry, virgin oak and red wine casks, and has notes of 'tobacco, leather and peat reek'. It will be available for around £125 a bottle.
All three are bottled with natural colour and without chill filtration.
Billy Walker, who purchased the MacNair's brand along with the White Heather blend and GlenAllachie distillery with his business partners in 2017, said the relaunch of the brand marks the anniversary of 'an amazing year'.
'With the MacNair's range, we've re-created the peated whiskies of 100 years ago for the modern-day palate.
'I'm a passionate believer in the qualities of blended malt Scotch whisky; if you have high quality component whiskies, as we fortunately do, and combine them with a first-class wood management policy and a creative spirit, you can produce a dram to rival the very best single malts.'
The relaunch of MacNair's comes just months after GlenAllachie introduced its first core single malt range under Walker's ownership.