Jura distillery is introducing a new Prestige Range of single malts from its stocks of 'old and rare' whiskies, starting with a 1988 vintage finished in Port pipes.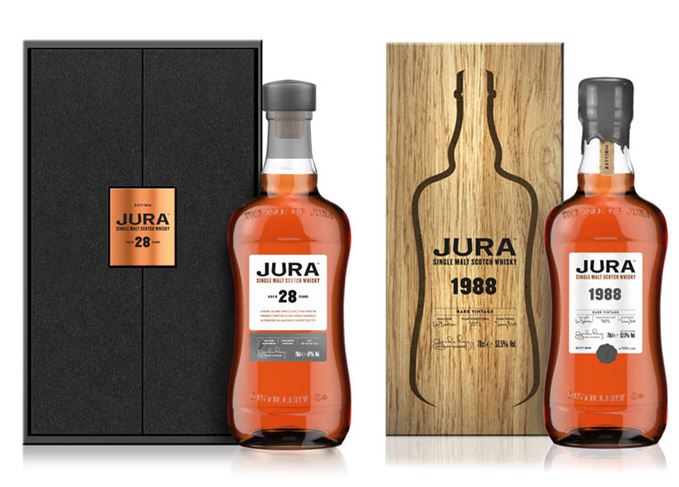 The new prestige range will 'further explore the brand's new house style' following its relaunch earlier this year.
As such the Rare Vintage Jura 1988 is described as a 'sweet and subtly smoky' whisky, having been matured in ex-Bourbon casks and finished in 20-year-old Tawny Port pipes and botted at 53.5% abv.
Just 1,406 bottles have been created for sale in select markets globally for around £650.
Gregg Glass, whisky maker and blender at Jura owner Whyte & Mackay, said: 'As an island, Jura has been dedicated to producing the finest whiskies by generations past and present and we are in an exceptionally privileged position to have a range of rare and aged stocks.
'Both our new expressions are a fitting way to celebrate and share our island's incredible heritage of whisky making with our growing, global community.'

New era: Jura distillery has been operating on the Hebridean island since 1810

The distillery has also added a new permanent expression to its travel retail range, a 28-year-old malt matured in ex-Bourbon barrels and finished in Amoroso Sherry butts.
Bottled at 47% abv, the expression is said to have notes of 'lemon and vanilla' on the nose, and 'coffee, almond and fruit' on the palate.
It will be available exclusively in global travel retail for around £399 from late December.
Jura's new look and revamped core whisky range was unveiled in March 2018, with six new whiskies which introduced a new flavour direction for the brand.
The distillery had previously introduced a new line-up of travel retail exclusives in October 2017 which reflected Jura's 'new direction'.