Jura distillery is completely overhauling its entire range of Scotch whiskies in what's being called the 'biggest launch in its history'.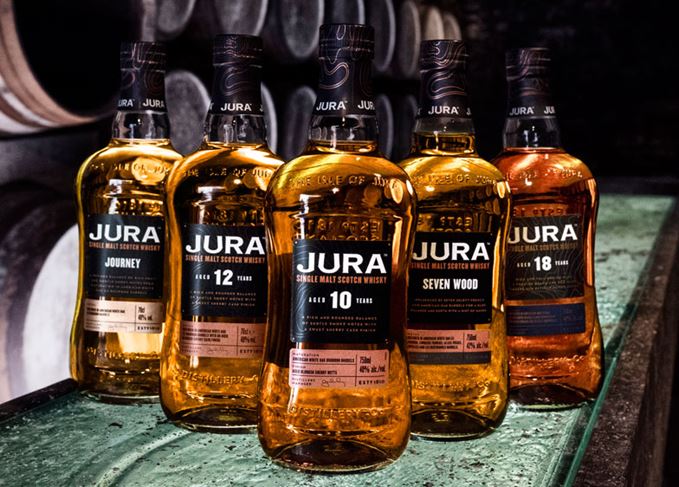 The island distillery is replacing its existing range of Scotch whiskies with a completely new line-up that introduces a new flavour direction for the brand.
From April 2018 Jura's core range of Origin, Superstition, Diurach's Own 16 Year Old and Prophecy will be removed from sale.
The expressions will be replaced with five new bottlings – including a 'refined and stylish' bottle design – created around a new signature style, combining subtle smoke with sweetness from American white oak barrels and 'enhanced' with a Sherry cask finish, described as a mix of Highland and Island styles.
The whiskies in Jura's new range include:
Journey, a no-age-statement single malt matured exclusively in American oak barrels, is the entry-level whisky in the range. Bottled at 40% abv, the whisky is said to have notes of rich fruit and gentle smoke, and will be available for around £33.
Jura 10 Year Old will be rolled out to global markets following its exclusive launch in the US in 2017. Matured in American oak barrels for 10 years, the expression has been also finished in oloroso Sherry casks before being bottled at 40% abv. It will retail for around £38 a bottle.
Jura 12 Year Old has also been finished in oloroso Sherry casks following a full 12 years in American white oak barrels, giving it 'subtle smoky notes with a sweet Sherry cask finish'. The expression, also bottled at 40% abv, will only be available in selected markets for around £45 a bottle.
Seven Wood is the second no-age-statement bottling in Jura's new core range. A 42% abv vatting of single malt whisky matured in seven types of French oak and first-fill ex-Bourbon barrels, it's said to feature notes of peach, candied orange and subtle smoke, and will be on sale for around £59.
Finally, the core range is complete with the launch of Jura 18 Year Old, a single malt matured for 18 years in American oak barrels before being finished in red wine casks. Described as exhibiting notes of toffee, black forest fruits and bitter chocolate, the whisky will be available globally for around £75.

New dawn: Jura distillery is taking its whisky in a new direction, with a combination of Island and Highland styles

Jura's new range will be rolled out globally in an effort to 'appeal to new drinkers', in what's being called 'a new dawn' for the distillery.
Graham Logan, Jura distillery manager, said: 'This marks a hugely significant step for Jura. A new house style of whisky is not for the faint hearted but it tells you where we are now and how committed we are to Jura, the community and our whiskies for the long term.
'Combining two styles of whisky is a fairly unorthodox approach, but one that we know is right for Jura. We can't wait for people to try and it and see for themselves.'
The core range will also be complemented by a new line-up in global travel retail, which was announced in October last year.
The Jura Travellers Collection (previously known as the Jura Sherry Cask Collection) is a range of four whiskies matured in ex-Bourbon casks and finished in Pedro Ximénez casks that will be also go on sale in April.
Built in 1963, Jura is the only distillery in operation on the Hebridean island. Despite the island being rich in peat, the distillery only peated a couple of its whiskies very lightly – Supersition which launched in 2002, and Prophecy which launched in 2009.
Today owned by Whyte & Mackay, which also owns Dalmore, Tamnavulin and Fettercairn distilleries, Jura will introduce the lightly peated flavour across the entirety of its core range.
Kirsteen Beeston, global head of brand for Jura, said: 'Jura is on the brink of something quite remarkable… The new style of whisky was the first step on this journey and one which we feel is a huge step forward in terms of flavour and product consistency. There is so much richness with Jura and we now confidently feel we have landed on a proposition with real consumer resonance and a range of whiskies with strong appeal.'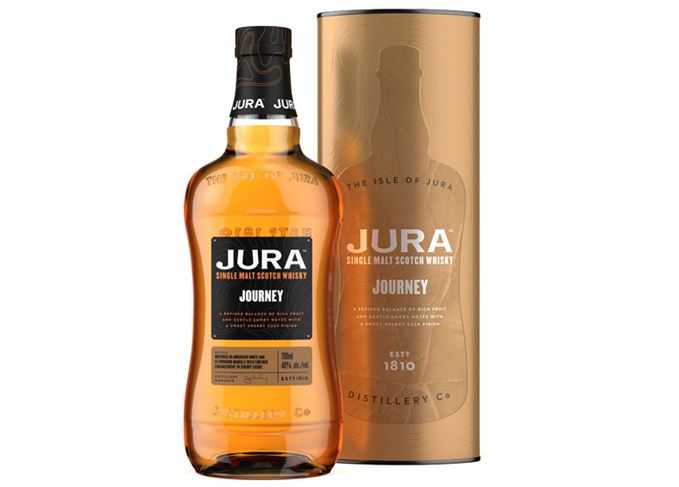 Jura Journey: The NAS expression is the entry-level single malt in Jura's new range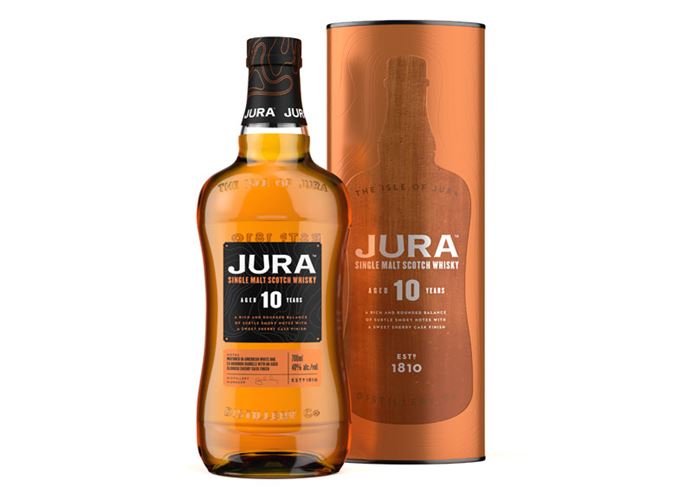 Jura 10: Available for around £38, and said to exhibit notes of dark chocolate, nectarines and ground coffee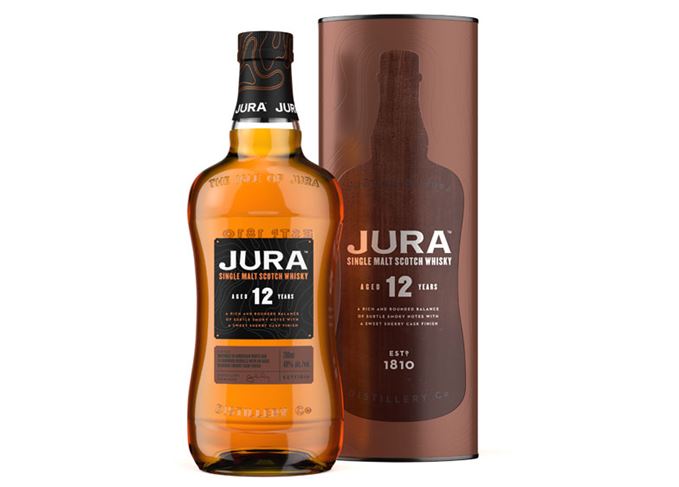 Jura 12: Finished in oloroso Sherry casks, it's said to contain flavours of chocolate, liquorice and soft smoke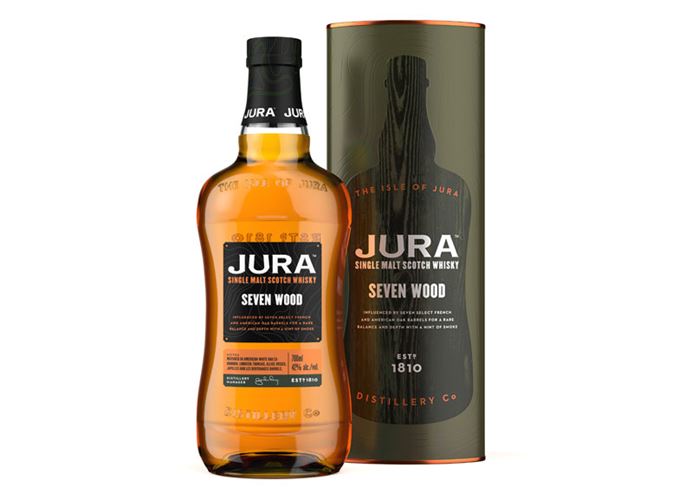 Jura Seven Wood: Features a 'rare tropical richness' with peaches, candied orange and subtle smoke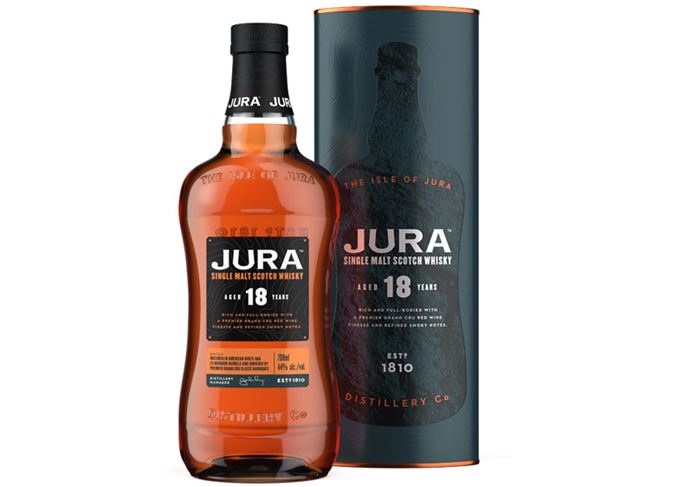 Jura 18: At £75 a bottle the malt sits at the top of Jura's new core range