Monkey Shoulder has usurped Johnnie Walker as the best-selling Scotch whisky among the world's top bars, although bartenders appear to remain uninspired by Scotch.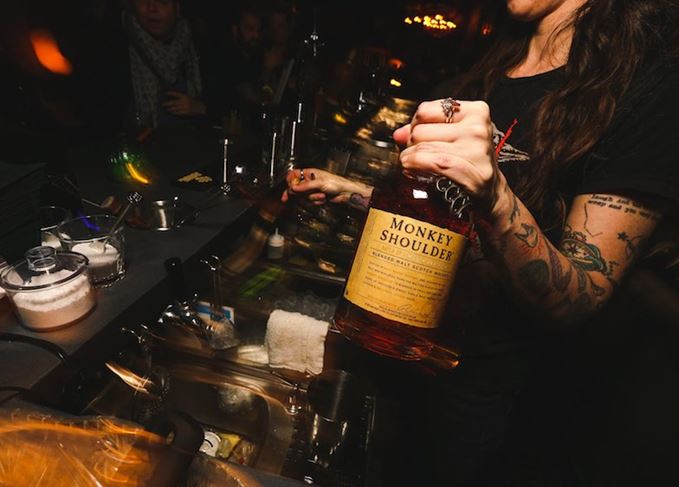 According to the 2019 Brands Report, compiled by industry magazine Drinks International, bartenders named Monkey Shoulder the best-selling and trendiest Scotch whisky.
The blended malt finished ahead of Johnnie Walker as the second best-selling Scotch, with Laphroaig in third place.
Meanwhile Macallan and the Compass Box stable of brands were named the second and third most asked-for Scotch whiskies among patrons.
The report is compiled from a survey of award-winning bartenders, and bar owners, managers and head bartenders working for award-winning bars around the world.
Monkey Shoulder was named the preferred Scotch at 22% of bars, with Johnnie Walker named by 17%.
Hamish Smith, editor of the Brands Report, said: 'This is part of a wider trend away from blends and towards malts.
'When we started polling, this list was dominated by blends, where now it is single malts. Monkey Shoulder has capitalised.'
The blended malt released a smoky version exclusively for bars in 2017, in response to calls for a smoky, mixable Scotch.

League tables: The most popular Scotch whiskies among the world's best bars (Source: Drinks International)

Blends (including Monkey Shoulder) accounted for 40% of the best-selling Scotch whiskies, and just 20% of the most asked-for brands.
Smith added: 'Brand owner William Grant's clarity of positioning both in price (it's more than blends but less than malts) and market (bars) has seen it gain share.
'If we needed further evidence, it is sitting pretty at the top of the trending list. Johnnie Walker is nowhere to be seen.'
Elsewhere around the world, Maker's Mark usurped Bulleit as the best-selling American whiskey, with Michter's the trendiest, while Jameson continued to stand firm in its position as the best-selling and most-asked for Irish whiskey.
The same can be said for Japanese whisky Nikka, which tops both lists for world whisky, a segment dominated by Japanese brands.
However, when asked to name their favourite brands to work with, bartenders failed to place a whisky – of any kind – in the top 10.
Instead, bartenders preferred to use gin, rum and vodka, with Plantation rum the most popular brand to work with.
Smith remarked: 'Our poll indicates that bartenders aren't in love Scotch brands in the way they are with brands from other categories.'
Whisky cocktails

Classic cocktails: Only three whisky cocktails, including the Old Fashioned, were named among the world's best selling

As in previous years, just three whisky cocktails were voted into the top 50 most popular classics in the world – the Old Fashioned, Whisky Sour and Penicillin.
Smith explained that as classic cocktails were mostly conceived in America during the 19th and early 20th centuries, where Bourbon and rye were the easiest whiskies to obtain, Scotch has very few classic drinks to its name.
He said: 'Scotch has never had an easy relationship with cocktails. When the modern cocktail movement arrived, bartenders defaulted to classic recipes as the blueprint, which meant gin, rum, brandy and American whiskey.
'It took Scotch producers decades to react to this new opportunity – preferring, in many cases, to stick to the slightly pompous teaching that Scotch was too fine and precious to be mixed.
'The seemingly relentless drive to make age statement Scotch a luxury item, while passing off NAS malts or blends as "more mixable" is old thinking. The modern cocktail movement, like the elite chef world, doesn't compromise on ingredients or flavour.'
Drinks International surveyed 127 high-end bars from 38 countries around the world, with a high number of respondents from the US, England, Australia and Singapore.
Smith said: 'If this report is anything it is a snapshot of the behaviours at the elite end of the bar business – not definitive, not absolute, but insightful nonetheless'.
This article contains affiliate links, which means we may earn a small commission if a reader clicks through and makes a purchase. All our journalism is independent and is in no way influenced by any advertiser or commercial initiative.