Campbeltown distillery Springbank has released two new single malt whiskies – a 25-year-old matured in ex-Sherry and ex-rum casks, and an 11-year-old wine cask-finished malt bottled under the distillery's Longrow label.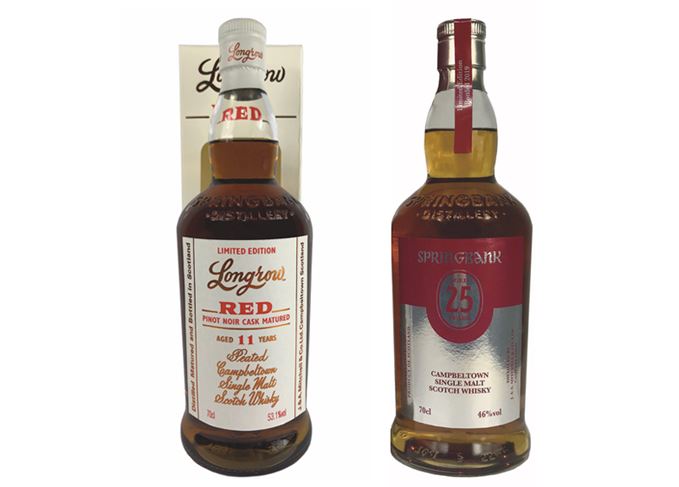 The Springbank 25 Year Old is comprised of 60% single malt fully matured in Sherry casks and 40% whisky matured in rum casks, which were married before being bottled at 46% abv.
Said to represent 'maturity and complexity at its best', the whisky is described as having notes of 'cured meat' on the palate alongside 'tropical fruits and muscat wine'.
Only 1,200 bottles of the Springbank 25 Year Old have been produced, priced at £370 per bottle.
The Longrow Red, an 11-year-old peated malt, was first matured for eight years in ex-Bourbon barrels before spending a further three years maturing in refill Pinot Noir barriques.
Bottled at a cask strength of 53.1% abv, the whisky is said to carry notes of 'creamy red apples and homemade rhubarb crumble' on the nose with 'raspberry jam' and 'burnt embers' on the palate.
A total of 9,000 bottles of Longrow Red have been created, priced at £55 each.
Both whiskies are available worldwide from today (15 February), although the release date may vary in international markets.
Springbank's complex distillation regime allows it to produce three different styles of whisky: Hazelburn, the distillery's unpeated malt, a medium-peated eponymous Springbank malt, and the heavily peated Longrow.
Springbank is the only distillery in Scotland to carry out 100% of the production process on-site, from malting and distilling to maturation and bottling.