A rare bottle of Macallan 60-year-old with a label designed by pop artist Sir Peter Blake, has sold at auction for £615,000.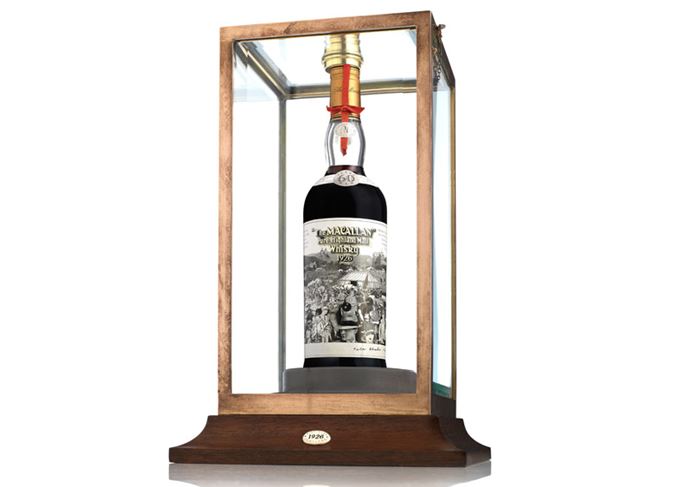 The bottle of 1926 Macallan is one of just 12 featuring the Blake labels, which were created by the Speyside distillery in 1986.
It had been estimated to sell for between £500,000-£700,000 when it went for auction at Bonhams in Edinburgh on 6 March.
Bonhams whisky specialist in Edinburgh, Martin Green, said: 'Only 12 bottles of the Macallan 60-year-old 1926 were issued with the label designed by Sir Peter Blake, who is known throughout the world for co-creating the cover for the Beatles' 1967 album Sgt. Pepper's Lonely Hearts Club Band.
'It is very exciting to have sold one of these incredibly rare bottles here in Scotland for such a very high price.'
During the 1980s and '90s, Macallan produced two sets of 12 bottles drawn from a single ex-Sherry cask. Half were adorned with a label designed by Blake, while the other 12 featured a label designed by Valerio Adami.
Several bottles have been sold in retail and at auction over the past year, some of which have broken auction records.
The highest price fetched for a Sir Peter Blake Macallan remains the £751,703 paid at a Bonhams sale in Hong Kong in May last year.
In October 2018, an Adami bottling fetched £848,750 at Bonhams' Edinburgh auction.
However, the world record for the highest price paid for a bottle of whisky at auction is held by another 1926 Macallan with a hand-drawn label designed by Irish artist Michael Dillon, which sold at Christie's in London in November for £1.2m.
Bonhams' Edinburgh auction also saw the sale of two 1926 Dalmore 50-year-olds, one of which surpassed its pre-sale estimate by £7,000 by fetching £27,563 – the other sold at £17,563 – plus a Springbank 1952 which sold for £18,813.