A quartet of whisky industry veterans – Gordon & MacPhail's Michael Urquhart, writer Charles MacLean, coppersmith Dennis McBain and Glenfiddich's Ian Millar – received special recognition awards at the Spirit of Speyside Whisky Festival's opening dinner this week.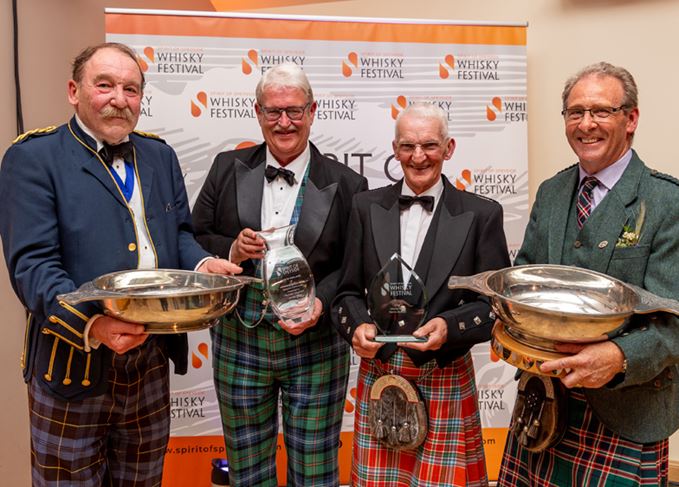 The awards were said to recognise four people who 'have helped put the Scotch whisky industry, the Speyside region and the festival on the map'.
Urquhart, who stepped down as managing director of Gordon & MacPhail in 2014 after a 34-year career, received the Spirit of Speyside Award for Lifetime Achievement.
Spirit of Speyside Whisky Festival chairman James Campbell said: 'In the course of his work, [Urquhart] travelled extensively throughout the world meeting distributors, giving tastings and masterclasses to promote single malt Scotch.
'He always spread the word about the Speyside region at the same time.'
Whisky writer Charles MacLean was named International Ambassador of the Year in recognition of 'his efforts over many years to promote the festival, and Speyside, to both whisky lovers and those curious about Scotland's national drink'.
Balvenie coppersmith Dennis McBain received the Unsung Hero award, for 50 years spent working behind the scenes at the Speyside distillery.
Campbell said: 'Dennis McBain may be one of the last people ever to have a 50-year career in one job and with one employer.
'His job has changed very little, as the time-honoured, handcrafted techniques required have remained the same as when he began.'
Ian Millar, a global brand ambassador for Glenfiddich, received the Spirit of Speyside Ambassador award.
Campbell said: 'Ian Millar's contribution to Scotch whisky has been widely recognised; it is with great pleasure that the festival also recognises his achievements in enhancing the experience of visitors from near and far by making him its ambassador.'
The dinner, held at The Glenlivet distillery on Wednesday, marked the start of the festival, now in its 20th year.
The festival will feature 665 events, including 'behind the scenes' tours and tastings at distilleries, cooperages and warehouses across the region, in addition to outdoor activities such as a region-wide whisky treasure hunt, until the festival closes on Monday 6 May.