From an unforeseen blend encounter to the continuation of an old coopering tradition, the second day of Spirit of Speyside held a range of unexpected pleasures. Becky Paskin reports.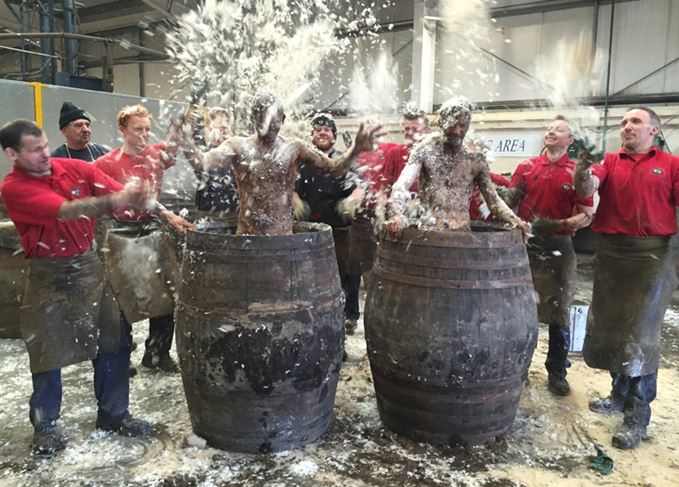 If you send a whisky writer to a whisky festival you'd expect a few drams to be had and a sore head the following morning. While I woke to a few missed calls and texts berating my lack of staying power at the opening night ceilidh, I didn't have that familiar fuzziness that accompanies a grand night out.
That's a true professional for you (however unexpected), though in reality it was most likely the threat of a boisterous dance with Callum Fraser, production manager at Glenfarclas, that scared me away. Gemma Paterson, senior tour guide at Glenfiddich, now has the bruises to prove I made the right decision.
Reflecting on my wisdom, I decided today's update from the Spirit of Speyside Whisky Festival (SoSWF) will be themed along the lines of: expect the unexpected. Knowing this industry, there is always someone, or something, out there to shock you.
My first surprise came from the trusty, reliable Glenfiddich distillery in Dufftown, during a blending masterclass with Grant's global brand ambassador Rob Allanson.
You see, this festival is a celebration of Speyside malts, but Grant's is a blended Scotch whisky containing a large proportion of Girvan grain whisky – from the Lowlands.

Blending the rules: The Grant's session interrupted the festival focus on malts

Nevertheless, Allanson has been hosting several blending sessions throughout the festival, explaining the Grant family's 100-year heritage in blended whisky, and drawing visitors' attention to the wonders of blended Scotch.
Tasked with creating our own blends using several styles of malt and grain in the Glenfiddich blending lab, I wanted to go one step further and, in keeping with the theme of the day, do something unexpected.
I created… a blended grain whisky, and continuing the current conversation surrounding transparency in Scotch whisky, here is my (rough) recipe, the youngest of which is six years old and the oldest somewhere over 39 years old:
Girvan 2009 floral grain
Girvan 1977
Dumbarton 1994
Grant's Oxygen (six-year-old blended grain)
Grain whisky from distillery 'C', aged 25 years-plus
My blend, named Fosgarra – Scottish Gaelic for transparent – has wonderfully complex, burnt vanilla custard, tarte tatin and light orchard fruit notes but, sadly, zero finish. What is not surprising is that the art of blending takes years of practice and skill to master and I should stick to the day job.
Leaving Allanson to clear up our mess, the next port of call was Speyside Cooperage in Craigellachie, where the first Blackening to take place for a decade was about to commence.
Just like the two young apprentices graduating to become fully-fledged coopers after four years' tuition, I had no idea what to expect. Neither did the dozens of local press, festival visitors, or family and friends who turned out to witness the centuries-old tradition ensue, though we were warned to stay well back.

Messy business: This year's Blackening was the first held for a decade

I can now say this: wearing suede shoes to a Blackening is not a good idea.
The two lads graduating this year were Callum Lawson and Kyle Cooper, who, without warning, were hoisted into the air by their colleagues and carried away to meet their fate.
Buckets of 'Blackening sludge' – molasses, pot ale, water and wood shavings – were thrown over them, their clothes ripped off and bags of feathers and flour emptied over their heads.
Struggling was futile as they were forced into Sherry butts and rolled around the distillery, covered in cooperage muck. To top off their initiation into the coopers' circle, the duo were doused with ice-cold water and handed a dram.
It takes apprentice coopers four years to graduate, so Blackenings don't come about that often, although Kyle's younger brother Reece – who threw his fair share of feathers and pot ale – is due to graduate in four months' time. No doubt Kyle is already plotting his revenge.
The evening took a decidedly less adventurous turn, despite tales of Robinson Crusoe and likenesses called between Dave Broom and Captain Jack Sparrow.
For the final Desert Island Drams session of the festival – there had been a lunchtime version earlier in the day – whisky writer Ian Buxton had gathered a stellar panel to join us on an imaginary marooned island – where only the finest whisky is available and food is served courtesy of French chef Eric Obry.
Of course the company of our chief engineer, Dave Broom, plus writers and session panellists Alice Lascelles and Martine Nouet, make this particular island all the more habitable.

Barking band: The legendary Copper Dogs enthrall the SoSWF throng

If I were to choose an island to be abandoned on, this would be it. Ballantine's 17 Year Old paired with seared scallop, celeriac purée and lime shavings; Aberlour A'bunadh with a salted cheddar and dried fruit oat cake; and Royal Salute Stone of Destiny with an indulgent chocolate and coffee brownie – made for an absolute feast.
Fortunately for me, there was not a surprising element during this evening's session, as both the dishes and the whiskies lived up to expectations – this panel of whisky writers has some serious credentials.
Finally though, the time came to say goodbye to this bunch and head to the Craigellachie Hotel for DogFest, an annual mini music festival hosted as part of SoSWF by the hotel's Copper Dog bar and featuring widely acclaimed industry band the Copper Dogs, among others.
The music tent, erected to host the festival in the hotel's front garden, was packed to bursting with SoSWF visitors and industry folk turned out for a dram or two and to hear this legendary band play.
A particular highlight was watching Dr Nick Morgan, Diageo's usually professional head of whisky outreach and music aficionado, jamming along to Lady Gaga and Madonna. If anything epitomises today's theme of unexpected moments, this was it.