Dufftown's history is soaked in Scotch stories, from hosting some of the most famous distilleries to establishing one of the whisky world's most popular festivals – Spirit of Speyside. Recent years have attracted an assemblage of newcomers, who have embraced the region's more laid-back approach to life. Gavin D Smith hit the road to discover more.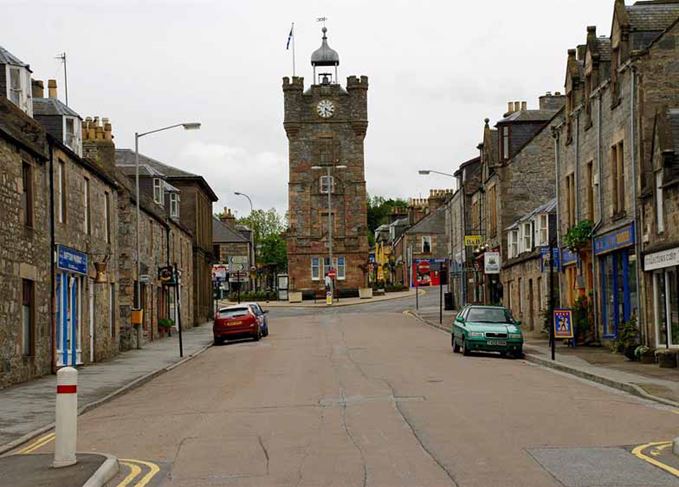 'Rome was built on seven hills, Dufftown stands on seven stills.'
The old rhyme nicely captures Dufftown's continuing importance as the self-proclaimed 'malt whisky capital of the world', even if today the number of working stills in the village has fallen to six. Of these, the biggest beast is William Grant & Sons' Glenfiddich, which alone now boasts the vast annual capacity of 14m litres. Add to that the potential output of sister distilleries Balvenie and Kininvie, plus Diageo's Mortlach, Dufftown and Glendullan, and you end up with a pretty impressive theoretical production level of 40.4m litres of spirit a year from this settlement of fewer than 2,000 souls.
Dufftown is located 50 miles north-west of Aberdeen in the heart of the Speyside region of malt whisky production, standing at the foot of the Conval Hills and close to the rivers Fiddich and Dullan. Winter conditions can be harsh, and it is not uncommon for Dufftown to be cut off by snow-blocked roads during the worst of the weather.
The area was first settled by Picts, with the earliest Christian community established in 566AD, when St Moulag founded Mortlach Church, one of the oldest Christian settlements in Scotland. Dufftown itself was established in 1817 by James Duff, Fourth Earl of Fife, with the purpose of providing employment in the years following the Napoleonic wars.
In common with other planned villages and towns of the period, Dufftown boasts wide streets laid out in regular formation, with the four principal roads meeting at the central clock tower, completed in 1839 and originally the local jail.
By that time, Dufftown's first distillery, Mortlach, had been in operation for 16 years, and it remained the only distillery in the town until Mortlach manager William Grant quit his job there to build Glenfiddich on a shoestring budget during 1886-87, on a site to the north of the village.
The latter years of the 19th century were a boom time for Scotch whisky and for Speyside in particular, with other distilleries being constructed in Dufftown in quick succession during the next decade or so, attracted by the pure water sources of the local rivers and reliable rail links to the south.
Dufftown has always remained a 'whisky town' through good times and lean, with distilling providing a significant amount of employment, even nowadays when distilleries are less reliant on manpower than in times past.
In addition to its six distilleries, Dufftown is home to Joseph Brown Vats, owned since 2002 by husband and wife Ron and Carrille Low. The highly specialist company has its origins in the old Parkmore Cooperage, but focuses on making and tending traditional washbacks and other wooden vessels.
'There are constant debates about the merits of stainless steel versus wood,' says Ron Low. 'Stainless steel backs cost more, even though timber prices are rising. But the temperatures are more stable in wooden washbacks and they hold natural bacteria, which it is claimed have a positive effect on the character of the whisky. In new distilleries I like to see traditional wooden washbacks in the middle of all that "space-age" computerised technology.'
For those who like to look back as well as focus on the present and future, Dufftown is home to a Whisky Museum, founded in 2002 and operated by non-profit-making company and registered charity Dufftown 2000, which was established in 1995 to promote Dufftown as a tourism destination.
Many of the museum's exhibits were provided by local distillers, as well as HM Customs and Excise, and they include illicit stills and equipment used for whisky manufacture in times gone by. Since 2010, the museum has been based in Conval Street, not far from the clock tower, and the building next door has also been purchased.

'Water of life': Dufftown is located at the foot of the Conval hills, near the river Dullan

As a Dufftown 2000 spokesperson explains: 'Plans have been developed to join the two premises together to create the Whisky and Heritage Centre, which will focus on the inextricable link between the whisky industry and the heritage of Dufftown and its famous sons. The group is currently awaiting the outcome from Moray Council deliberations on the plans and the formal issue of the Building Warrant, which will approve the works.
'Once approved plans are available, detailed building costs and shop fitting costs need to be established to realise our vision, and these are likely to be in the region of £250,000. Funding is then needed to complete the project. Several funding options are currently under consideration.'
Dufftown 2000 was also responsible for inaugurating what has now become the Spirit of Speyside Whisky Festival, which has spread to include more towns and villages in the area in addition to Dufftown. The Whisky Shop Dufftown remains at the heart of many festival activities, and is owned by Mike Lord, whose life took a radical change of direction when he decided to become a whisky retailer.
'I've owned the Whisky Shop Dufftown for 10 years,' he notes, 'and I've actually been living here for eight-and-a-half years. I used to work for the Financial Services Authority in London's Docklands and I certainly don't miss the crowds, but I do miss the variety of takeaway food, wine bars and cinemas just around the corner.
'I'd been attending the annual whisky festival for five or six years when Fiona Murdoch, who owned the whisky shop, and who I'd got to know, gave me first refusal when she decided to sell it. I went to the pub to think about it and was congratulated on buying it, so I felt I really had to then!'
Dufftown is a friendly place in which to live and work, Lord adds: 'Everybody is very interested in what you're doing, wants to talk to you and to be supportive. People all know you in the local pubs, which can have its pros and cons. You lose the anonymity of London – and it's amazing what gets said about you. For example, at one time they reckoned I had four divorced wives, and actually I don't have any divorced wives at all!'
Another figure to echo Lord's impressions of Dufftown is Ian Millar, now prestige whisky specialist for William Grant & Sons, based at Glenfiddich distillery. Millar recalls: 'I first came to Dufftown in 1991 to manage Mortlach distillery, and it struck me that this was the friendliest place I'd been in my life. Car horns were honking and people were waving after I'd been here 24 hours. It was as though they'd put up a poster of me in all the shops saying: "This is the new guy."
'There has been a significant influx of incomers during the past few years, and I think they've brought a professional, business-like element to the place. We're talking people who have wanted a more relaxed pace of life away from the rat race. Their presence has helped to invigorate an ageing community – and it needed it.
'Of course incomers have a language barrier to overcome – the local "Doric" dialect, which can be quite challenging – but once you've conquered that, you're fine. Regular attendees at the festival tend to stay in the same guest houses and B&Bs and become friends with the people running them.'

Dufftown distillery: The Speyside site has been making whisky since 1896

Millar also points out: 'There are six working distilleries – we've lost Convalmore and Pittyvaich since I first came here – and all six now have a global reach as single malts. As well as Grant's Glenfiddich and Balvenie, Kininvie from our third Dufftown distillery is also now available, while Diageo offers Singleton of Dufftown and Singleton of Glendullan, and is actively promoting Mortlach.'
He adds that there's better co-operation between the various distilleries than in years gone by. 'We've opened our doors to everyone and William Grant & Sons is happy to contribute to the health and welfare of the village. We don't shout about it, but we've made donations to the local school, to halls and to the Whisky Museum. Diageo has done similar things and the community has gained a lot from both companies.'
One man who knew Dufftown and its environs well was Irish popular novelist and one-time excise officer Maurice Walsh, whose wife Caroline – whom he married in 1908 – was a native of Dufftown. With that place clearly in mind, Walsh mused on the variables that make whisky-making so fascinating in his preface to J Marshall Robb's 1950 book Scotch Whisky. He wrote:
'I knew one small town with seven distilleries and I knew an expert who could distinguish the seven by bouquet alone. These seven distilleries were in one mile of a highland river; they used the same water, peat and malt, and the methods of brewing and distillation were identical, yet each spirit had its own individual bouquet. One, the best, mellowed perfectly in seven years; another, the least good, not a hundred yards away, was still liquid fire at the end of ten years.'
It is interesting to speculate about which distilleries Walsh was referring to, but happily today none of Dufftown's six single malts has the reputation for being 'liquid fire', and the town's role as 'malt whisky capital of the world' is well merited.