Deeside distillery in Banchory is selling 88 of only 100 whisky casks it will ever make, before closing the site and building a new, £8 million distillery nearby.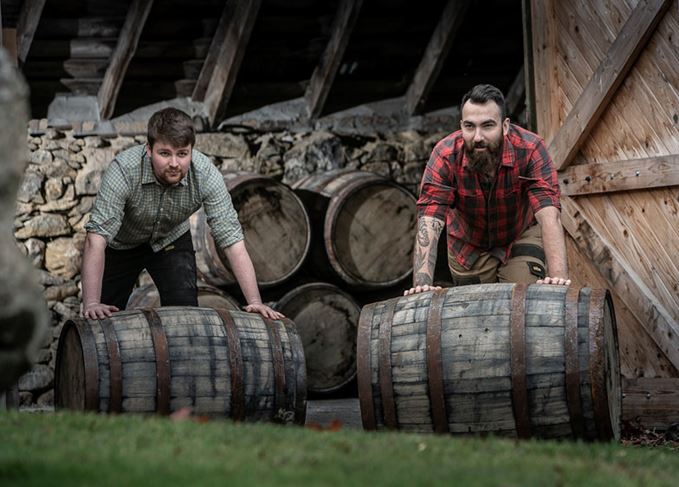 The distillery – formerly known as Twin River – currently forms part of Deeside Brewery in Lochton of Leys, but will close later this year as part of plans to move to larger premises in a business park in Hill of Banchory.
In 2017 it became the first whisky distillery to open in Royal Deeside for around 200 years, and has since been experimenting with its signature single malt style.
It has so far produced a number of experimental 55-litre octave casks, none of which will be for sale.
Instead, in February this year Deeside began filling the distillery's single malt spirit into ex-Bourbon and ex-Sherry casks, 88 of which will be sold to help finance the build of the new distillery.
The remaining 12 casks will be matured for at least 10 years before being bottled.
Owners Mike Bain and Liam Pennycook have already agreed on a site in a nearby business park at which to build a new distillery capable of producing up to one million litres of spirit per year.
Bain said the current brewery and distillery, situated in a farm steading complex, was no longer 'fit for purpose'.
'We've been in our current site for 5-6 years now, but even as a working brewery we're struggling for space with cask storage,' he said.
'So we're moving to a completely new site which we're calling Burn o' Bennie, as with SWA [Scotch Whisky Association] rules we can't take the distillery name with us.
'The old distillery will close and become a ghost distillery, which will only have ever made 100 casks.'

Final countdown: Distiller Pennycook will only produce 100 casks of Deeside single malt

Deeside's 88 Founders' Casks are now being offered for sale for £7,500 for a 200-litre ex-Bourbon barrel, and £10,000 for a 250-litre ex-oloroso Sherry hogshead.
The price includes storage for '10 years or longer', first allocation on any special bottlings released by the distillery, and an invitation to the opening of Burn o' Bennie and Deeside whisky's 2029 launch party.
Pennycook said: 'For whisky investors to be able to purchase whisky from the first new distillery in the region in almost 200 years is a great achievement for us.
'With our plans for a new site under way, the new distillery is moving forward quickly making this batch even more exclusive as there will be no further production following our move.
'We are certain, even at this early stage, that we have created something special with our future single malt.'
Deeside has appointed Anderson Anderson & Brown to advise on raising the investment needed to build the new distillery.
The distillery will cease operation once 100 casks have been filled with new make spirit. Its equipment will then be moved to Burn o' Bennie to recommence production on a smaller, adjacent site until the new distillery and visitor centre has been built.
As well as single malt, Deeside distillery also produces Devil's Point Scottish rum and Still River gin using a pair of square iStills.
It has also produced a small batch of rye whisky, which will be released in 2020 as a three-year-old.